That's A Wrap: Thomas Bryant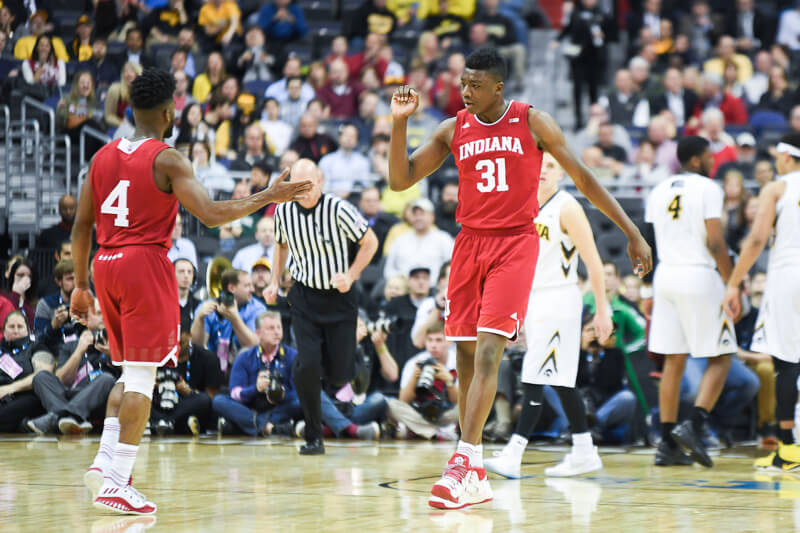 Welcome to "That's A Wrap," our player-by-player recap of the 2016-2017 Indiana Hoosiers. Up next: Thomas Bryant. (Previously: Devonte Green, De'Ron Davis, Grant Gelon, Curtis Jones, Juwan Morgan)
Bryant (34 games): 12.6 points, 6.6 rebounds, 1.5 assists, 1.5 blocks, 56.0% eFG, 73.0% FT, 38.3% 3PFG in 28.1 minutes per game.
As the 2016-2017 campaign began, the Thomas Bryant blueprint seemed set.
Like McDonald's All-American big man Cody Zeller before him, Bryant turned down the opportunity to be a top 20 NBA pick after a strong freshman season in Bloomington for another year of learning and growth under Tom Crean. Bryant seemed poised to expand his game, continue to impress NBA scouts and potentially improve his draft stock in an increased role with Yogi Ferrell departed.
But it didn't quite work out that way.
While Bryant did average more minutes (22.6 vs. 28.1) and sported a higher usage rate (22.1 vs. 22.6) from his freshman to sophomore year which led to higher averages in points (11.9 vs. 12.6) and rebounds (5.8 vs. 6.6), his efficiency took a big hit. As a freshman, Bryant's field goal percentage of 68.3 was best in school history. His effective field goal percentage of 69.3 would have ranked him third in the country per KenPom had he played the qualifying 60 percent of Indiana's minutes. Those numbers fell to 55.6 and 56.0 this season, respectively. Still good percentages, but no longer elite.
So what happened? Bryant certainly suffered from the absence of the dynamic Ferrell in the backcourt able to break down the defense and set him up. He also suffered from the departure of Troy Williams, another Hoosier gone to the NBA that college defenses had to key on, leaving easier chances for Bryant down low. The Huntington Prep product saw constant double teams this season as a result, a harder proposition in which to score efficiently — or even get shots up again. And while Bryant continued to play with a relentless motor, it became clear he lacked top-level athleticism. The sophomore was often unable to get much, if any lift off the floor on shot attempts. Once a dominant, confident force on the block as a freshman, Bryant seemed more tentative and unsure of himself down low as a sophomore. He got to the line less (59.1 free throw rate vs. 51.9).
All this said, Bryant proved he could knock down the 3-point shot with consistency this season (23-60, 38.3 percent). And he still had a number of efficient performances for the Hoosiers. After losing three straight to Nebraska, Louisville and Wisconsin at the turn of the year, Bryant helped right the ship in a win over Illinois at home with a 6-of-6, 20-point performance on Jan. 7. In the Hoosiers' wild and whacky triple overtime win against Penn State on Feb. 1, Bryant was an absolute monster, going 13-of-18 for 31 points in the win. And in Indiana's win against Ohio State on the road near the end of the Big Ten season, Bryant scored 16 points while going 7-of-9 from the field.
Bottom Line: Bryant showed improvement as a 3-point shooter in his sophomore campaign, though some would argue he spent more time on the perimeter than necessary. While his offensive efficiency dipped and his weaknesses were more apparent with the departure of Ferrell, Bryant's shot blocking increased year over year (4.1 block percentage vs. 5.7). With news today that OG Anunoby will forgo the remainder of his college career for the NBA, that decision now turns to Bryant. ESPN's Chad Ford has Bryant ranked as the No. 57 prospect, while Draft Express projects him as an early second round pick at No. 39. Would another season in Bloomington under new head coach Archie Miller make a difference in terms of Bryant's draft stock or is he is what he is at this point?
Quotable: "Coach Crean is my guy. I'll stick by him each day throughout anything. We know that he won't give up on us. And he knows we won't give up on him." – Bryant on Tom Crean following Indiana's loss to Wisconsin in the Big Ten tournament at the Verizon Center in Washington D.C.
Filed to: Thomas Bryant