That's A Wrap: Juwan Morgan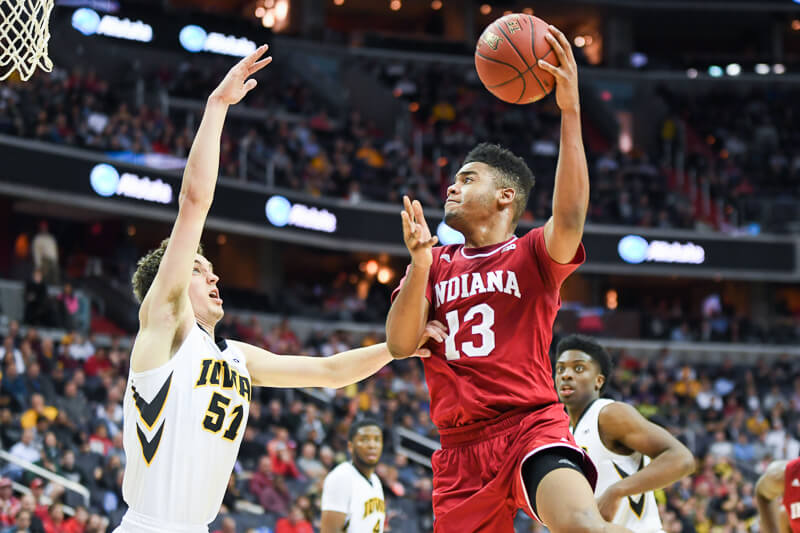 Welcome to "That's A Wrap," our player-by-player recap of the 2016-2017 Indiana Hoosiers. Up next: Juwan Morgan. (Previously: Devonte Green, De'Ron Davis, Grant Gelon, Curtis Jones)
Morgan (32 games): 7.7 points, 5.6 rebounds, 1.1 assists, 58% eFG, 73.9% FT, 25% 3PFG in 22.6 minutes per game.
Juwan Morgan's sophomore season in Bloomington was one of growth.
After averaging just 9.1 minutes per game as a freshman, Morgan took a leap forward in several statistical categories in his second season.
His usage rate grew by more than three percent. His minutes per game grew by more than 13. He started 20 times and was sixth on the team in scoring at 7.7 points per game. His turnover percentage dropped by more than six from his freshman season. His effective field goal percentage improved, albeit slightly. His offensive rating ranked in the top 100 nationally. Morgan also ranked in the top 25 in the Big Ten in both offensive and defensive rebounding percentage.
All of those gains came after Morgan underwent offseason shoulder surgery and battled nagging injuries once again as a sophomore.
A freak accident in IU's 76-57 win over Rutgers on Jan. 15 cost Morgan the next two games when he stepped on official Larry Scirotto's foot. And even though he returned on Jan. 26 against Michigan in Ann Arbor, it took several more weeks for Morgan to return to form.
By the end of the season, Morgan was playing some of his best basketball in an IU uniform. He scored in double figures in six of Indiana's last nine games. Morgan shot 69.8 percent on 2s and averaged 10.7 points per game over that stretch.
As he prepares for his junior season, Morgan will be a crucial piece on Archie Miller's first IU roster. Unlike last summer, he should have a full offseason to workout and improve his perimeter shot after hitting just 25 percent from distance as a sophomore.
He also has the versatility to play multiple positions and is one of IU's best defenders. Miller has talked about a "tough and nasty" mindset on defense and Morgan will have no problem buying in immediately.
He could also be one of IU's most experienced players, depending on who else opts to return. Whether that translates into a leadership role remains to be seen, but all indications are that Morgan is highly respected by his teammates.
Morgan's numbers may never stand out or make him an All-Big Ten player, but he's the type of hard nosed player that Miller won with at Dayton and that should make him incredibly valuable next season.
Bottom Line: Morgan was great at finishing 2s last season, but needs to improve his 3-point shooting to make his offensive game more well rounded. He's a capable passer and ball handler, but he's probably best suited at the four and as a third or fourth option offensively. This is a crucial offseason for him as Indiana transitions into the Miller era. Having a full offseason to work on his game and strength and conditioning should pay major dividends as he enters his junior season.
Quotable: "I feel like this is the healthiest I've been since that game. Everything feels more fluid out there. I've just been listening to the training staff and doing everything they've been telling me to do as far as treatment and how hard to go at certain times because they can see when things are hurting me." – Morgan on his health following Indiana's win over Iowa in the Big Ten tournament at the Verizon Center in Washington D.C.
Filed to: Juwan Morgan