That's A Wrap: Grant Gelon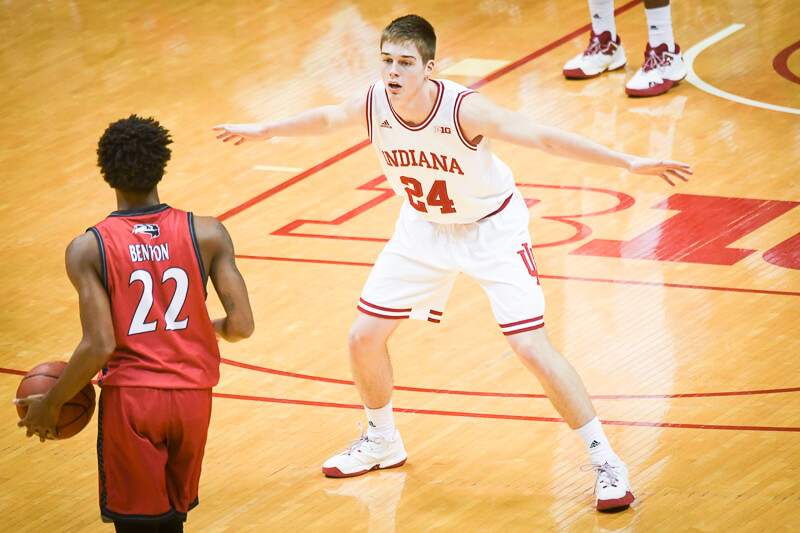 Welcome to "That's A Wrap," our player-by-player recap of the 2016-2017 Indiana Hoosiers. Up next: Grant Gelon. (Previously: Devonte Green, De'Ron Davis)
Gelon (12 games): 1.8 points, 60% 3PFG, 77.8% FG in 3.2 minutes per game.
It was a quiet freshman season for Grant Gelon.
An unranked recruit from Crown Point, Gelon was signed because of his ability to shoot from the perimeter. But it was also acknowledged that he could need time to be ready to contribute at the Big Ten level.
Given his lack of minutes, the conclusion to draw is that the Indiana staff simply didn't feel comfortable playing Gelon against higher level competition.
He played in just 12 games and eight of those appearances were against low major competition in the non-conference. Tom Crean didn't use redshirts for anything other than injury reasons during his nine-year tenure, but Gelon should have been a prime candidate to sit for a year. As it stands, Gelon's freshman season was essentially a wasted year of eligibility for him as he played a total of 38 minutes and didn't contribute in a closely contested game all season.
When Gelon did see the floor, he showed a capable stroke from beyond the 3-point line. In a 90-60 blowout loss at Michigan in late January, Gelon hit both of his 3-point attempts.
Beyond that, the little that we saw of Gelon suggests that he has a ways to go in order to become a rotation player at the Big Ten level.
He has very good size for a wing, but he'll need to work on his upper body strength and his quickness in order to grow into a capable defender at the Big Ten level. And given Archie Miller's defensive mindset, Gelon is going to need to make significant strides on that end to become a regular contributor in IU's new system.
Bottom Line: Gelon will be interesting to track as Indiana transitions into the Miller era. Crean praised Gelon's work ethic a couple of times during his radio show last season and this offseason will be crucial. If he can make the necessary strides defensively, he's certainly capable of growing into the role of knockdown shooter off the bench for the Hoosiers. Miller talked at length in his introductory press conference about everyone in the program finding a role. Can Gelon carve his out and make an impact moving forward?
Quotable: "Nobody has worked harder at perfecting that craft than Grant has. He's worked very hard at making himself into a better shooter and not just relied on his gift as a shooter alone." – Gelon's high school coach, Clint Swan, last summer.
Filed to: Grant Gelon