That's A Wrap: Devonte Green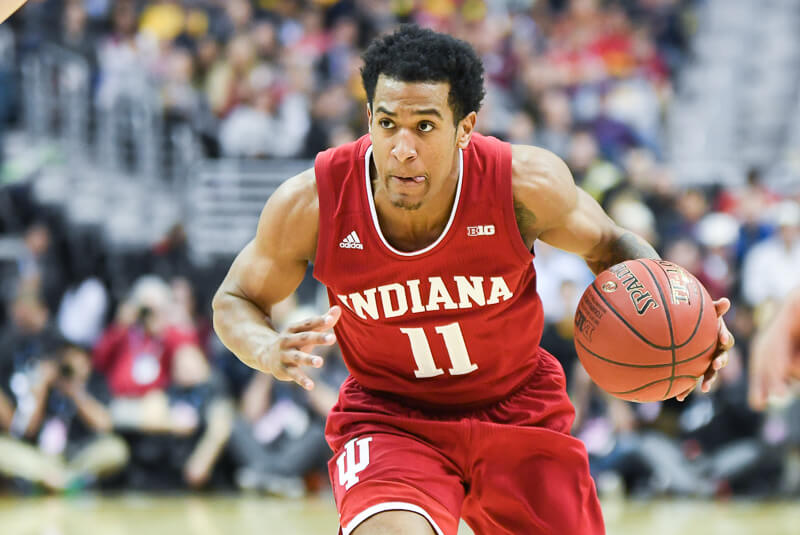 Welcome to "That's A Wrap," our player-by-player recap of the 2016-2017 Indiana Hoosiers. First up: Devonte Green.
Green (32 games): 4.4 points, 1.8 rebounds, 1.1 assists, 55.7% eFG, 71% FT, 44% 3PFG% in 15.2 minutes per game.
Green showed flashes of brilliance in his debut season at Indiana and has already proven he can shoot at the college level, but inexperience and limited minutes prevented him from truly breaking through.
Green contributed to the win over Kansas on Nov. 11 with a clutch 3-pointer, but didn't bury another shot from deep until Dec. 4. In the home opener against UMass-Lowell, Green scored six points and added four steals, although much of that came in garbage time.
After suffering an injury vs. Nebraska to open Big Ten play, Green didn't play in the next two contests (Louisville, Wisconsin). When Green returned, he struggled to acclimate to conference play, scoring five points or fewer in 12 of the next 13 games. Even during that stretch, however, there were times Green would pull off a dazzling pass or a timely steal.
The injury bug once again bit Green later in the season, as Crean noted on his Feb. 14 radio show that he had suffered a back spasm while trying to lift a 35-pound bar.
Once Green neared full health, he once again showcased his immense potential.
Perhaps the best stretch of Green's freshman year came at the end of the conference season. Green reached double-figures scoring in three of the last five games of Big Ten play (including the two tournament games) and shot 71 percent from three (10-of-14).
Against Northwestern, the first game of that five-game period, Green capped off a 22-0 run by banking in a 70-foot heave. It was the second time Green banked in a buzzer-beater from beyond halfcourt.
Green has also proven himself to be a capable defender. His steal percentage of 2.6 was the second best on the team, behind only OG Anunoby (3.0). There are other components of his defensive play that need improvement, but he's well on track to becoming a solid two-way player.
There is a lot of polishing to be done with Green's game. His turnover rate of 28.8 was the highest on the team, and he finished the season with more turnovers (40) than assists (34). If Green wants to earn consistent minutes as a lead guard, he'll need to clean that up.
There was also the time he made Tom Crean irate after attempting to throw an alley-oop to Freddie McSwain as the clock expired.
But for a three-star recruit that barely cracked the top-200 of 247Sports composite rankings for the class of 2016, the growing pains can be forgiven. A bright future likely lies ahead if Green decides to stay the course in Bloomington.
Bottom Line: Green worked his way up from rotation player to the first guard off the bench for Indiana. He's proven himself to be unafraid of the big moment, an attribute rarely seen from freshmen entering pressure-packed situations. If Green can take better care of the ball and continue shooting above 40 percent from deep, a successful future lies ahead for him.
Quotable: "(Green) just played with a high motor. Moved the ball. There's certain things you've got to live with – that one turnover late in the game – he's going to get so much better when he can play with those eyes up. And he'll be such a better player. He really will. Most guys go through (growing pains) and he's got to get to that point. But he played hard. He just played basketball. And he held his matchups very well. So he did an outstanding job" – Tom Crean after Indiana's win over Northwestern.
Filed to: Devonte Green