That's A Wrap: Curtis Jones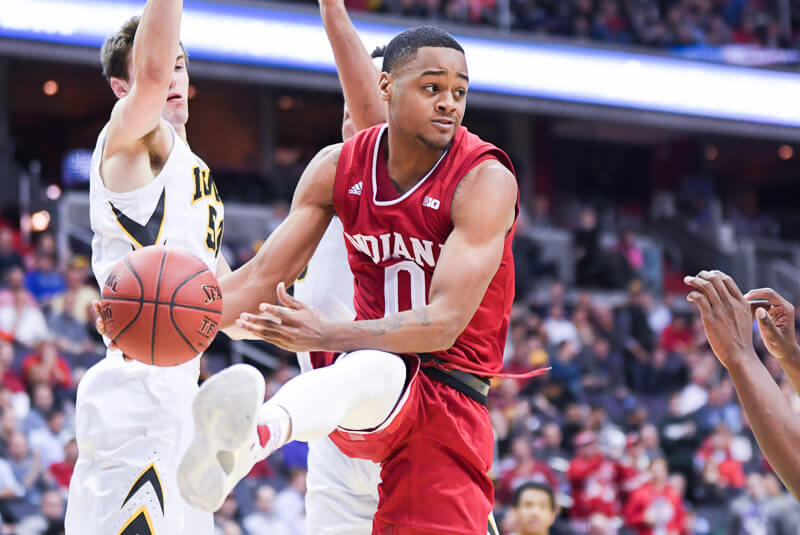 Welcome to "That's A Wrap," our player-by-player recap of the 2016-2017 Indiana Hoosiers. Up next: Curtis Jones. (Previously: Devonte Green, De'Ron Davis, Grant Gelon)
Jones (33 games): 3.5 points, 1.3 rebounds, 0.9 assists, 44.9% eFG, 72% FT, 35% 3PFG in 11.2 minutes per game.
Coming into the season, the expectation was that Curtis Jones would provide an offensive spark off the bench. All of that changed after Indiana's first regular season game against Kansas.
In his IU debut, Jones scored 15 points in a 103-99 overtime win over Kansas in Hawaii. Jones hit three of his five 3-point attempts. Seven of his points came in overtime. The Hoosiers had three players foul out and it was Jones as the difference maker who kept his composure and hit key shots (Jones at 1:22) at the end of the game to secure the IU victory.
For his stellar play against Kansas, Jones was awarded Big Ten Co-Freshman of the Week, an honor he shared with Michigan State's Miles Bridges, his former teammate at Huntington Prep. But in terms of statistical impact, the effort against Kansas would be the high point for Jones.
At times he exhibited poor shot selection and let a loss of confidence affect his performance. On a team plagued with turnover problems, Jones had a turnover percentage of 20.2. And as competition heated up and IU struggled to close out games from week to week, Jones started to seem unsure of himself out on the court.
He is quick, athletic and excels in up-tempo style, but this offseason will be crucial as he needs to improve his defense, ball handling and ability to feed the post. Now in the hands of Archie Miller and his defensive mindset, Jones will need to round out the other aspects of his game if he hopes to fill a larger role in IU's backcourt rotation.
Throughout the season, Jones' consistency of production stuttered, but off the bench he continually provided energy and momentum when the Hoosiers' starting guards were struggling to score.
In Big Ten play against Maryland, Jones came in off the bench and hit back-to-back three pointers to give the Hoosiers some spark after they only hit one layup in a six-minute span. Jones also had a pair of 3-pointers against Rutgers.
In his only start of the season against Wisconsin, Jones scored three points and grabbed five rebounds. In IU's win over Iowa in the Big Ten Tournament, Jones was solid in contributing six points and looked more in control of his shot and his decisions. Jones dropped seven points and added two assists and two rebounds in Indiana's NIT loss to Georgia Tech to finish off his freshman season.
With the minutes he was given, Jones showed he is an explosive player on offense. He will need to improve to be able to contribute that same level of production against higher competition entering the 2017-2018 campaign. But with IU's incoming freshmen class still up in the air and NBA considerations from returning starters, Jones can carve out a solid role for himself next year as an important part of the Indiana rotation.
Bottom Line: Still a work in progress, Jones has plenty to build on moving forward. If he can improve on defense and decision-making, the rest will come with offseason work. He's an outstanding shooter who could benefit greatly from working with Archie Miller to improve his mindset defensively.
Quotable: "He's always been this fearless, as long as I've known him. He wasn't afraid to take the big shots in high school, or what the defense gives him. He feeds off of it. He likes it." – Thomas Bryant after IU beat Kansas last November.
Filed to: Curtis Jones