Hoosiers in the NBA: Yogi Ferrell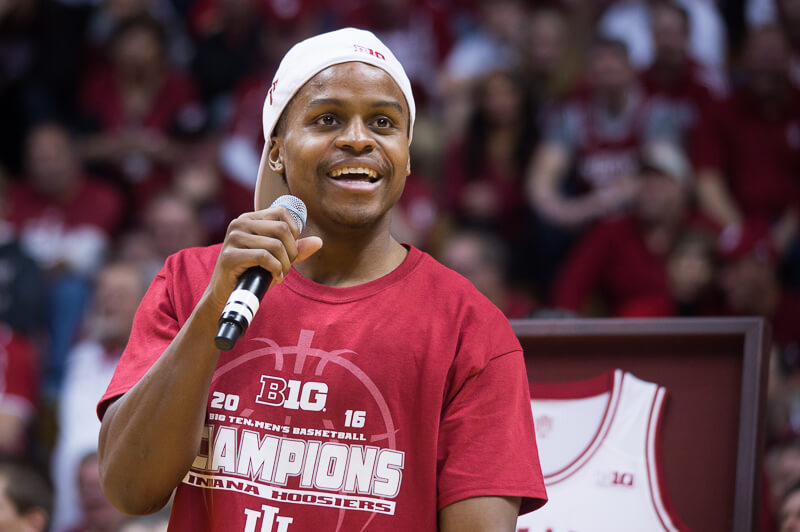 Welcome to "Hoosiers in the NBA," a player-by-player look at how IU basketball alums have fared during the 2019-20 NBA season. Today, the nine-part series continues with Yogi Ferrell. Previously: Eric Gordon, Cody Zeller, Victor Oladipo, Juwan Morgan, Noah Vonleh.
Ferrell (42 games): 4.2 ppg, 1.1 rpg, 1.3 apg, 39.6% FG, 27.5% 3FG in 11 minutes per game
In the summer of 2019, the Sacramento Kings had the option to waive former Indiana guard Yogi Ferrell or guarantee his $3.2 million salary through the 2019-20 NBA season.
The Kings chose the latter, and Ferrell had a home on an NBA roster for the fourth straight season after going undrafted in 2016.
Ferrell was picked up by the Brooklyn Nets as an undrafted free agent in 2016, and he spent some time with their G-League affiliate, the Long Island Nets, averaging 10 points and 3.7 assists through 46 games.
He appeared in 10 games for Brooklyn before being waived in December of 2016. In late January of 2017, Ferrell signed a 10-day contract with the Dallas Mavericks, debuted the next day and scored nine points with seven assists in 36 minutes as a starter in a win over the San Antonio Spurs.
Ferrell played in the final 36 games for the Mavs that season, starting in 29 of them. The following season, he played in all 82 games and averaged 10.2 points per game.
The Mavs reportedly gave Ferrell a qualifying offer that summer, but later withdrew the offer on July 13, 2018. After reportedly agreeing to terms on a two-year, $5.3 million deal on July 19, Ferrell backed out of his agreement with the Mavericks the following day.
Later that month he signed with the Kings, and he averaged 5.9 points, 1.9 assists and 1.5 rebounds in 15 minutes per game in the 2018-19 season.
Heading into this season, playing time would be hard to come by for Ferrell as De'Aaron Fox was the star point guard of the team and the Kings acquired Corey Joseph in the offseason to serve as the primary back up, but he made do with what he had.
In 44 games this season, Ferrell averaged 4.2 points, 1.3 assists and 1.1 rebounds in 11 minutes per game. His best game came on Dec. 6 when he scored 17 points in a 105-104 loss to the Spurs.
Ferrell was in the rotation for most of this season, but he started to fall out of it toward the end as he only appeared in two of the team's final 10 games before the season was postponed due to COVID-19.
As a team, the Kings were only 3.5 games back from the eighth seed in the Western Conference with a record of 28-36. With 18 games left in the regular season and no telling how many, if any, games will be played to finish out this NBA season, the Kings might be out of luck in hopes of getting a playoff spot for the first time since 2006.
As for Ferrell, his future is unclear, but he's proven he can be a valuable asset in the backcourt off the bench in the league, displaying much of the quickness and sharp shooting he showed during his four years at Indiana.
Bottom line: Many believe Ferrell's senior season with IU was a big reason why he was able to make it onto an NBA team in 2016. By leading Indiana to a Big Ten championship in the regular season and taking them to the Sweet Sixteen of the NCAA Tournament, Ferrell showcased his abilities on a national level, which helped his worth on his path to the pros. The 26-year-old has a lot of years left, and although he's struggled to find a stable role on a team, Ferrell will always be able to provide teams with an important reserve role, where he can facilitate and put up points in a hurry.
Quotable: "I feel like even I'm still out there trying to prove myself every single day to show that I belong in this league. And still every single day trying to establish myself, and I'm up for the challenge, I like the challenge in itself, trying to go out there and prove people wrong and make them go back on their word. I know I have many more years in the league, but it's been fun, though." — Ferrell in a recent interview with The Big Lead.
Filed to: Yogi Ferrell