Hoosiers in the NBA: Romeo Langford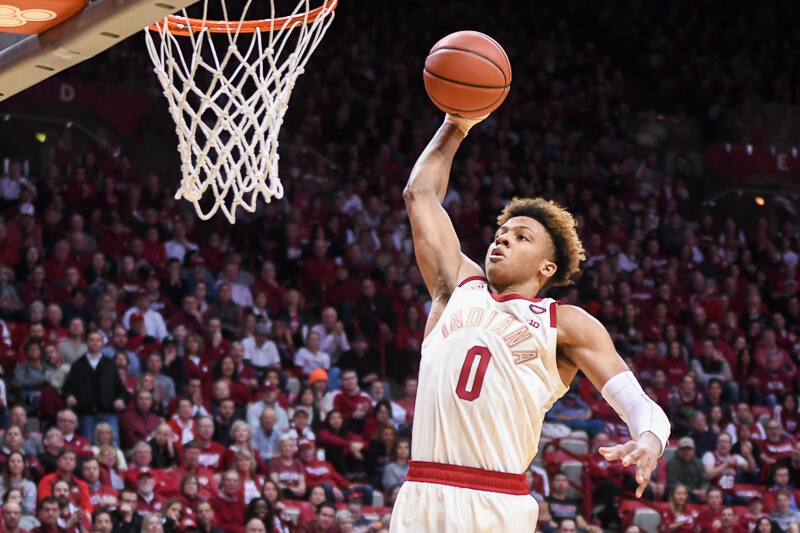 Welcome to "Hoosiers in the NBA," a player-by-player look at how IU basketball alums have fared during the 2019-20 NBA season. Today, the nine-part series concludes with Romeo Langford. Previously: Eric Gordon, Cody Zeller, Victor Oladipo, Juwan Morgan, Noah Vonleh, Yogi Ferrell, Thomas Bryant, OG Anunoby.
Langford (27 games): 2.6 ppg, 1.2 rpg, 37.5% FG, 69.6% FT in 11 minutes per game
Many NBA lottery picks have a chance to carve out a significant role right away in their rookie seasons. That hasn't been the case for Romeo Langford, the No. 14 pick in the 2019 draft by the Boston Celtics.
Langford, an Indiana high school legend who led New Albany to a state championship in 2016 and finished fourth on the state's all-time scoring list, was billed as a program savior when he signed with Indiana in the spring of 2018.
As a freshman in Bloomington, Langford averaged 16.5 points, 5.4 rebounds and 2.3 assists on an IU team that finished 19-16 and failed to reach the NCAA tournament.
Once the 2018-19 IU season ended in the NIT quarterfinals (Langford didn't play in the NIT), the New Albany product made the announcement that everyone knew was coming: he was off to the NBA.
In the time leading up to the draft, it was revealed that Langford played a significant portion of his freshman season with a torn thumb ligament that required surgery. As a result, Langford was unable to workout for NBA teams.
Nonetheless, when the Celtics went on the clock with the 14th pick in last June's draft, they took the arguably the best available talent on the board in Langford, who was at one time viewed as a potential top five pick.
His NBA career got off to a rocky start as he was forced to sit out in Summer League due to his thumb injury. And once the season began in Boston, it became clear that the guard and wing depth on the Celtics roster was going to make it difficult for Langford to earn consistent minutes.
Due to pieces ahead of him in the rotation and a couple of injuries, Langford spent time in the NBA G-League, where he appeared in seven games and averaged 10.6 points.
Thus far in his brief NBA career, Langford has scored in double figures just once and has struggled to find his touch from the perimeter (21.7% on 3s).
His defense and energy, however, have earned him the respect of his coaches and teammates. At just 20 years old, Langford's best days should be ahead of him as he adjusts to the highest level of basketball.
Bottom Line: With Gordon Hayward, Jaylen Brown and Jayson Tatum ahead of him in the rotation, it's going to be an uphill battle for Langford to earn consistent minutes in Boston. However, he definitely has the talent and tools to carve out a role for the Celtics, who have championship aspirations.
Brad Stevens is a coach who emphasizes defense and Langford has proven himself capable of competing on that end as a rookie. If he can make defenses respect his perimeter shot and continue to use his length and athleticism to attack from the wing, the Indiana high school legend could have a long NBA career.
Quotable: "His defense is really good. I give a lot of credit to Romeo. I give a lot of credit to [assistant coach] Joe Mazzulla. They spend every pregame going through defensive technique work and everything the other team is going to do, every day. That just adds up." – Stevens to The Boston Globe in late February.
Filed to: Romeo Langford