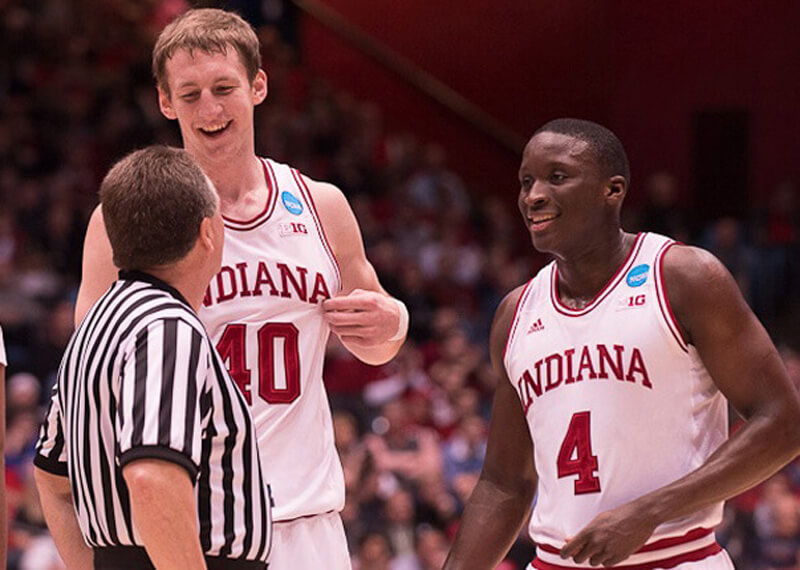 Welcome to the final recap of the 2010s Assembly Call / Inside The Hall IU players round-robin tournament.
Over the past few weeks, we have explained how this tournament came to be, recapped the drafting of teams and completed all three rounds of round-robin play in the tournament.
As a reminder, players were drafted for the tournament based on the "ideal IU version" of that player. So De'Ron Davis is De'Ron prior to his Achilles injury. Maurice Creek is Maurice prior to his injuries, etc.
Tournament results were determined by a fan vote on Inside The Hall's Twitter page, in similar fashion to The Greatest IU Basketball Player of All-Time Bracket. The voting window for each matchup lasted 48 hours.
Here's a quick reminder of each team's roster.
Team Alex Bozich:
Starters (PG) Rob Phinisee, (SG) Victor Oladipo, (SF) Will Sheehey, (PF) Christian Watford, (C) Thomas Bryant
Bench (PG) Verdell Jones III, (SG) Remy Abell, (PF) Emmitt Holt
Team Cam Drummond:
Starters (PG) Jordan Hulls, (SG) James Blackmon Jr., (SF) OG Anunoby, (PF) Justin Smith, (C) Trayce Jackson-Davis
Bench (SG) Matt Roth, (PF) Max Bielfeldt, (PF) Race Thompson
Team Jerod Morris:
Starters (SG) Robert Johnson, (SG) Romeo Langford, (SF) Collin Hartman, (PF) Noah Vonleh, (C) Cody Zeller
Bench (SG) Maurice Creek, (SG) Al Durham, (PF) Derek Elston
Team Dylan Wallace:
Starters (PG) Yogi Ferell, (SG) Nick Zeisloft, (SF) Troy Williams, (PF) Juwan Morgan, (C) De'Ron Davis
Bench (SG) Devonte Green, (SF) Jerome Hunter, (PF) Tom Pritchard
Throughout all three rounds of the tournament, one team clearly reigned superior over the rest.
Team Alex was the only squad to go a perfect 3-0, capping his dominating tournament performance by receiving 86 percent of the fan vote in his final-round victory over Team Dylan, which finished last after going 0-3.
The battle for second place was much tighter, and it went the way of Team Jerod thanks to his team receiving 53 percent of the fan vote in its final-round matchup against Team Cam.
Some of the standout statistics over the course of the round-robin tournament were:
– 3,630 total votes cast on Twitter for six tournament matchups.
– An average of 605 votes cast per matchup.
– A high-point of 765 votes cast in the first-round matchup between Team Alex and Team Cam.
The final standings for the 2010s Assembly Call / Inside The Hall IU players round-robin tournament can be found below, and thanks to everyone who participated.
Standings: (position / team / record / avg. % of vote)
1. Alex Bozich: 3-0 (77.67%)
2. Jerod Morris: 2-1 (48.67%)
3. Cam Drummond: 1-2 (45.33%)
4. Dylan Wallace: 0-3 (28.33%)
Filed to: Al Durham, Christian Watford, Cody Zeller, Collin Hartman, Derek Elston, Deron Davis, Devonte Green, Emmitt Holt, James Blackmon Jr., Jerome Hunter, Jordan Hulls, Justin Smith, Juwan Morgan, Matt Roth, Maurice Creek, Max Bielfeldt, Nick Zeisloft, Noah Vonleh, OG Anunoby, Race Thompson, Remy Abell, Robert Johnson, Robert Phinisee, Romeo Langford, Thomas Bryant, Tom Pritchard, Trayce Jackson-Davis, Troy Williams, Verdell Jones, Victor Oladipo, Will Sheehey, Yogi Ferrell