6-Banner Sunday: Justin Smith enters transfer portal, Khristian Lander officially joins 2020 recruiting class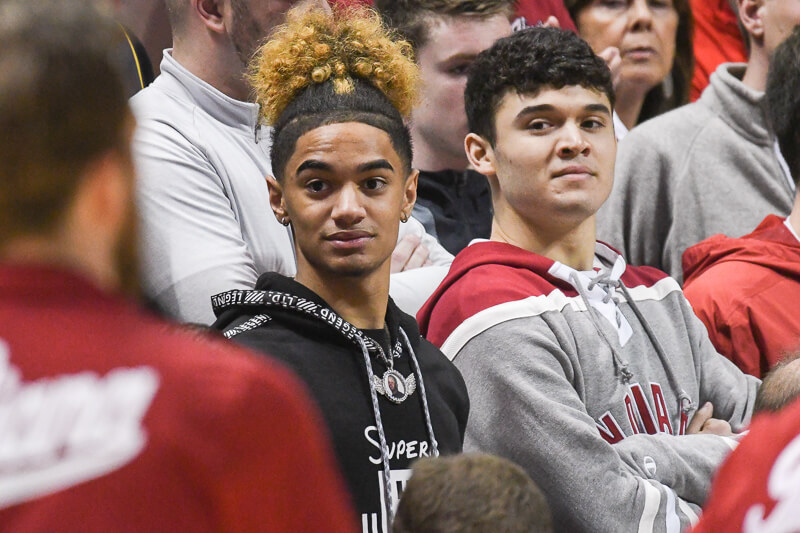 6-Banner Sunday is Inside the Hall's weekly newsletter in partnership with The Assembly Call. More than 7,000 Indiana fans receive the newsletter each week. In addition to appearing each week on the site, you can also opt to receive 6-Banner Sunday by email. A form to subscribe via email is available at the bottom of this week's 6-Banner Sunday.
Welcome to another edition of 6-Banner Sunday, a joint production between The Assembly Call and Inside the Hall where we highlight the five most essential IU basketball stories of the past week, plus take a look at how the other IU sports programs are doing.
Some offseason weeks tend to be busier than others, and this past week for Indiana basketball was chock-full of significant news for the program.
A longtime starter opted to leave IU and enter his name in the NCAA's transfer portal, while IU officially gained a new player a year early.
Those on-court developments, coupled with continued updates on the status of college sports during the COVID-19 pandemic and a pair of in-depth, entertaining feature stories, completes a consequential past week in Indiana basketball news.
• Indiana forward Justin Smith enters the transfer portal
• 5-star point guard Khristian Lander officially joins the 2020 recruiting class
• NCAA and IU take next steps toward bringing collegiate athletes back to campus
• ITH / Assembly Call fantasy tournament concludes
• Features put spotlight on Rob Phinisee, the behind-the-scenes business of IU basketball on social media
• Hoosier Sports Roundup
Banner #1
Indiana forward Justin Smith enters the transfer portal
Early on Friday morning, starter Justin Smith became the second IU men's basketball player this offseason to transfer away from the program.
Smith, who had earlier placed his name on the NBA Draft's early entrant list last month, joins Damezi Anderson in deciding to continuing his college basketball journey outside of Bloomington.
Smith, a rising senior, recently graduated from IU's Kelley School of Business and will immediately eligible to play next season at the school he chooses. ESPN college basketball reporter Jeff Borzello reported the laundry list of schools Smith has received interest from, which range from Big Ten rivals Illinois and Purdue to Oregon, NC State and Xavier.
For Indiana this could be a significant loss if other players don't step up to fill the void.
Smith played in all 98 games across his three seasons at IU, and last season as a junior he averaged 10.4 points and 5.2 rebounds in a team-leading 30.3 minutes per game across 32 starts. He was valued for his defensive versatility above all else, and despite his streaky shooting and at-time questionable shot choice, Smith could truly impact the game when active around the rim and on the boards. This is value that will have to be replaced by those still on the team like Jerome Hunter and Race Thompson.
Banner #2
5-star point guard Khristian Lander officially joins the 2020 recruiting class
The news of Smith's departure came just days after IU officially gained another player in the 2020 recruiting class.
On Monday, 5-star point guard Khristian Lander was announced as a 2020 recruit for Indiana, as he successfully completed the necessary coursework to reclassify from the 2021 to the 2020 recruiting class. Lander is now part of a four-player recruiting class at IU for 2020, joining fellow guards Trey Galloway and Anthony Leal, as well as small forward Jordan Geronimo.
In late February, myself and Inside The Hall writer Dylan Wallace watched Lander play for Evansville Reitz in Evansville, Indiana, and spoke to him after the game about the potential to reclassify.
"I want to go 2020 because I feel like Trayce is not going to stay another year, like in 2021," Lander told us. "And I feel like if I get a hold of Trayce, I feel like we can dominate the Big Ten."
That opportunity for conference domination now exists for IU, and the Hoosiers still have two open scholarships ahead of next season following Justin Smith's departure, meaning Archie Miller could try and find an experienced transfer player to help with that pursuit.
Lander's reclassification to 2020, as well as Smith's decision to leave, were both discussed extensively on this week's edition of Podcast on the Brink with Jerod Morris and Alex Bozich.
Banner #3
NCAA and IU take next steps toward bringing collegiate athletes back to campus
Amidst the changing pieces at Indiana, and in the Big Ten at large, when it comes to on-court personnel for the next college basketball season, there remains the very real possibility that the COVID-19 pandemic will affect the college basketball season in some way.
Much of the attention at the moment is on the upcoming college football season, scheduled to start in late August, but even broadly speaking the NCAA has met frequently over the last few months to determine a path back to training for student-athletes.
The latest update in this regard came last week, when the NCAA Division I council announced it would lift a moratorium and allow football, men's basketball and women's basketball student-athletes to participate in voluntary on-campus workouts beginning June 1.
Additionally, on Thursday afternoon the Indiana University Restart Committee released a 22-page report that suggested the resumption of athletic training could occur in mid-June, part of a wider recommendation that IU's campuses could be reopened with social distancing and public health practices for in-person classes in the fall.
Zach Osterman of The Indianapolis Star broke down exactly what this means for IU sports.
Banner #4
ITH / Assembly Call fantasy tournament concludes
The conclusion of a weeks-long IU basketball fantasy tournament featuring Assembly Call and Inside The Hall came over the weekend, as the final round of the 2010s Assembly Call / Inside The Hall IU players round-robin tournament took place.
A complete recap post on Monday over at Inside The Hall will break down the details from the tournament, but with the final round of voting concluded it can be officially said that Alex Bozich's 3-0 team are the tournament champions.
The final round of voting went as such, cementing a victory for Team Alex.
Thanks to everyone who participated and be sure to check out Inside The Hall on Monday for a full tournament recap.
Banner #5
Features put spotlight on Rob Phinisee, the behind-the-scenes of IU basketball on social media
Dylan Wallace was supposed to write about Rob Phinisee coming into his own on the basketball court, being the leader and floor general worthy of taking Indiana back to the NCAA Tournament for the first time in four years.
The COVID-19 pandemic derailed that concept for a story, but nonetheless Dylan did an excellent job capturing Rob Phinisee the player, brother and leader in a feature story this week for Inside The Hall. Dylan spoke with Rob's brother, Charles, for the piece, learning more about Rob's off-court life and how that translates to his effective play with Indiana.
Elsewhere, I wrote a story about a man that many people don't know about. Brandon Spahn is the Director of Graphic Design Services for IU Athletics, which means he comes up with some insanely cool graphics and illustrations of your favorite IU basketball moments and players for use on team social media accounts.
With social media being such a prevalent part in reaching sports fans, in particular during current circumstances, I reached out to Brandon and spoke with him about his creative process and the behind-the-scenes work that goes into a day of graphics production when Indiana has a game to play.
Banner #6
Hoosier Sports Roundup
While Indiana Basketball had an eventful news week, the rest of IU athletics was relatively quiet with just a few small nuggets led by positive academic news.
• APR scores were very good for IU athletics as a whole with 13 teams posting a perfect number.
• IU Football announced the addition of a transfer.
• Three former IU soccer players were named among the best young players in the country.
• Baseball posted a video of their celebration of the 2019 Big Ten Title.
• Men's Golfer Jack Sparrow received Indiana's Big Ten Sportsmanship Award.
• Women's Golfer Priscilla Schmid was named First Team All-Big Ten.
• Men's Tennis also had a First Team All-Big Ten athlete in Bennett Crane.
Thanks for your continued support for The Assembly Call. We'll be back next weekend with a new roundup.
Now go enjoy yourself a 6-banner Sunday.
Filed to: