Behind the scenes with graphic designer Brandon Spahn as he brings IU basketball to life in new forms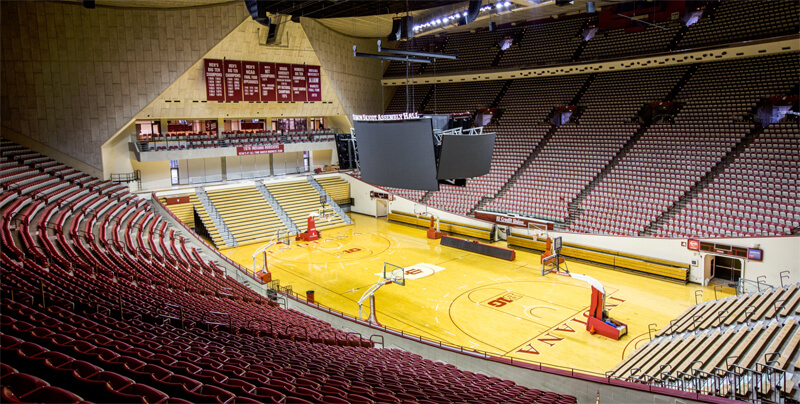 A burst of flame rises from the feet of Justin Smith.
He's at the apex of his jump, soaring uncontested for a dunk against Notre Dame, one of the 20 victories Indiana recorded last season en route to what would have been the team's first NCAA tournament appearance since 2016.
The aerial acrobatics from Smith comprise just one moment in a 34-second journey through Indiana's season, along with shockwave-inducing dunks from Trayce Jackson-Davis and 3-point shots made by Al Durham.
This retrospective on the 2019-20 season, meant to be published online to fanfare upon IU's return to the Big Dance, had a muted rollout instead.
It was published on Twitter nearly two weeks after the scheduled date for Selection Sunday by Brandon Spahn, the man behind your favorite IU social media graphics.
"In the past if I had it ready I would just hold on to it," Spahn said of content he created that didn't publish in the proper fashion, like when a team was eliminated early from a tournament.
"Now I usually wait and share it with my circle, but it's not the same as millions of people seeing it…but what I'm thankful about with my job is that the process is fun. Like I genuinely enjoy making this stuff."
Spahn is a native of Poseyville, Indiana, and a 2015 IU graduate. He works as the Director of Graphic Design Services for IU Athletics, helping oversee graphic design projects for IU's 24 varsity sports, with a particular focus on men's basketball, softball, swimming and diving and volleyball.
He's part of a wide-ranging team of content creators found inside Assembly Hall with the Mark Cuban Center for Sports Media and Technology, IU Athletics' home base for its creative services and media relations staff.
Producing content is an undertaking that involves the collaboration of IU's graphic design, photography, social media and videography departments, merging high-quality visuals with a platform to display them on.
Spahn is now in his sixth year as a graphic designer with IU, his fourth year in his current role as director and recently completed his fourth season working closely with the men's basketball program (he also interned for the team as a senior at IU, helping make content during the 2014-15 season).
What started for Spahn as a self-taught teenage hobby has become a full-time job, with the goal of helping fans see IU sports in new dimensions.
"Obviously winning is the most successful thing to improve your brand in athletics," Spahn said. "(But) even if we're currently not winning, or it's the offseason, how can we make these athletes seem like real people? That's what fans like to see. They like to see the behind the scenes."
*****
Spahn's interest in graphic design began when he was 12.
He actively played the video game "Age of Mythology" and when the game's website needed a banner, Spahn downloaded a free, open-source software called GIMP to make one.
As a high schooler, Spahn was given a copy of Adobe Photoshop by his aunt and used it to win $1,600 in a T-shirt design contest.
"As a sophomore in high school I didn't have to get a summer job that summer," Spahn recalls. "It was pretty awesome."
Growing up in Poseyville, Spahn remembers teaching himself design skills and enduring slow internet service. But he was hesitant to go all-in on graphic design at IU, instead graduating with a degree in informatics while receiving a minor in graphic design.
Despite his senior-year internship with IU Athletics, Spahn had already agreed to a job out of school. He spent a year in Austin, Texas, doing web development for General Motors before returning to IU in February 2016 in a graphic design role.
Spahn remembers coming back while the Cuban Center was being constructed, with IU Athletics' content creators spread throughout the athletic campus. Some were housed in football's Memorial Stadium while others were based out of softball's Andy Mohr Field.
A plethora of student interns and full-time staff members now populate the Cuban Center and its departments.
Spahn stresses the importance of collaboration when it comes to everybody doing their part to give each IU sport a distinct look for each season, be it selecting a font, a spacing format or the kinds of textures used to create graphics from IU Athletics' brand guidelines.
"Volleyball gets their own 'look' that's unique from women's basketball, which is unique from men's basketball, which is unique from baseball," Spahn said. "The idea is to keep it under a big umbrella, so even though basketball might be different, some elements are the same. We used to not have those conversations, so that was kind of how we improved internally over the past four years."
*****
Like the players who wear "INDIANA" across their chests, Spahn and his team have a routine they stick to each gameday.
Before the IU men's basketball season starts, template graphics are made that can be reused, needing only names and stats to be changed for each game.
These consist of the morning game preview (published at 9 a.m. each gameday), IU starting lineup, final score and player of the game graphics.
The non-templated stuff is where creativity can run wild.
Spahn describes it as 'more exciting, hype-up content' that he creates either the day before or the day of a game. These are posted about an hour before tipoff.
This past season they included the 'Headed to the Barn' graphic prior to IU's road win at Minnesota and a 'Big Apple' graphic used before IU played in the Jimmy V Classic in New York City.
"Things like that kind of fit the theme of the graphic and give the viewer more perspective, while still doing something more exciting than a normal graphic," Spahn said.
During games Spahn also works on a stat graphic, using photos and photo cutouts from each contest. This produced graphics like the 'Victory at the Garden' one that came after IU's Jimmy V Classic win.
"We have a full system set up for our photographers to get me and our social media person the photos during the game," Spahn said. "It's cool how fast we can get that content out."
Of course, certain parts of the process change based on game results. For example, there was no final stats graphic after IU lost by 16 points at Maryland in January.
An increased focus has also been placed on live content created during IU games, such as the team's Instagram stories from this past season, which used a template build out with different photos slotted into a consistent theme.
"As far as finding out what our fans like and fan engagement, I still think that's ongoing," Spahn said. "I think fans like to see current, relevant topics mixed with our traditional history. That's kind of tricky to do sometimes because we have older fans who obviously don't want any big, significant changes (and) younger fans that we're trying to get to hop on to fandom early.
"It's hard to balance that."
*****
In between his sports creations, Spahn's side projects almost all relate to hip-hop music.
He started his own freelance design website as a teenager, and that space, along with his Behance, Instagram and Twitter profiles, have been filled with hip-hop related illustrations since his college years.
During his junior year in Bloomington, Spahn and his roommates wanted artwork to hang on the walls. Spahn made some illustrations of their favorite hip-hop artists to hang in their living room, and more were created during his senior year.
Eventually the total was brought to 13 different artists, all depicted in playing card form, with the same suit and different numbers.
This was the first part of Spahn's hip-hop card deck project.
Spahn printed them out on matte paper and first posted them on Reddit, where people expressed an interest in buying them. He found a company to help him mass produce the prints to sell to customers, profiting from his passion.
Two years later, another suit was completed. Then another. Then the final one in November 2019.
The conclusion of a six-year process for Spahn was a finished product: 52 cards, each one displaying hip-hop artists ranging from Mac Miller and Frank Ocean, to Dr. Dre, Kanye West and Jay-Z.
"This is the most reaction to anything I've ever made, ever," Spahn, who estimates more than 500,000 people have viewed the card deck based on his website clicks, said. "It was just absolutely insane."
Spahn hopes to one day create cover and album art for hip-hop artists, as well as looping videos known as Spotify Canvas that play for some artists on Spotify.
He enjoys the personal, storytelling aspect of hip-hop music, which influences his designs.
"I come from a little more of an artsy background," Spahn explained. "I enjoy sports, I played sports in high school, but I don't really come from as much of a sports design background initially. It comes more from digital art which is kind of a different perspective than maybe other people in my role."
Utilizing different design concepts remains a cornerstone in the sports creative field, something showcased by one of Spahn's most ambitious projects.
Borrowing from an LSU men's basketball endeavor, Spahn helped construct a custom-made wall backdrop with 3-D candy stripes and removable panels, initially designed for use with Indiana's baseball team ahead of its 2020 season.
While the season lasted only 15 games, limiting the chances for its exposure, Spahn lists 'the wall' as his favorite project completed at IU.
In the digital world, Spahn is partial to his motion illustration projects, in particular a process called rotoscoping in which he traces over video footage, frame by frame, to create a new animation and image.
"It's a competition against yourself," Spahn said. "I'm not worried about, you know, how much great content might be coming out from another Big Ten school or SEC school. If I see something they make that's really cool, I'm like 'How can I take what they made, maybe take a little portion of it, and apply it to my own work?'"
Perhaps no time has better exemplified the value of sports media creatives like Spahn than during the current COVID-19 pandemic.
A scroll through IU Athletics' social media pages reveals graphics, photos, videos and more, featuring elements that engage and entice the viewer.
"Especially during this quarantine…there's nothing else to do besides be on social content," Spahn said. "So we put it all out and they (IU athletic programs) think it's good, and it's cool we're able to help a lot during this downtime.
"It fills the value of our field, which could increase how higher administration looks toward our field. The better work you make, it can only help build this field of sports social and sports graphic design and sports creative."
Filed to: Brandon Spahn