Rob Phinisee, pushed by brothers, becoming leader Indiana needs for the future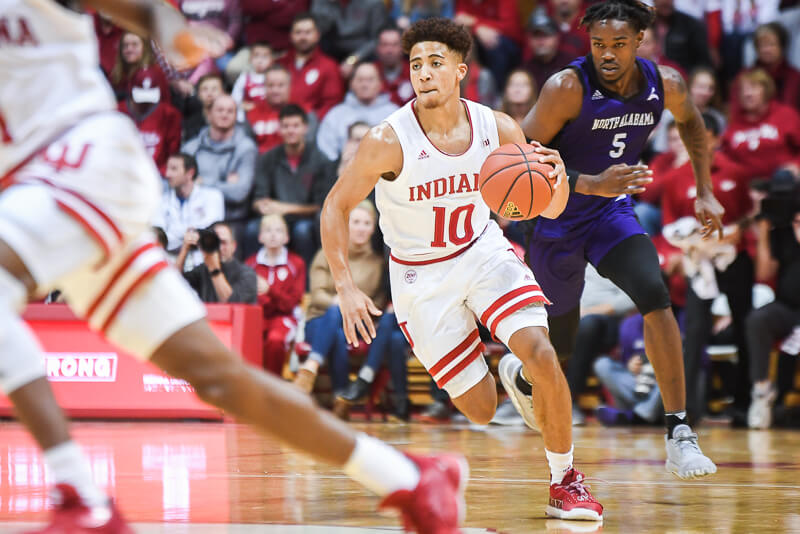 Charles Phinisee was seated behind the Indiana bench amongst a small portion of IU fans that made up the sellout Mackey Arena crowd.
He wasn't wearing any red, despite his younger brother playing for the Hoosiers. Charles is a recent graduate of Purdue University, but he wasn't sporting the colors of the Boilers, either.
"I try to keep it pretty neutral," he said. "You just gonna catch me in a casual outfit."
Although he admits this year was the first time he's ever donned an IU shirt, he couldn't bring himself to do it a second time on Feb. 27. He already hears enough from his peers as it is.
"Why didn't your brother come to Purdue?"
"Your brother should've chose Purdue. They'd be better."
On that Thursday night in Mackey, as Purdue's PA announcer Carsen Tucker introduced Indiana and said, "From West Lafayette, Indiana, Rob Phinisee," Charles' claps were drowned out by the increase of boos throughout the arena.
"It's tough because I always want the Boilers to win," Charles said. "I'm a Boilermaker for life, and I have been for the past 20 years, but when my little brother steps on the court, I want the best for him. I hope he comes in and gets 30 points."
The possibility of anyone scoring 30 points that night was far-fetched. It was one of the more offensively challenged games of the college basketball season with both teams failing to reach 30 points at halftime.
Purdue began to run away with the game in the second half, stretching its lead to as many as 16 points. But then Rob Phinisee got the ball at the right wing, drove by Eric Hunter Jr. and snuck in a left-handed layup to give Indiana its first points of the second half six minutes in.
With 11:06 left, Rob went to coast-to-coast off a rebound, pulling off an acrobatic up-and-under layup. Twenty seconds later, Rob pushed the pace again after a Purdue miss, Hunter was attached at his hip, but Rob stopped on a dime and pulled up for a three in transition and knocked it down.
That shot cut the lead to eight, and Indiana was on a 10-2 run, with seven coming from Rob. As a player who doesn't show much emotion, Rob couldn't help but turn to the Indiana cheering section and express his emotions.
Charles couldn't help but stand up and reciprocate the feeling.
"No shots were falling until that stretch, really," Rob said after the game.
Indiana went on to lose 57-49. Right before Rob went to see his family after the game, he was asked what the message was for IU's next game. A sly smirk came across his usual expressionless face.
"Win."
"Hey, that's a sixth grader"
Charles Phinisee is two years older than his brother Rob.
They are the two middle children of the family. The oldest brother, Alantae, was a standout at McCutcheon High School and went on to play at Calumet College of St. Joseph. The youngest, Joe, is a senior at McCutcheon.
Basketball, among other sports, were prominent inside the Phinisee household. Rob started playing around the age of six, and it didn't take long for basketball to become his go-to sport.
His skills started to develop quick, and Rob was always playing two years above his age group with Charles.
"When he was in sixth grade, he played up on my eighth-grade team, and people started to realize like, 'Hey, that's a sixth grader,'" Charles said. "That's when he started showing he had a lot of potential to be really good."
Rob and Charles got to play with one another for two years in high school, and Rob credits him for teaching him how to be a leader.
"He has pushed me on and off the court with everything," Rob said.
Charles tore his ACL in the state finals during his senior year when Rob was a sophomore. It was his third time tearing it, and he decided to forego his playing career and focus on education, pursuing engineering at Purdue.
Of the four brothers, three of them have torn their ACL at some point in their playing careers. Rob is the only one who hasn't.
When it came to deciding where to go with college, his brothers made sure to leave the decision up to Rob. Former head coach Tom Crean was the first to offer him, but when Archie Miller took over in 2017, he made it a priority to continue to pursue Rob.
"Coach Miller and coach (Bruiser) Flint when they were recruiting me, I really feel like I connected well with them, and just the atmosphere when I went to the games at IU were great," Rob said.
With Rob's commitment to Indiana, he became the first scholarship recruit for IU from Lafayette since 1948.
"You can see that he's the heart and soul"
Charles was at his house with some friends on Nov. 6, 2018, getting ready to watch Indiana's first game of the season against Chicago State.
He was in the other room when one of his friends called over to him, "Hey, did you know Rob was starting?"
Charles was a little surprised at first. He knew how good his brother was, but he wasn't expecting him to start right off the bat. As for Rob, it was his expectation.
"Coming in, my mindset was to start," Rob said. "I have pretty high confidence, so no matter what role I'm in, I'm gonna play hard and work my butt off to get the position I want."
As soon as Charles watched that first start, his expectations instantly changed. He's seen Rob score 51 points in a game once, which he calls to this day the best game he's seen him play.
Rob is a true point guard. His game is focused on setting up the offense, facilitating for teammates and playing solid perimeter defense.
Injuries derailed his freshman season a bit as he suffered a concussion in December 2018. He started out this season with a lower abdominal injury, then got sick, and then suffered an ankle injury in nonconference play.
It hasn't always been smooth sailing for Rob, but his mental resolve is what Charles sees as his biggest strength. It's the reason why Rob has come up big for Indiana in tight games, such as the buzzer-beater against Butler in 2018 or the clutch overtime shots against Nebraska in 2019.
"You can see that he's the heart and soul in this thing with that team… As long as he's running the show, there's bright days ahead," Nebraska coach Fred Hoiberg said after IU's overtime win.
"I don't think basketball is having a lot of pressure on me," Rob said. "Whether it's the beginning of the game or the end, I'll take whatever shot my team needs me to take. At the end of the game, I'm a little more aggressive because I feel like I can step up and make a big shot because that's how confident I am in myself."
Rob has also been clutch on the defensive end for the Hoosiers. Charles likes to brag he's beaten Rob before in one-on-one, but he knows firsthand how good of a defender he is.
"It's almost like he's a chess player," Charles said. "He always knows what you're gonna do next. He's always two steps ahead, and his reaction time and quickness make him so good."
His intelligence and lateral quickness have allowed to him play stellar defense on Cassius Winston, Michigan State's star point guard who was arguably the best guard in college basketball the past two seasons.
Rob owns a 3-0 record against Winston and has come up with some big stops while guarding him in tight moments over the years.
"He's definitely physical," Winston told Inside the Hall after Indiana defeated Michigan State this season. "He moves his feet really well, doesn't fall for a whole lot, so he's a pretty good defender."
Off the court, Charles said Rob is a funny guy, which could surprise some people since he isn't very outgoing.
Rob likes to play the piano. He started learning in high school, then took a class during freshman year at IU, which required him to take Juwan Morgan's keyboard. Rob still has the keyboard in his room now.
The soon-to-be junior guard talked about playing the piano like he did a basketball game, saying he doesn't have a favorite tune to play and that he can play a little bit of everything. That's how Rob plays, trying to do a little bit of everything, emphasizing rebounding, passing and playing good defense, and when the team needs him, taking a big shot.
"He always keeps his composure straight, and I think that differentiates him from a lot of people," Charles said. "I wish I had the same mentality he did when I was still playing. When you need to get something going, you need a leader, and that's Rob."
Filed to: Robert Phinisee