Hoosiers in the NBA: Former IU players return to action in Orlando bubble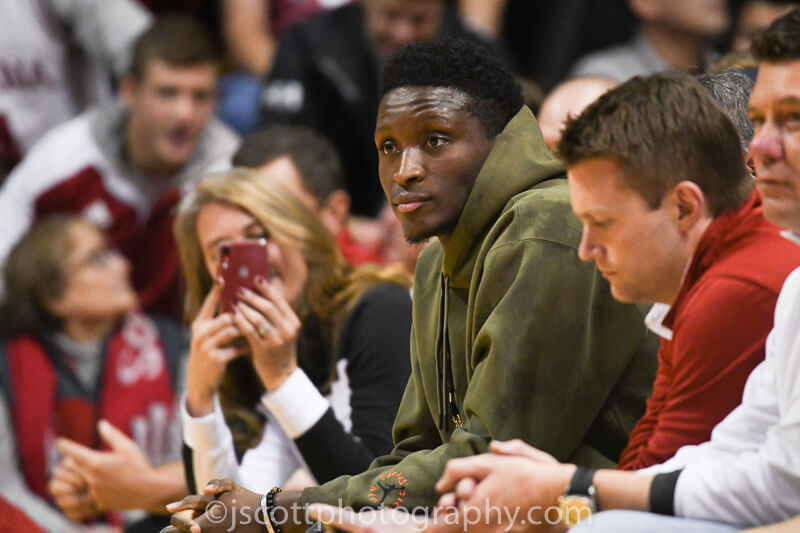 After a nearly five-month break from competitive play due to the COVID-19 pandemic, the NBA re-started its regular season on July 30 inside a 'bubble' environment at the ESPN Wide World of Sports Complex just outside Orlando.
The format of the NBA's restart allows for 22 teams to take part in the resumption of the regular season. Each team is guaranteed eight 'seeding round' games before postseason play begins, meaning there have already been plenty of opportunities for former Hoosiers to make their mark.
Here's a look at how each of the former IU players in the NBA bubble have fared so far:
OG Anunoby (Toronto Raptors)
On the heels of an NBA title-winning season, Anunoby and the Toronto Raptors have shown no signs of slowing down, even after star player Kawhi Leonard left in free agency for the Los Angeles Clippers.
The Raptors are comfortably in second place in the Eastern Conference and are all but assured of finishing in that slot, with Anunoby a major factor in their ability to have a strong regular season showing.
Anunoby entered the NBA bubble averaging better than 10 points, five rebounds and 30 minutes played per game. While his individual stats have really only impressed in one game, Anunoby has nonetheless been a driving force behind Toronto's 3-0 bubble record so far.
A starter at small forward, Anunoby torched the Los Angeles Lakers for 23 points in a primetime win and tied for the team lead in plus-minus for the game at +27.
Toronto's most recent victory, a 10-point Wednesday night win over Orlando, featured more of the same: Anunoby scored 12 points and led all Raptors players with a plus-minus of +17.
Thomas Bryant (Washington Wizards)
Of all the borderline teams invited to the NBA bubble, none was met with more blowback than the Washington Wizards, who are now 20 games below .500 and without star guards Bradley Beal (shoulder) and John Wall (achilles).
But their absence and the Wizards presence in the bubble has allowed former IU big man Thomas Bryant to put up some gaudy stat lines in Washington's first four games.
While the Wizards are 0-4 in the bubble so far, Bryant has averaged almost 20 points and more than 10 rebounds in those contests. He's led the team in points and rebounds each of the last three games, recording a double-double in all three of those games as well.
Perhaps his most impressive performance to date came in a loss to the Brooklyn Nets in which Bryant had a career-high 30 points and 13 rebounds. It's a continuation of Bryant's most successful NBA season to date, although there's only four games left in it.
Yogi Ferrell (Sacramento Kings)
Ferrell's Kings have cratered in the bubble so far, losing all three of their games by an average of nearly 10 points.
An opening loss to the San Antonio Spurs, another team jostling with the Kings for the final Western Conference playoff spots, was a particularly damaging result, but Ferrell didn't play a part in that nine-point loss.
His only involvement in the bubble so far came in Sacramento's second game, a 132-116 loss to the Orlando Magic in which Ferrell played 6 minutes, recorded three assists and scored two points.
For the season Ferrell is averaging just over 4 points per game with 1.4 assists per contest, although his future with the team is in doubt: Ferrell becomes an unrestricted free agent this offseason.
Eric Gordon (Houston Rockets)
Gordon's return to NBA action is delayed through injury.
The 31-year old was ruled out for about two weeks on the eve of the NBA restart due to a left ankle sprain. Gordon, who has battled injuries throughout his career, hurt his ankle during a scrimmage game in the bubble between Houston and Boston.
Despite missing time earlier this season after having right knee surgery last November, Gordon was the third-leading scorer for the Rockets (14.9 points per game) entering the bubble.
Houston is safely in the playoffs in the Western Conference and is projected to finish between the No. 4 and No. 6 seeds after going 2-1 in its first three restart games.
Romeo Langford (Boston Celtics)
Rookie Romeo Langford received his heaviest workload with the Boston Celtics on Wednesday night, playing 26 minutes in a blowout victory over the Brooklyn Nets.
Playing time has at times been hard to come by for Langford, who sits behind several talented guards, including fellow rookie Carsen Edwards of Purdue, on the Celtics depth chart. But Langford played more than half the game as Boston defeated Brooklyn 149-115, recording four points, three rebounds and two assists with a plus-minus rating of +27.
While it's unlikely that Langford will be much of a playoff factor for the Celtics, who will likely be the No. 3 seed in the Eastern Conference, it's still been a valuable year of growth for Langford as a professional.
The No. 14 overall pick in the 2019 NBA Draft sat out the Summer League in Las Vegas due to the thumb injury he sustained at IU, but has used defensive hustle and energy to earn some minutes, something even Archie Miller has taken note of.
Juwan Morgan (Utah Jazz)
Facing one of the most difficult schedules in the NBA bubble, Juwan Morgan has carved out more playing time for himself than most people expected through four games.
While the Jazz, who are 2-2 in the bubble, are competing to likely finish as high as the No. 4 seed and as low as the No. 6 seed in the Western Conference, Morgan has provided a spark off the bench and more food for thought for head coach Quinn Snyder when it comes to his playoff rotation.
After not playing in the first ever game held in the NBA bubble (a win over New Orleans) and only seven minutes (but with a +13 plus-minus rating) in a blowout loss to Oklahoma City that followed, Morgan's breakthrough came against the Los Angeles Lakers.
He was tossed into the fire by Snyder, as Morgan played significant second-quarter minutes that saw him defend well against the likes of Anthony Davis and LeBron James, while also spotting up in the corner on offense and hitting the occasional 3-pointer when the ball was swung his way.
Morgan played just five minutes in that game (and only one minutes in Utah's most recent bubble game), but he's beginning to learn the ropes of the system in Utah and it wouldn't be a surprise for Morgan to be a potential bench factor in a playoff series.
Victor Oladipo (Indiana Pacers)
One of the biggest storylines entering the NBA bubble was whether or not Victor Oladipo would suit up again this season for the Indiana Pacers.
Oladipo, who ruptured his quad tendon in 2019, returned to action for the Pacers in late January, but announced in early July he wouldn't play in the bubble, citing a desire to work back to full strength ahead of next season (Oladipo becomes a free agent after the 2020-2021 season).
But Oladipo traveled with Indiana to Orlando, took part in team scrimmages and determined he would play in the bubble. While T.J. Warren's high-scoring exploits have taken much of the headlines during Indiana's 3-0 start in the bubble, Oladipo has played a role as well.
Appearing in wins over Philadelphia and Orlando (his former team), Oladipo scored 15 and 13 points respectively, while leading the Pacers with seven rebounds in the win over Philadelphia. Oladipo's shooting stroke is yet to translate to the bubble, as he failed to shoot better than 50 percent from the floor in each contest.
Indiana has clinched a playoff spot and is projected to finish between the No. 4 and No. 6 seeds in the Eastern Conference.
Noah Vonleh (Denver Nuggets)
Along with Yogi Ferrell and Romeo Langford, Vonleh has been among the most sparingly used Hoosiers in the NBA bubble.
Vonleh's only appearance for the Denver Nuggets, who are 2-1 in bubble games so far, came in Denver's opening contest: A 20-point loss to the Miami Heat.
Vonleh played mop-up minutes in that game, scoring two points and grabbing a rebound.
It's a summation of what has been a lackluster NBA career for the former ninth overall pick, as Vonleh now finds himself on his seventh different NBA team in six seasons.
Regardless, Vonleh will see postseason action with the talented Nuggets, who are projected to be among the top three seeds in the Western Conference.
Filed to: Eric Gordon, Juwan Morgan, Noah Vonleh, OG Anunoby, Romeo Langford, Thomas Bryant, Victor Oladipo, Yogi Ferrell