'Romeo loves IU:' Romeo Langford's journey through Indiana to NBA dream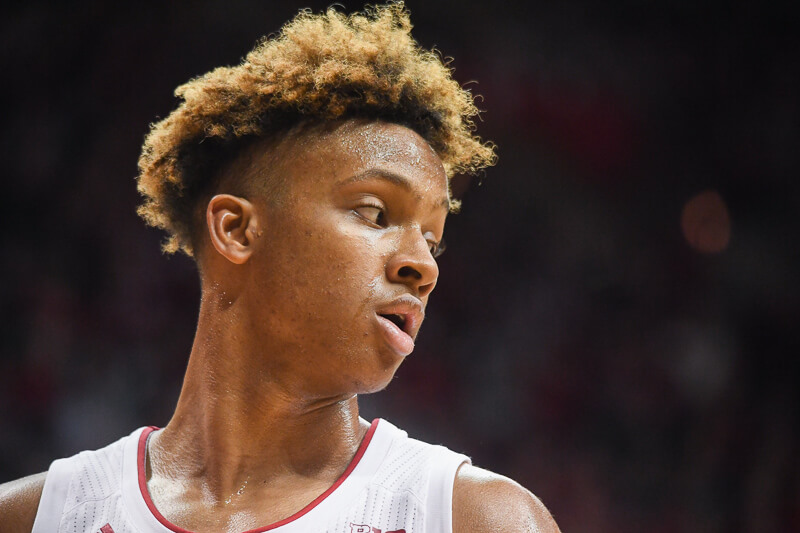 Only Romeo Langford knew what he was going to decide.
It was the end of April in 2018, just a few days out from his public announcement regarding his college destination.
It was scheduled to take place on a Monday, April 30, at New Albany High School, where Langford ascended into one of the nation's top players and highly sought-after recruits. Langford, with his quiet, laid back persona, had no interest in announcing it via ESPN. That wasn't his style.
He sat down with his parents over the weekend to officially tell them where he wanted to go. His options were Indiana, Kansas or Vanderbilt.
His father, Tim Langford, isn't afraid to admit that for the longest time he preferred Kansas. Bill Self's sustained success in the Big 12 was more enticing than the young, not-so-established programs that Archie Miller and Bryce Drew were running at the time.
But then Kansas was mentioned in the college basketball FBI scandal earlier that month, and Tim no longer wanted his son to be a Jayhawk. Ultimately, he didn't want to choose because he wanted this to be Romeo's decision.
So, when Romeo sat them down in the living room, he told them, "Indiana. I think I really want to go."
A few more people knew what he was going to decide, but the fan bases of each university were on the edge of their seats come Monday.
Romeo opened his announcement up to the public, allowing media and fans to attend. A sea of cream and crimson filed their way into New Albany's gym.
After a short presentation, Romeo walked up to the podium with three hats placed in front of him — Vanderbilt to his right, IU in the middle, Kansas on the left. He rushed through his list of thanking people — God, family, friends, coaches, trainers — until he finally reached, "with that being said, I will continue my education and basketball career at…"
Romeo stepped away from the mic, and with a smirk on his face, he playfully took his right hand and reached for the Vanderbilt hat, then quickly moved it and snatched the Indiana hat and plopped it on his head.
The crowd exploded, chants broke out and shockwaves were sent through Hoosier nation.
"It was pretty crazy," his dad said.
The expectations sky-rocketed for Indiana. Romeo was deemed the savior, the hometown hero, the kid who was going to restore the program's prominence, all before stepping on the court.
Five months later, at Indiana's media day, Romeo fed flames to the fire. But he was and always has been confident in his game, so when he was asked his realistic expectations for the upcoming season, he answered honestly.
"My expectation is to win a National Championship."
***
Romeo Langford was signing autographs before he could even write in cursive.
In the fifth grade, a young Romeo was playing at Floyd Central, and after the game, a boy came up to him and asked Romeo to sign his tennis shoes.
Romeo's teammates giggled behind him, but he said he'd do it, nonetheless. They had to go find a sharpie and once they did, Romeo took the shoe, and in a carefully constructed yet crooked style, he signed his name.
It might be hard to imagine a fifth grader signing autographs, but that was also around the time Romeo caught the eye of Dion Lee, a trainer at Legends Athletic Training.
"I met Romeo in the fifth grade. It was in a youth tournament, and he was by far the best player on the floor out of both teams," Lee said. "I had the better overall team and we won the game, but I saw something in Romeo that made me want to work with him."
So, their relationship began, and Lee said Romeo had all the intangibles that many young kids don't — he would hold his follow through, he would have his hands up on defense, he would do all the little things.
"He had a certain movement about him," Lee said. "It was smooth."
His youthful stardom stayed with him when he got to high school. It was at New Albany where Romeo evolved into one of the nation's most prolific prep players.
He finished his career at New Albany as the fourth-leading scorer in Indiana high school basketball history with 3,002 points. In his senior season, he led the Bulldogs to a 25-2 record and averaged 35.5 points, 9.9 rebounds, 3.7 assists, and three steals per game. He was also named 2018 Indiana Mr. Basketball.
Lee said the town would "shut down" any time Romeo would play on Friday or Saturday night. All eyes were on him.
"It was special," Lee said. "He embraced that understanding of what it meant to be a high school phenom."
In a recruiting class that was headlined by Duke's big three of RJ Barrett, Zion Williamson and Cam Reddish, there was Romeo Langford ranked number five. But he never got too big for the spotlight.
Romeo would stick around after games for hours to sign autographs and take pictures with fans who formed what seemed like endless lines to meet him. Romeo would do his best to greet every one of them.
"I always knew Romeo liked LeBron James, and I always put in his head before he got to high school, I said, 'Romeo, how would you like it if you were waiting for LeBron after a game and he just walked right by you?' And he just looked at me," Tim Langford said. "But deep down, he remembered that, and he wanted to make sure everyone, old or young, he'll stay as long as it takes to sign an autograph or take a picture."
His humility and fame eventually led to New Albany naming an outdoor basketball court after him. It's a blue, red and white court, with his named and autograph engraved on it.
"It was more than the game, but how he carried himself off the court," Tim Langford said. "That was pretty special."
***
His career at Indiana started off about as well as any. The Hoosiers were 12-2 at the beginning of January and were ranked No. 21 in the country.
Archie Miller, just in his second year at the helm, looked like he was going to coach IU into their first NCAA Tournament appearance since 2016.
But then everything changed.
There were many injuries up and down the roster, and as the team entered the bulk of Big Ten play, they lost 12 of 13 games. The level of confidence and team unity seemed like it decreased after each loss.
The offense grew stagnant, and many believed Romeo wasn't being used to his best ability, especially his father.
"I didn't see coach Miller doing what he said he was going to do when he was at our house," Tim Langford said. "My wife kept asking Romeo why he's standing in the corner, and he said, 'That's what coach told me to do.' I never saw a change in how they ran the offense."
But despite the controversy and the frustration, the Hoosiers rallied, winning their final four games, which set them up for a play-in game against Ohio State in the Big Ten Tournament where the winner would head to March Madness.
Romeo had some back pains throughout the game and was essentially a non-factor, scoring nine points in 36 minutes. Indiana went on the lose the game 79-75.
The criticism began to pour in on Romeo, saying he "gave up" on the team, especially since he didn't play in any of IU's three NIT games. But Miller said his injury was so bad he wouldn't have played even if the team were in the NCAA tournament.
It was revealed right around the NIT that Romeo had sustained a torn ligament in his right thumb, but that had been around for most of the season. It happened against Duke on Nov. 27, 2018.
Romeo elected not to have surgery, and he didn't tell his parents about it until March because he wanted to finish out the season.
"When he got hurt, he could've done like any other kid and shut it down," Lee said. "Look at all the high draft picks that year that got hurt and just shut it down. But he made a commitment to the university and the team."
"I would've told him to get that taken care of. Our goal wasn't one-and-done, they label players like that. I only wanted him to get it taken care of so it didn't get hurt anymore," Tim Langford said. "Romeo's tough, that's my son, and he wanted to finish out the season."
Just like that Romeo's time at IU had come and gone. He ended up having surgery and entering the NBA draft, getting selected 14th overall by the Boston Celtics.
But even today, his name draws negativity at Indiana and some fans still question his loyalty.
"I was disappointed in that because my son put everything on the line," Tim Langford said. "Romeo didn't pay attention, but for us as a family, we were disappointed because he dedicated himself to go to IU and he gave what he could give, and he fought."
***
On Feb. 26 this year, one day before Indiana was set to play Purdue on the road, a question was posed to Archie Miller about the expectations Romeo Langford had to endure versus the ones of Trayce Jackson-Davis, IU's standout freshman from last season.
"I think Trayce has probably dealt with one-tenth of what Romeo had to deal with through the course of the season," Miller said. "I don't know if anyone ever will, I really don't know if there will ever be a freshman that will go to a place like an Indiana, an in-state school, at the time that he did when he was coming out of high school, and be able to live up to those type of standards, even when you average 16 or 17 a game in the Big Ten as a freshman."
Even through the injury to the thumb, Romeo averaged 16.5 points per game, which was third-best among major college freshmen.
"Romeo had as good of a freshman season as a lot of freshmen have ever had coming through here and it seems like all they wanted to talk about what was went wrong," Miller said.
The team may not have advanced to the NCAA tournament during Romeo's lone year, but the significance of his commitment elevated the program to new heights in terms of recruiting.
Miller has now landed two more Indiana Mr. Basketball's in Jackson-Davis and Anthony Leal. Not even Bob Knight managed to obtain three consecutive Indiana Mr. Basketball's. Khristian Lander, who very well could've been the 2021 Indiana Mr. Basketball if he hadn't reclassified to 2020, is also heading to Bloomington this fall.
"Getting three Mr. Basketball's in a row, that's saying something," Tim Langford said. "I think Romeo paved the way for that."
After the Celtics played the Indiana Pacers at Bankers Life Fieldhouse on March 10, one day before the NBA season was postponed, Inside the Hall asked Romeo if he had heard Miller's comments defending him at the end of February.
"It feels good," Romeo said. "That's why I went to Indiana because I knew coach Miller and the people that were there would always have my back."
Even before the NBA season kicked off this past year, Romeo spent a lot of his time over the summer in Bloomington, hanging out with his former teammates and sleeping on Rob Phinisee's couch.
His father said that whenever Romeo returns to his home state, he'll go to IU first before visiting his parents.
"For all those negative fans out there, they don't know how much Romeo loves IU," Tim Langford said. "He's pretty crazy about IU. Even though with all the negativity and stuff like that, Romeo loves IU."
***
The surgery Romeo had on his hand forced him to miss a lot of summer action and training camps with the Celtics. As a result, he went back-and-forth to the Celtics' G-League affiliate, the Maine Red Claws, a few times during the course of the season.
Tim Langford was scheduled to take a trip to Maine in early February to visit his son and watch him play to see how he's doing.
But he got a call from Romeo on Feb. 5, and he told him he was starting that night. Tim was confused since Romeo usually started for the Red Claws.
"No, dad, I'm starting for the Celtics."
"You talk about a thrill," Tim said.
Marcus Smart and Kemba Walker were both out that night, and in Romeo's first NBA start, he played 28 minutes and scored six points.
It began a streak of Langford becoming a consistent part of the Celtics' rotation.
On Feb. 23, Langford played 15 minutes on ABC against the Lakers. There was a moment where he was matched up against LeBron James, one of his favorite players growing up.
Jeff Van Gundy is on the call, saying, "Romeo, Romeo, where art thou help?" Then, James drove left on Romeo, and as he pulled up for a shot, Romeo knocked the ball out of his hand, but James was still able to regather it and make the shot. Van Gundy and Mike Breen commended Romeo for his defense on that possession.
"We went nuts here," Tim said.
"You're guarding LeBron James on Sunday on TV, I get the biggest kick — he's a defensive stopper now he tells me," Archie Miller said.
In Romeo's last game before the season was postponed, he shared the floor with a lot of Indiana players. Of course, his teammate, Gordon Hayward from Butler, has a prominent role on the Celtics. On the opposite side of the floor was Victor Oladipo, the former IU great who has returned to Indiana to elevate the Pacers.
Romeo is now one of nine former Hoosiers to be in the NBA.
"It's hard to be in the position he's in where you're not playing very many minutes, you go down to the G-League, you come back and you're just kind of waiting around, and then when he's got his opportunities, I think he's done a great job. I think he's going to be a great player in this league, I really do," Hayward told Inside the Hall. "He's got great size and great feel for the game, which is something that you can't teach. He just has to continue to work and continue to get better, and I think he's done that over the course of the year and I think that's why you see some of that paying off."
With the NBA planning to resume at the end of July in Orlando, the Celtics will be one of the contenders in the Eastern Conference, and with how Romeo has been playing, don't be surprised if he's on the court come playoff time.
"He does a good job. He works his tail off in practice," Jayson Tatum told Inside the Hall. "He's come up big for us in some games this year, so we're really going to need him, especially in the playoffs."
The NBA has always been the goal for Romeo Langford. But one of the most significant things about Romeo is how he never overlooked any step of his journey.
From scribbling autographs as a fifth grader, to dominating the high school scene, to playing through injury to help his teammates at IU, Romeo has remained committed.
The former Hoosier's NBA career is just beginning.
"Now he's at the highest level, but his game isn't at the highest level," Dion Lee said. "He has so much to still develop and I think as he gets keep getting better, he can become one of the best players in the league and a potential all-star."
Filed to: Romeo Langford