Plans unveiled for Romeo Langford basketball court in New Albany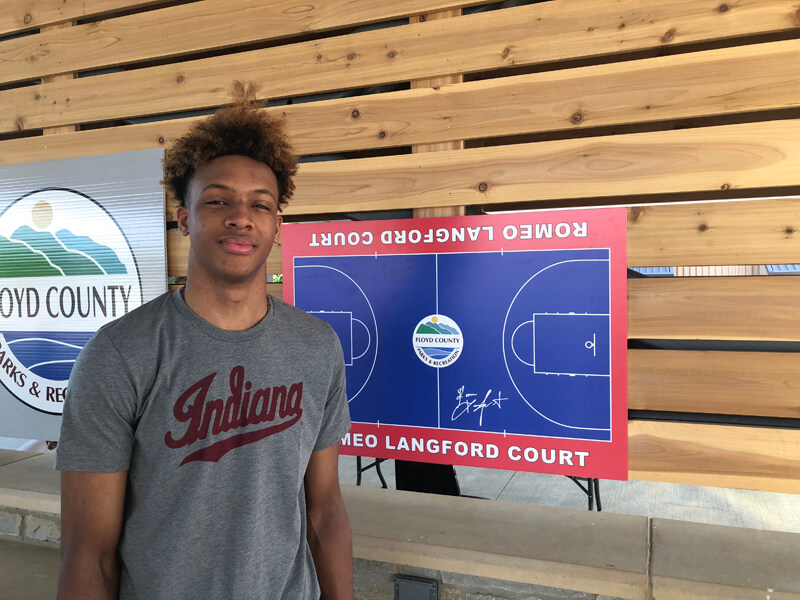 NEW ALBANY, Ind. – Plans were unveiled on Friday evening for an outdoor basketball court in Floyd County that will be named in honor of incoming IU freshman and Mr. Basketball Romeo Langford.
The court, which will be a part of the new Kevin Hammersmith Memorial Park, is expected to open on July 14.
The Floyd County Parks and Recreation department held a ceremony on Friday night featuring Langford, his father Tim and New Albany coach Jim Shannon.
The court will be blue and red and will feature Langford's name on the sidelines with his signature on the court. It will have two adjustable goals and will be regulation size.
Langford, who committed to Indiana on April 30 and recently signed his National Letter of Intent with the Hoosiers, is the state's fourth all-time leading scorer.
He led the Bulldogs to the 2016 Class 4A state championship and was also named a McDonald's All-American, the Gatorade player of the year in Indiana, a Jordan Brand All-Star and a Naismith All-American.
"So many people in Floyd County have enjoyed watching Romeo play over the past four years, and naming the court in his honor is a way for our community to look back and say 'thank-you' to him," said Steve LaDuke, vice president of the county parks board. "Every kid that steps on any outdoor court should not only try to emulate Romeo's actions on the court, but also his demeanor and kindness off-the- court."
In 2019, the Floyd County Parks and Recreation department will also improve and name a court in honor of former IU guard Pat Graham, who played at Floyd Central. That honor will coincide with the 30th anniversary of Graham being named Mr. Basketball.
Both Romeo and Tim Langford spoke on Friday night at shelter area in the park and complete video of their comments can be found below as well as a photo gallery:
Filed to: Romeo Langford