Hoosiers in the NBA: Romeo Langford advances to conference finals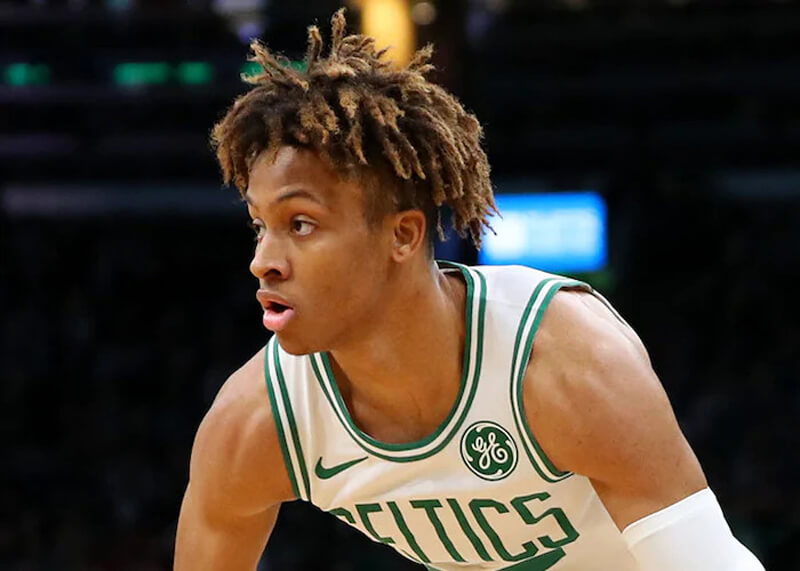 Only two Hoosiers remain in the NBA playoffs after another weeks-worth of results from inside the Orlando bubble.
The Eastern Conference Finals are already set while a game seven is needed Tuesday night to decide which Western Conference team will meet the Los Angeles Lakers in the Western Conference Finals.
Here's an update on the former IU players recently ousted from, and still remaining part of, the 2020 NBA postseason.
OG Anunoby (Toronto Raptors)
A respectable effort to defend the NBA title by OG Anunoby and the Toronto Raptors came to an end in the Eastern Conference semifinals. The Raptors fell in seven games to the Boston Celtics, but it was a series filled with close games and signature postseason moments, one of which belonged to the former IU player.
With just 0.5 seconds left in game three, and Toronto trailing 103-101 and staring straight at a disastrous 3-0 series deficit, Anunoby rose to the occasion.
He ran from one side of the court to the other, sliding into position for a corner 3-pointer while the Boston defense fell asleep. Toronto guard Kyle Lowry launched a looping pass to him, and Anunoby caught and shot the ball in one motion, cleanly getting the shot off and sinking a 3-pointer to stun the Celtics and give Toronto new life.
It was the second buzzer-beating 3-pointer to win a game this NBA postseason (Luka Don?i? of the Dallas Mavericks had the other). Anunoby's heroics, coupled with his muted reaction to the moment, sent NBA and IU Twitter into pandemonium for the third-year NBA player.
"I expected to make it. I don't shoot trying to miss. … I wasn't surprised."

OG Anunoby with the coldest answer on his game three buzzer-beater. pic.twitter.com/2XUCR3c2pK

— Bleacher Report (@BleacherReport) September 4, 2020
What a great pass and shot. The moment was not too big for OG. He met the opportunity with poise and a perfect shot. Great win @Raptors https://t.co/kcZsM8YHWK

— Tom Crean (@TomCrean) September 4, 2020
But ultimately it wasn't enough to push the Raptors into the next round, despite Toronto winning game six in double-overtime to force a winner-take-all game seven. Boston won that deciding game, 92-87, with Anunoby recording four points and seven rebounds in 35 minutes.
For the season, Anunoby averaged 10.6 points and 5.3 rebounds in 69 regular season games and 10.5 points and 6.9 rebounds in 11 postseason games, although anyone who has watched him play at IU and with Toronto knows Anunoby's worth is measured more through his defense and versatility.
Eric Gordon (Houston Rockets)
Like Anunoby, Gordon's run in the 2020 NBA postseason came to an end in the conference semifinals.
Gordon's Houston Rockets, after surviving a back-and-forth seven-game series against the Oklahoma City Thunder, were dispatched in five games by the Western Conference's No. 1 seed, the Los Angeles Lakers.
Gordon played a part in all 12 postseason games for the Rockets, playing a particularly important role as a scorer for most of the Oklahoma City series as star guard Russell Westbrook was out injured.
Gordon scored 15 or more points in six of the seven games in the Oklahoma City series, and surpassed the 20-point mark on four occasions, including a 21-point performance in the deciding Game 7.
But after finding initial success in a Game 1 win over Los Angeles, Houston's revolutionary small-ball lineup encountered struggles against the Lakers. Gordon shot worse than 30 percent from the field on two occasions in the series, most notably a 2-for-9 showing in a game three loss, which shifted control of the series to Los Angeles for good.
For the season, Gordon's 11th in the NBA, the one-time Hoosier guard averaged 14.4 points and shot 36.9 percent from the field in 36 regular season games (he was sidelined early in the season after right knee surgery). In postseason play, Gordon averaged just over 17 points per game and shot 40.3 percent from the field in 12 contests.
While the ultimate goal of reaching, and winning, an NBA championship once again eluded Gordon and the Rockets this season, it was another productive individual NBA campaign for the former seventh overall draft pick.
During a January road win at Utah, Gordon scored a career-best 50 points, becoming the first Houston player not named James Harden to score that many points in a game for the franchise in 24 years.
Houston signed Gordon to a four-year, and more than $75 million, contract extension last offseason.
Romeo Langford (Boston Celtics)
The likely leading candidate in terms of another former IU player winning an NBA championship has to be Romeo Langford.
The rookie, who was selected 14th overall in last summer's NBA Draft, will be a conference finals participant in his debut season after his Boston Celtics advanced past the defending-champion Toronto Raptors in seven games in the second round of the playoffs.
Langford, who has carved out a role for himself in Boston's rotation, primarily thanks to his defense as a rookie, played only twice in the series against Toronto, during garbage time of blowout Boston wins in game one and game five.
In total, Langford has made five postseason appearances for the Celtics inside the Orlando bubble, with more likely to come as Boston begins its Eastern Conference finals series against the Miami Heat on Tuesday night.
Earlier this season, Dylan Wallace of Inside the Hall profiled Langford and spoke to some of his Boston teammates, like former Butler star Gordon Hayward (currently out with an ankle sprain), to learn what has led to Langford's initial NBA success and how that might continue into the future.
"He's got great size and a great feel for the game, which is something that you can't teach," Hayward told ITH. "He just has to continue to work and continue to get better, and I think he's done that over the course of the year and I think that's why you see some of that paying off."
Juwan Morgan (Utah Jazz)
Since our last 'Hoosiers in the NBA' update, Morgan and the Utah Jazz have been ousted from the NBA postseason.
Morgan made surprise starts in games one and two of Utah's opening-round series against Denver, becoming the first undrafted rookie to ever start a playoff game.
He posted a Utah team-best +17 on the floor in a game one loss and a +23 on the floor in a Utah win in game three.
But Morgan's playing time then decreased in the series, which coincided with the return of Utah guard Mike Conley to the lineup.
Morgan played just a combined seven minutes in games five and six, both won by Denver to set up a winner-take-all game seven.
Denver won that game seven, 80-78, with Morgan playing seven minutes and recording one point, one rebound and being a Utah team-worst -9 on the floor.
Regardless, it was a more than successful debut NBA season for Morgan.
He established himself, first in the G-League then in the NBA, as a rotation player with the competency to play solid defense and fill a specific role at the professional level.
Morgan finished the season with 21 regular season and seven postseason appearances, averaging 1.7 points and 1.4 rebounds per game in the regular season and 1.4 points and three rebounds per game in the playoffs.
Noah Vonleh (Denver Nuggets)
The postseason run for Noah Vonleh and the Denver Nuggets yet again hinges on a game seven result.
For the fourth straight postseason series, dating back to last season, the Nuggets find themselves in a game seven. This time it's against the fancied Los Angeles Clippers, who took a 3-1 series lead on Denver, only to lose the next two games.
Vonleh wasn't involved in either of those two Denver victories. In fact, Vonleh has played just once in the 2020 postseason for Denver, and just four times total for the Nuggets inside the Orlando bubble.
In the regular season, Vonleh played in 36 total contests, averaging 3.7 points and 3.4 rebounds per appearance. His contract with the Nuggets expires at the end of the season, meaning the 25-year-old Vonleh will likely be an unrestricted free agent looking for the seventh different team in his NBA career.
Filed to: Eric Gordon, Juwan Morgan, Noah Vonleh, OG Anunoby, Romeo Langford