Hoosiers in the NBA: OG Anunoby and Romeo Langford face off in second round of playoffs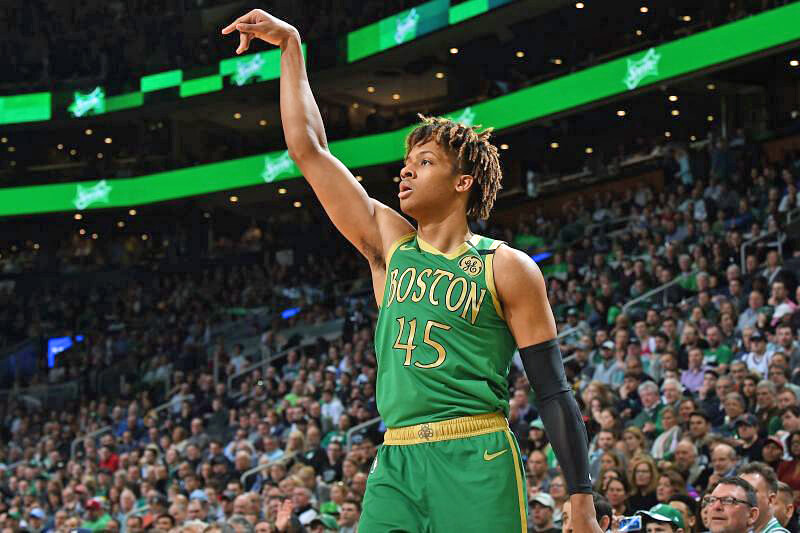 Following a work strike in the 2020 NBA playoffs as a form of social justice protest by the league's players, games have now resumed inside the NBA bubble at the ESPN Wide World of Sports Complex outside of Orlando.
Six of the eight former IU players who took part in the NBA bubble qualified for the postseason, and five remain after most first-round series have concluded in the Eastern Conference and Western Conference.
Here's an update on where each former Hoosier is on his postseason journey, and the path awaiting them en route to the NBA Finals.
OG Anunoby (Toronto Raptors)
Anunoby and the Raptors cruised to a 4-0 first round series sweep of the overmatched Brooklyn Nets, but now find themselves down 1-0 to the Boston Celtics in the second round of the playoffs.
In that opening-round series against Brooklyn, Anunoby put in four typical workmanlike performances for Toronto. He averaged nine points and 5.5 rebounds for the series.
Each game against Brooklyn was decided by an average of 20.5 points in Toronto's favor.
But less desirable results arrived Sunday afternoon during Toronto's opening game of its series with Boston. Anunoby recorded 12 points and seven rebounds, but was also a -21 on the floor as Toronto lost by 18.
Game two in the series is scheduled for Tuesday.
Eric Gordon (Houston Rockets)
Gordon and the Rockets are still embroiled in a tight first-round series with the Oklahoma City Thunder.
Houston currently has a 3-2 advantage in the series, with a potentially decisive Game 6 scheduled for Monday night.
Gordon, normally a key bench option for the Rockets, has started all five games in the series and is averaging 19.4 points per contest.
His impact on the floor has largely been in lockstep with Houston's team outcome in each game. Houston had a +23 point differential with Gordon on the court in a Game 2 win that put them up 2-0 in the series, but then Houston had a -29 point differential with Gordon on the court in a Game 3 overtime loss.
The series was then tied 2-2 before Houston cruised to a 34-point win in Game 5 that saw star guard Russell Westbrook return for the first time in the playoffs and Gordon contribute with another solid 20-point outing.
Romeo Langford (Boston Celtics)
Still in his first NBA season, Langford has made five appearances for the Celtics through the team's first five postseason games.
The rookie made his biggest impact during Game 2 of a first round series sweep of the Philadelphia 76ers. Langford played 23 minutes in a blowout Boston victory, scoring six points and finishing +26 on the floor, a sign of how good Langford's defense already is in his young NBA career.
Langford hasn't played more than 11 minutes in any other playoff game so far for Boston though, as the Celtics currently lead the Toronto Raptors 1-0 in the Eastern Conference semifinals.
Juwan Morgan (Utah Jazz)
No former Hoosier in the NBA has used the bubble to his advantage quite like Juwan Morgan.
In Game 1 of the opening round playoff series between Morgan's Utah Jazz and the Denver Nuggets, Morgan became the first undrafted rookie to ever start a playoff game.
He didn't disappoint with his on-court play either, authoring a very typical Juwan Morgan performance that saw him grab seven rebounds and finish a Utah team-best +17 on the floor as the Jazz lost in overtime.
Morgan retained his starting spot for Game 2, in which he scored five points in a Utah win, before moving back to a bench role starting in Game 3 once guard Mike Conley returned to the Jazz lineup. But a slight shift in roles didn't diminish the impact Morgan had on the game, as he finished Game 3 +23 on the court despite scoring just one point, showing the defensive value he has with this Utah team.
The Jazz won that Game 3 in a blowout, as well as a tight Game 4 to take a 3-1 series lead.
But Games 5 and 6, during which Morgan played a combined 7 minutes, both went the way of Denver thanks to tremendous scoring outputs by former Kentucky guard Jamal Murray, setting up a winner-take-all Game 7 on Tuesday night for the right to face the Los Angeles Clippers in the second round.
Victor Oladipo (Indiana Pacers)
Oladipo had the shortest of stays in the postseason, as he and the Indiana Pacers were swept out of the first round by the Miami Heat.
It was a playoff result that not only condemned Indiana to its fifth-straight first-round exit, but it also cost Nate McMillan his job as the team's head coach.
Oladipo averaged just under 18 points per game in the series, although that number was lowered by a Game 1 performance in which he scored just four points and played only nine minutes before leaving with an eye injury.
He returned to scoring form later in the series, leading the Pacers in scoring in Game 2 (22 points) and Game 4 (25 points). In fact, Oladipo's Game 4 stat line of 25 points, eight rebounds, five assists and five steals was enough on an individual level to at least force a Game 5 in the series, but the Pacers scored only three bench points in what was their final game of the season.
Oladipo is still under contract for one more season with Indiana, but rumors continue to swirl about his future in Indianapolis as both a trade piece and an unrestricted free agent next offseason.
Noah Vonleh (Denver Nuggets)
While the decisive Game 7 between the Nuggets and Jazz will be played Tuesday night, it seems unlikely Noah Vonleh will have a part to play in it.
Vonleh has appeared only once in this series so far, in Game 3 for three minutes during the closing stages of Utah's blowout victory.
It reflects the lack of regular playing time that has plagued Vonleh's time in Denver, and speaks to the larger questions concerning the future of his NBA career despite being a lottery pick just six years ago following his lone season at Indiana, in which he earned Big Ten freshman of the year honors.
Filed to: Eric Gordon, Juwan Morgan, Noah Vonleh, OG Anunoby, Romeo Langford, Victor Oladipo