Hoosiers in the NBA: Eric Gordon returns as playoffs begin in the bubble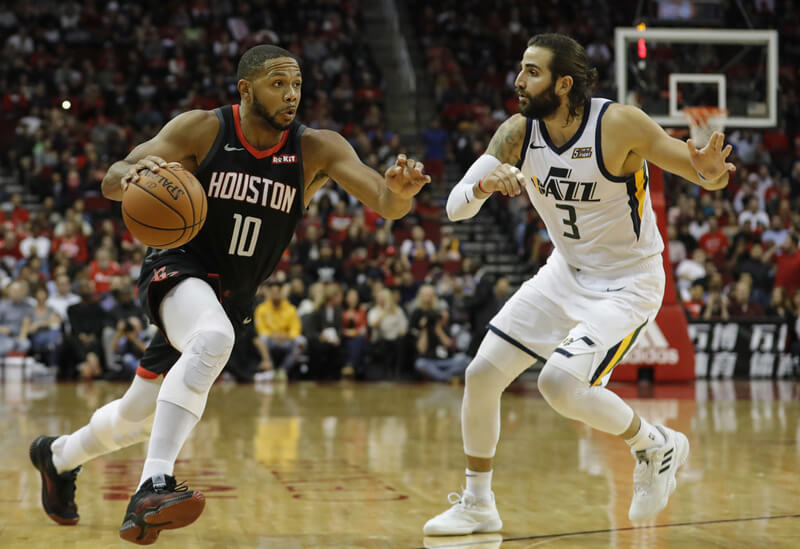 The seeding games are now completed inside the NBA bubble at the ESPN Wide World of Sports Complex outside Orlando, and the field is set for the 2020 NBA Playoffs.
The format remains the same for this year's NBA Playoffs as in years past, with eight teams in each conference competing in best-of-seven series to determine a league champion.
With the playoffs beginning Monday and planned to run through early October, now is a good time to check back in with former Hoosiers in the NBA to see whose season has ended and who can now turn their focus to the postseason.
OG Anunoby (Toronto Raptors)
Anunoby and the Raptors went 7-1 in the bubble during seeding games, locking down the second seed in the Eastern Conference.
The Raptors will play the No. 7 seed Brooklyn Nets in the first round of the playoffs.
Anunoby played in six of those bubble games for Toronto, most notably impressing in Toronto's opening win over the Los Angeles Lakers by scoring 23 points.
An eight-point win over the No. 1 seed Milwaukee Bucks also saw Anunoby play well as he dished out five assists, which tied his season-high.
Anunoby is the most recent Hoosier to win an NBA title after capturing the championship with Toronto last season, and there's real momentum building toward potential back-to-back titles for the Raptors.
Thomas Bryant (Washington Wizards)
The Wizards never came close to forcing a play-in game in the Eastern Conference, going 1-7 in the bubble and finishing 7.5 games adrift of the eighth-place Orlando Magic.
While Washington's only win came in their final bubble game, a constant throughout their bubble stay was the performance of center Thomas Bryant.
This was already Bryant's best NBA season prior to Washington's time in the bubble, and the combination of his improved play and the continued absence of star guards Bradley Beal and John Wall allowed Bryant to thrive in Orlando.
Bryant averaged 18 points and nearly nine rebounds across his eight bubble games, and he led the Wizards in scoring and rebounding in four bubble games, including in both categories in three straight games.
Bryant still has two years left on his contract in Washington before becoming an unrestricted free agent.
Yogi Ferrell (Sacramento Kings)
The Kings also did not come close to securing a playoff spot in the Western Conference, going 3-5 in the bubble and finishing 2.5 games back of forcing a play-in game for the postseason.
Ferrell wasn't a big part of Sacramento's bubble plans, and hasn't had a significant role in the team's playing rotation, due in large part to the presence of De'Aaron Fox (formerly of Kentucky) in the Kings backcourt.
Ferrell was relatively mundane in the bubble, playing more than 10 minutes only twice and with both instances coming when Sacramento was firmly adrift of the postseason.
But he did show his scoring touch in Sacramento's final bubble game, scoring 11 points in 20 minutes of action against the Los Angeles Lakers (Ferrell also had three steals in the game).
He finishes the season averaging 4.4 points and 1.4 assists in 10.6 minutes per game, and will be an unrestricted free agent this offseason.
Eric Gordon (Houston Rockets)
After Gordon's return to NBA action was delayed by a left ankle sprain he suffered during a scrimmage game in the bubble, he played two games for the Houston Rockets during the seeding round.
Gordon's first NBA action since early March saw him play 20-plus minutes against Indiana and Philadelphia, scoring 13 points each time.
His 1-for-9 3-point shooting performance against Indiana improved to a 3-for-6 3-point shooting performance against the 76ers.
The Rockets went 4-4 in the bubble and will be the No. 4 seed in the playoffs, and Gordon's importance and role to the Houston team will increase in coming days due to a quad injury suffered by star guard Russell Westbrook.
Romeo Langford (Boston Celtics)
The injury bug has hit Romeo Langford again.
After recovering from the thumb injury he sustained during his lone year at IU and carving out a role for himself with the Boston Celtics based around defensive hustle and energy, Langford may have to put his career on pause.
Celtic coach Brad Stevens told reporters last week that Langford has torn ligaments in his right wrist and might need a procedure to fix the issue.
Stevens said the team is still in the early stages of determining next steps for Langford, which is to say that he's questionable to play for the rest of Boston's time in the bubble.
The Celtics went 5-3 in seeding games in the bubble and open postseason play tonight as the Eastern Conference's 3-seed against Philadelphia.
Regardless of if Langford can take part in any future games this season, Stevens seems committed to keeping Langford around on a guard-heavy lineup in Boston.
"He is a hard-working guy, he's a tough guy and I think he's got a bright, bright future," Stevens said.
Juwan Morgan (Utah Jazz)
Another injury scare befell Utah Jazz forward Juwan Morgan in recent weeks.
During an August 7th game against San Antonio, Morgan went down with a right knee injury and needed to be helped off the court, before later needing a wheelchair to reach the locker room.
A worst-case scenario was avoided after an MRI came back negative, and Morgan was even able to return for Utah's final seeding games, and displaying his passing ability while doing so.
This means Morgan will continue to be part of Utah's bubble contingency, which enters the Western Conference playoffs as the No. 6 seed.
Morgan figures to play a relatively pivotal role for Utah as well, especially with the news that Jazz forward Ed Davis will miss Utah's first-round series with a left knee injury.
So you can expect some postseason playing time for Morgan, who twice played 22 or more minutes in a game during the seeding games (each time a new career-high).
Victor Oladipo (Indiana Pacers)
After initial indecision about whether or not he would play for Indiana in the bubble due to injury recovery and with a look toward the 2020-2021 season, Oladipo proved to be a consistent player for the Pacers in Orlando.
He appeared in six seeding games for the Pacers, going 4-2 and scoring at least 13 points in each contest.
The 22 points Oladipo scored in a five-point win over the Los Angeles Lakers represented his highest points total of the seeding round. He also twice led the Pacers in rebounds with two games in which he grabbed seven boards.
There will be plenty of opportunities for Oladipo to perform when it matters most during Indiana's highly-anticipated first-round series against the Miami Heat.
Noah Vonleh (Denver Nuggets)
Vonleh saw very limited time in three bubble games so far with the Denver Nuggets.
The sparsely-used Vonleh played no more than seven minutes in each of his appearances so far in Orlando, which didn't do much to affect his 2019-2020 regular season stat line of 3.7 points and 3.4 rebounds per game.
Now on his seventh NBA team in six seasons following his lone season spent in Bloomington, Vonleh will be an unrestricted free agent likely looking for another new home this offseason.
Until then, Vonleh's Nuggets open the playoffs against Juwan Morgan's Utah Jazz.
Filed to: Eric Gordon, Juwan Morgan, Noah Vonleh, OG Anunoby, Romeo Langford, Thomas Bryant, Victor Oladipo, Yogi Ferrell