Hoosiers in the NBA: Recapping the player movement thus far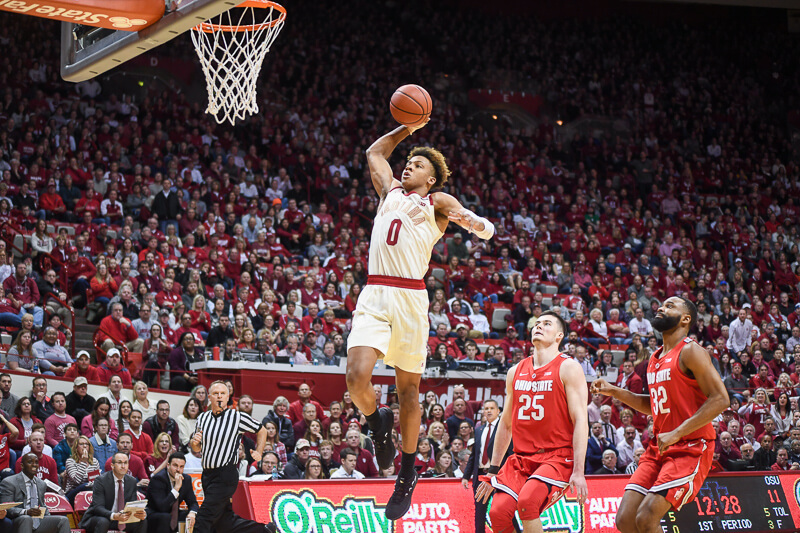 NBA free agency got underway on Friday, June 30 at 6 p.m. ET and there's been plenty of movement involving former IU players.
Among the seven IU players who suited up in an NBA game last season, only two remain without contracts for next season.
Here's a look at the current status of each former Hoosier:
Victor Oladipo – Oklahoma City Thunder
Contract status: Oladipo exercised his player option for $9.45 million for 2023-24 season with the Miami Heat and then traded to Oklahoma City Thunder
Notes: The 31-year-old Oladipo is currently rehabbing from a torn patellar tendon. The Heat traded Oladipo and draft compensation to the Thunder to shed his guaranteed money for next season.
OG Anunoby – Toronto Raptors
Contract status: Anunoby is entering year three of a four-year contract worth $72 million (he'll earn $18.6 million for the 2023-24 season)
Notes: Frequently mentioned in trade talks, Anunoby has a player option for the 2024-25 season worth $19.9 million. Given his value around the league as an elite defender and rising salaries due to the new CBA, it would seem unlikely that Anunoby would opt-in to that deal next offseason. It's also worth noting that Anunoby recently left Rich Paul and Klutch Sports and is now represented by CAA.
Thomas Bryant – Miami Heat
Contract status: Agreed to 2-year contract with Miami Heat
Notes: Bryant, a member of last season's championship team with the Denver Nuggets, is joining the Miami Heat. The deal is for two years and $5.4 million, according to Adrian Wojnarowski. The second year of the deal is a player option.
Romeo Langford – Free agent
Contract status: Unrestricted free agent
Notes: Langford currently finds himself without an NBA home after San Antonio declined to extend him a qualifying offer worth $7.7 million. The 23-year old guard is free to sign with any NBA team, but there's been little reported about the market for his services as a free agent.
Cody Zeller – New Orleans Pelicans
Contract status: Agreed to 1-year contract with the New Orleans Pelicans
Notes: Zeller was signed by the Heat last season in late February and was a rotation player for Miami's run to the NBA finals. His contract was only guaranteed through the end of the season and he recently agreed to join the Pelicans next season. The deal is worth $3.1 million.
Eric Gordon – Phoenix Suns
Contract status: Agreed to 1-year contract with Phoenix Suns
Notes: Gordon has agreed to join the Phoenix Suns, according to Shams Charania. The 34-year-old native of Indianapolis will join a Phoenix roster that includes Kevin Durant, Bradley Beal and Devin Booker. No financial terms of the deal have been reported.
Noah Vonleh – Free agent
Contract status: Unrestricted free agent
Notes: Vonleh was waived by the Spurs after Boston traded him in early January ahead of the date to guarantee his contract for the remainder of the season. His NBA career is likely over.
Filed to: Cody Zeller, Eric Gordon, Noah Vonleh, OG Anunoby, Romeo Langford, Thomas Bryant, Victor Oladipo