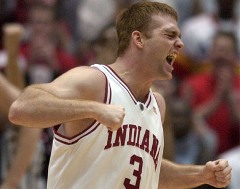 Tom Coverdale is one of our favorite guards to ever play at Indiana. He was the catalyst and South Region MVP for the 2002 NCAA National runner-up team, scored 1,217 points in 115 career games and is now an assistant coach at Louisiana Monroe. He's one of only two players in Indiana history to score 1,000 points, hit 200 3-pointers and dish out 500 assists. I caught up with the former Mr. Basketball from Noblesville and asked him about a variety of topics. A transcript of that conversation is below. Enjoy.
Inside the Hall: First things first. You first got into coaching at Louisiana Monroe, went to Chicago State for three weeks and returned to Louisiana Monroe when an assistant coaching job opened. How was the transition moving from a player to a coach and ultimately, what are your long term goals in coaching?

Tom Coverdale: I knew I wanted to stay in basketball. The toughest part for me is not being able to actually get out there and play during the games and not having hands on control during the games as much as you do as a player. My long term goal, I think just like every other young coach that gets into coaching, is to become a successful head coach at a great program and just try to get back to a Final Four.
ITH: You played for both Bob Knight and Mike Davis at Indiana. Tell us a couple of things you learned from each of those guys that you've been able to incorporate into your own career as a coach.
TC: I couldn't really pick out different things, especially only being with Coach Knight for one year, but probably the way he prepared before games and got his team ready is something that I'll always remember. In general as a player I think the thing that helped me the most is a lot of the situations players go through, I've lived through. I can relate to them and know exactly what they're feeling and thinking as they're going through it.

ITH: As a player, it always seemed that opposing fans loved to hate Tom Coverdale, but Indiana fans embraced you for your willingness to do the little things that it took to win basketball games. What do you think it was about your style of play that drew the ire of opposing fans?
TC: The way I always looked at it is if the other fans liked me, then I wasn't doing my job for my team. I think the reason they didn't like me is because I was a real emotional player and didn't really hold anything back as far as emotion and just playing as hard as I could. I think it's a combination of those two things that opposing fans didn't like.