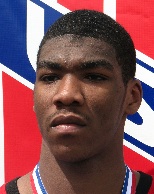 On Wednesday afternoon, Indiana picked up a third player for its 2011 recruiting class — Louisville Eastern guard Remy Abell.
The 6-4, 180-pound Abell was selected for the Kentucky All-Star team and was named first team All-State by The Courier-Journal. He averaged 16 points, 2.8 rebounds, 2.7 assists and 2.5 steals and had 25 blocked shots during his senior season at Eastern.
Inside the Hall caught up with the newest Hoosier shortly after his commitment for a Q & A:
On when he knew Indiana was the place for him
"It kind of helped me after I made the visit on Monday. I was thinking about it a lot and it's a great school, great program, great history and I'm real excited to be a Hoosier."
On the Monday visit to Bloomington
"I just met some of the players, hung with the coaches. And Coach Crean, he's the head coach and he's a future hall of fame coach. I know he's going to push me, but I know he can make me a better player in the long run. The rest of the coaching staff was just great and just seeing the facilities, visiting around the campus, it was great."
On the tradition of the Indiana program
"I know they're a winning program. They're like third or fourth at winning the most championships. They're one of the elite programs in Division I college basketball. It's a big honor to be a Hoosier and I just can't wait to get started."
On the recruiting process and switching schools after a coaching change at Bradley
"Trying to get the release with Bradley was kind of overwhelming, but I've been patient. I feel like everything happens for a reason. Going to Indiana will be an even better fit for me so I'm real excited."
On playing against Austin Etherington and Cody Zeller in the Indiana-Kentucky All-Star game and building a relationship with those future teammates
"Maybe I can go up to IU and visit and meet them up there. But I can't wait to play against them and definitely try to build a relationship."
On his game and what he will bring to Indiana
"I'm just a hard worker, I'm a team player. I always look for my teammates. I can score in transition. I like to get to the rim, get to the basket. I can pull up J. I'm just a team player and like to have fun."
(Photo credit: Jody Demling)
Our friend Jody Demling with the scoop. Remy Abell is the newest member of Indiana's 2011 recruiting class:
Eastern High School senior standout Remy Abell has made his college decision.

The 6-foot-4 Abell, who was recently released from Bradley University, has given a verbal commitment to Indiana University coach Tom Crean.

Abell picked the Hoosiers over Xavier, Western Kentucky, Butler and Penn State.
Indiana's 2011 recruiting class now includes Austin Etherington, Cody Zeller and Abell.
We'll have more on this later.
Lawrence Central wing Jeremy Hollowell was playing at an elite level before he suffered both a knee and wrist injury a couple of weeks ago at the Double Pump tournament in Denver. The 6-7 Hollowell is expected to miss several weeks, but is planning to return later this spring.
Here's a new collection of video highlights of the latest Hoosier commitment from the Double Pump tournament. Thanks to ITH reader Stephen for providing the film of all four Indiana Elite games:
Inside the Hall caught up with class of 2012 commitment Yogi Ferrell for a brief video interview at the Nike Spring Showdown in Merrillville on Saturday. Check out our scouting report on Ferrell's play so far this spring as well as our Q & A and some highlights, below:
Scouting Ferrell:
There is little doubt that Yogi Ferrell is the engine that makes his Indiana Elite team go. Ferrell has done a great job of mixing up his offensive role during the AAU season thus far. Ferrell is a more than capable scorer, having the skill and quickness to get to the rim and score, but also possessing great touch as an outside shooter. The 5-11 point guard has great body control and does a great job of absorbing contact and finishing. Ferrell's willingness to attack the basket also earns him frequent trips to the foul line where he is a more than reliable shooter.
He's also excelled as a floor general, using the weapons around him to the best of his distributing abilities. Ferrell has the option of finding capable shooters such as Ron Patterson and Jeremy Hollowell (prior to his injury), but also the luxury of athletic big men down low in Hanner Perea and Obij Aget. Yogi has done a nice job of not being too passive, but also not dominating the offense in a manner detrimental to his team. Defensively, Ferrell has excelled as an on-ball defender, an area that is sometimes viewed as optional in AAU basketball.
Video Interview:
Highlights:
Broad Ripple guard Ron Patterson was the second player to join Indiana's 2012 recruiting class in August of 2010 when the junior gave a verbal pledge to the Hoosiers.
Here's a new collection of video highlights of the Indianapolis City Player of the Year from the Double Pump tournament that was held earlier this month out in Denver. Thanks to ITH reader Stephen for providing the film of all four Indiana Elite games:
2011 Indiana signee and Mr. Basketball took home the MVP for the Gold team at this past Friday's Kentucky Derby Festival Classic at the KFC Yum! Center.
Watch a collection of Zeller highlights in high-definition quality in the embedded media player below:
Gary Harris and his D3 Pride team competed in the 2011 Spring Showdown in Merrillville this past weekend.
Inside the Hall caught up with the 2012 Indiana target to get an update on his recruitment. A brief Harris highlight reel from the Spring Showdown follows after our Q & A:
What areas of your game have you been working on since the high school season ended?
"I'm just improving my game overall. I'm trying to improve my passing, shooting and ball-handling, and just improve in every aspect."
Where are you at in the recruiting process?
"I'm just taking it slow still. Everything is still open and I haven't trimmed down my list or anything yet."
What schools watched you during the contact period in April?
"Michigan, Michigan State, Purdue, Illinois, Louisville, Tennessee, and Indiana. Those were pretty much all the schools that stopped by."
Has anything further come from Kentucky recruiting you?
"Not really, we're just talking a little bit, but it's nothing too serious. They haven't offered or anything like that."
What do you think about some of the young players in Indiana that have made commitments?
"Those guys felt like it was the right situation for them, but I'm just trying to take things slow. I think it shows that Painter and Crean have done a great job recruiting the state."