Indiana continues pursuit of 2016 five-star forward De'Ron Davis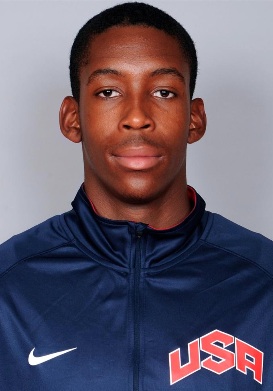 INDIANAPOLIS — Indiana tracked class of 2016 five-star forward De'Ron Davis in the April evaluation period and continued its pursuit of the rising sophomore as the first July evaluation period tipped off on Wednesday night.
Tom Crean and associate head coach Steve McClain were courtside to see Davis and the Colorado Hawks beat Dorian's Pride in the adidas Invitational.
"I think they're interested in me," Davis said after the opener. "When I call them, he (Crean) sounds like he's pretty interested and that's pretty big for a head coach being at a first game (in July)."
Davis, who plays at Overland High in Aurora, Colorado, says he's not too worried about the recruiting process just yet, but did say Indiana is among his top five schools along with Arizona, Arkansas, Colorado and Kansas.
He's visited Colorado and Arkansas and said he hopes to take a visit to Bloomington "real soon."
At 6-foot-8 and 220 pounds, Davis is considered one of the top players at his position in his class and the No. 10 player nationally by ESPN.com.
Last fall, he was invited to USA Basketball's Developmental National Team mini-camp in Colorado Springs. Several IU targets participated with Davis, including Tyus Battle, Bryant Crawford, Marcus Derrickson, Eron Gordon, Marcus LoVett, Malachi Richardson, Elijah Thomas and Diamond Stone.
One of the major improvements in his game over the last year is being able to move more fluidly at his size.
"Been doing a lot of agility drills and working out," he said. "I've been using Colorado's air in the mountains, up and down hills and on the track. I can just move better. When I'm playing against bigger and slower people, that comes in handy."
Filed to: Deron Davis