Five-star Carlton Bragg planning unofficial visit to Indiana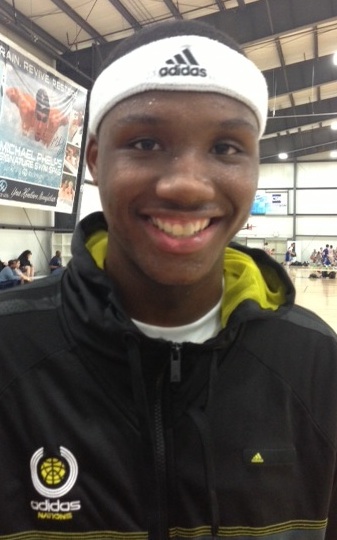 INDIANAPOLIS — As one of the fastest rising prospects in the country since the fall, it's no surprise that class of 2015 forward Carlton Bragg drew quite a crowd to begin the July evaluation period.
Tom Crean, Ohio State's Thad Matta, Michigan State's Tom Izzo, Illinois' John Groce and West Virginia's Bob Huggins were among the head coaches at Northview Middle School on Wednesday night to watch Bragg and the Ohio Basketball Club in the adidas Invitational.
Kentucky assistant Orlando Antigua also watched Bragg, who is rated the No. 13 prospect in his class according to ESPN.com.
Indiana is one of the schools Bragg says is recruiting him the hardest in recent months along with Ohio State, Illinois, West Virginia, DePaul and Texas. He said he plans to take an unofficial visit to Bloomington this fall.
"They like my game and want me to keep working hard," Bragg said. "They want me to get down in the fall for a visit."
Indiana tracked Bragg in the April evaluation period, watching him in the adidas Hoop Classic in Wadsworth, Ohio and followed that up with a scholarship offer less than a week later. In early May, the five-star forward said he was "very excited" by the IU offer.
At 6-foot-9 and 220 pounds, Bragg is one of the most versatile players in his class with the skill to step outside and shoot the three or score around the basket.
The ability to step out is a relatively new part of his game that he added during the high school season after playing primarily in the post up to that point.
"I've always been an inside player," Bragg said in May. "Towards the middle of the (high school) season, that's when I started. I made two threes in practice, and (my coach) said I should start shooting threes, and that's when I really focused on it."
In college, he envisions himself as more of a wing player.
"I want to be a three. More like a Kevin Durant style of play," he said. "I can dribble the ball, (show) quickness and agility."
Ultimately, Bragg said his goal is play at the highest level and seeing what Indiana was able to do with Cody Zeller and Victor Oladipo in that regard makes the program appealing to him.
"Cody Zeller and Victor Oladipo, how they went to the NBA. I just want to be an NBA prospect," Bragg said. "(It shows that) hard work pays off. You can tell. I want to have that feeling."
Filed to: Carlton Bragg