Goodluck Okonoboh on shot blocking: "It's an art"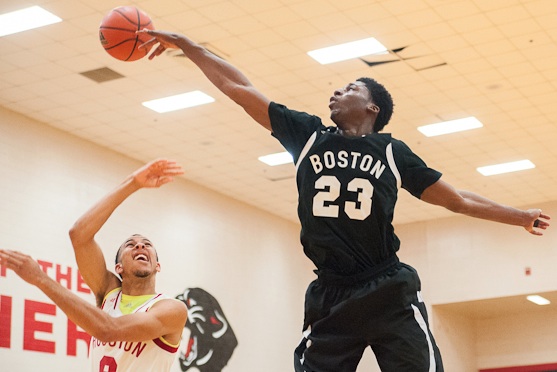 INDIANAPOLIS — Mass Rivals coach Vin Pastore doesn't hesitate when he's asked about the defensive prowess of his star big man, Goodluck Okonoboh.
If there's a better shot blocker in the country than Okonoboh, who is being courted heavily by many of the nation's top programs including Indiana, Pastore has yet to see him.
"He's the best shot blocker in the country and he protects the basket better than anybody, I think that's a given," Pastore said. "He's 6-10 with a 7-3.5″ wing span, but he's got impeccable timing. That's a gift from God. He's got great instincts. Natural instincts."
Those instincts were on display on Thursday, Friday and Saturday at the 2013 adidas Invitational as Okonoboh swatted away countless shots and showed off an improving offensive game.
His face up game is already strong and he's working to get better with his back to the basket in the post, but the shot blocking remains Okonoboh's staple and has become a point of pride for the rising senior.
"If a guy scores on me, that's kind of taking my manhood away," Okonoboh said. "We were at LeBron James camp and LeBron said that and that just kind of stuck with me. It's true. If a guy scores on me, he can go back home, look up my videos and say, 'yeah, I scored on him'. That's why I take so much pride in my defense. I'm not letting another guy think he can score on me."
In Indianapolis, not many guys scored on Okonoboh. He challenged shots on the perimeter. He blocked shots coming over as a help defender. And those who chose to go right at him usually had their shot denied.
Like most elite shot blockers, Okonoboh does two things that help set him apart. The first is keeping many of the shots he turns away in play, which allows him team to quickly get out on the break. He also has great body control, which helps him limit picking up fouls when leaving his feet.
"Shot blocking is just like scoring, it's an art," he said. "You've just got to know your timing and it's all about patience."
In the opening game of the event for Mass Rivals, he blocked 10 shots and as the game moved on, it was clear that Indiana Elite was becoming tentative with the ball around the basket.
"Guys kind of know and they kind of wait until I'm away to come to the rack," Okonoboh said. "And when they come, they start doing all of these pump fakes so I kind of know when I'm not getting a lot of blocks, they know the game plan."
If a shot is within reach, Okonoboh believes he can block it. Pastore said the thought of trying to reign him never crosses his mind.
"No way, I let him go," Pastore said, smiling. "As long as he goes and wins games, there's nothing you can do. He wins games for you."
Filed to: Goodluck Okonoboh