Coleman talks IU open gym, transfer to La Lumiere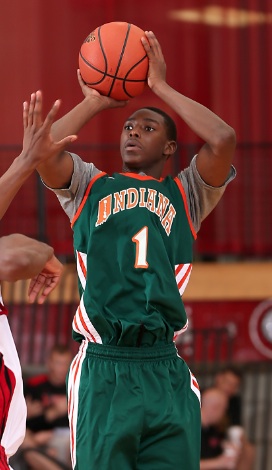 INDIANAPOLIS — Jalen Coleman isn't sure exactly what to expect when he transfers from Cathedral to La Lumiere for this upcoming school year. He hasn't been back to his new school since taking a visit before deciding to transfer.
But Coleman is pretty certain the La Lumiere experience will help him when it comes time to make his college decision.
"It's about two hours away from home," Coleman said at this weekend's adidas Invitational at North Central High School. "It'll help me figure out if I wanna stay closer to home or if I can go farther away."
The transfer could also benefit him on the court.
"Improve my game, especially my point guard skills," Coleman said. "Coming from Cathedral, I was off the ball a lot. When I get down there, I'll have more time to work on my game and academics-wise, great academic high school. I'm gonna have more time to spend on both."
Coleman, ranked 25th in the class of 2015 according to ESPN.com, has continued to gain interest from a number of high-major schools from around the country.
He recently picked up offers from Memphis, Arizona and UCLA, and he already owned offers from Indiana, Michigan, Purdue, Notre Dame, Illinois, Ohio State and Providence.
The Hoosiers have been recruiting Coleman as long as any school, and they certainly haven't let up in their efforts to get him to Bloomington. IU watched the versatile guard over the weekend at the adidas Invitational as Coleman and Indiana Elite won the 16-and-under platinum division championship.
Coleman was recently in town to participate in open gym with Indiana's incoming freshmen, and he talked to the coaching staff afterward.
"It was great," Coleman said. "I was meeting some of the incoming freshmen. I got a good feel for them. I saw their mentalities coming into college, like 'we got something to win' and I learned from that. I questioned them about different things and I felt like I got better when I went down there."
(Photo credit: Kelly Kline/adidas)
Filed to: Jalen Coleman