Ferrell scores team-high 20 points in Team USA's win over Sweden at World University Games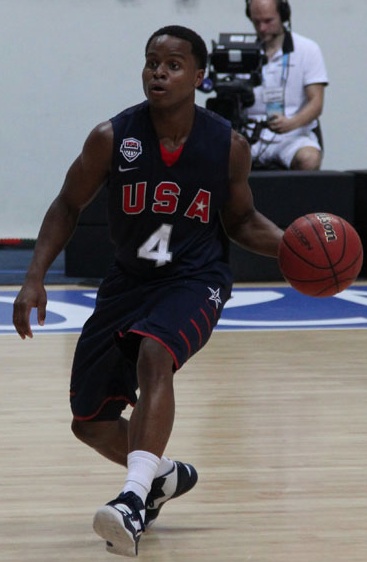 Earlier during pool play, Yogi Ferrell set a record with his 13-assist performance at the World University Games. While it was impressive, Indiana fans have come to expect those types of numbers from Ferrell. His court vision proved to be one of his biggest strengths during his freshman season.
Ferrell showed Wednesday that he is continuing to expand his game and adding more offensive weapons. He led Team USA with 20 points in an 83-65 win over Sweden, including four 3-pointers.
"Yogi's decision making continues to get better," Team USA head coach Bob McKillop (Davidson College) told USABasketball.com. "It's a game that is vastly different than NCAA basketball. He drives the lane, and he's not getting the calls he normally would get. He's understanding how the easy pass is making our offense work. Yogi is doing a terrific job of understanding what we are trying to accomplish, and he is leading us there."
Ferrell scored his 20 points in only 19 minutes of action, going 6-of-13 from the field.
"I felt like we attacked the rim a lot better offensively, Ferrell told USABasketball.com. "I was just picking my spots and being more aggressive, whether I was going to get a shot or someone else. I was going to try to do whatever it took for us to score."
Treveon Graham (VCU) joined Ferrell in double figures with 14 points. Indiana senior Will Sheehey added seven points and five rebounds off the bench on an efficient 3-of-5 shooting. Sheehey scored all seven of his points in the fourth quarter.
"Our defensive pressure and energy was off the charts," Sheehey told USABasketball.com. "First half, we were a little sluggish on defense. We gave them open shots. Second half, we were closing on defense and got early buckets."
The Americans (3-0) have two more pool play games — Australia on Thursday and Canada on Friday — before the quarterfinals begin on Sunday. Australia (2-1) will be Team USA's toughest test yet, having beat the same Sweden team by 17 points.
The top two teams in each pool will advance to the quarterfinals, which begin on Sunday.
(Photo credit: USA Basketball)
Filed to: Will Sheehey, Yogi Ferrell