Goodluck Okonoboh's recruitment following similar path to that of Noah Vonleh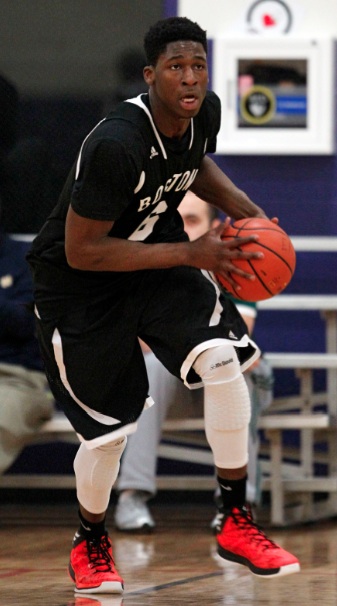 INDIANAPOLIS — Class of 2014 forward Goodluck Okonoboh drew a large contingent of head coaches for his first game of the July evaluation period in the adidas Invitational on Thursday morning.
Duke's Mike Krzyzewski, Louisville's Rick Pitino, Ohio State's Thad Matta and North Carolina State's Mark Gottfried were among the faces in the crowd.
But none of those schools or coaches have put in the same time with Okonoboh as Indiana, which had Tom Crean and Steve McClain front and center for his July debut. Okonoboh's AAU coach with Mass Rivals, Vin Pastore, compared the recruitment of his star to that of Noah Vonleh, IU's top recruit in the 2013 class.
Pastore says Indiana was the first of the "big-time players" to get in with Okonoboh.
"(It's) like they did with Noah. Early and hot," Pastore said. "I think they've done everything that they did with my other guy. Kenny Johnson is doing a great job as he did with Noah. They recruited Noah all of last summer. As he was starting to blow up, they jumped in right there (with Goodluck). And then they've picked it up significantly."
That should bode well for IU's chances with the nation's top shot blocker, who isn't claiming any favorites at this point or revealing plans for visits in the fall.
"At the end of the summer I'm going to sit down with my family and figure out what's the best plan," Okonoboh told reporters after scoring 16 points, grabbing 12 rebounds and blocking 10 shots in a 75-67 win over Indiana Elite.
The increased intention is an adjustment for Okonoboh, who spoke to close to 10 reporters for nearly 15 minutes after his first game.
"It's been a new thing for him," Pastore said. "This is all brand new, so he's doing well with it."
Okonoboh's relationship with Vonleh, who he calls a good friend, could also be helpful for the Hoosiers. The two have spent time together this summer at the Amare Stoudemire and LeBron James Skills Academies.
"He's always in my ear about IU," Okonoboh said. "The most humble kid you'll ever meet. He's one of the top players in the country, but he's just a great kid. He knows he doesn't have to talk to me like anybody else would talk to me. We just keep it real with each other."
"I don't know how that couldn't help," Pastore added. "So I would say the answer to that would be yes (that it helps). Goodluck is his own guy, but when you have a friend that's already somewhere else and doing well already …"
After being recruited primarily for his defensive prowess early on, Okonoboh has developed significantly as a scoring threat over the past year.
At 6-foot-10 with a 7-foot-3 1/2 inch wingspan, he's added a face-up game and the ability to hit the midrange jump shot, something he didn't have last summer.
"He didn't have any of it last year. I think that was the knock on him," Pastore said. "And I think that's one of the reasons he's playing for me. I allow him to shoot the basketball and create. Last summer was the first time he really tried to create any offense."
To continue his rapid improvement and help him reach his ultimate dream of playing at the next level, finding a program that will help him grow as a player and as a person is a priority for the five-star big man.
Indiana seems to fit both criteria with its recent success in the 2013 NBA Draft and a reputation for graduating players early.
"It's a developmental program. Was Victor Oladipo even top 100? Now look at him, the No. 2 pick in the draft," Okonoboh said. "It just shows you from a developmental standpoint, that Indiana is good."
Filed to: Goodluck Okonoboh, Noah Vonleh