Indiana has "great understanding" of what its looking for on recruiting trail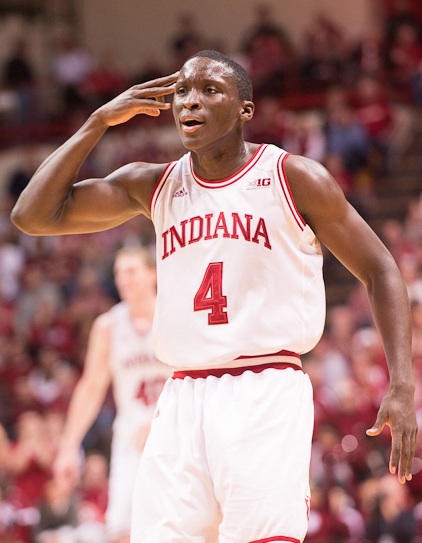 Even though the start of the season is months away, July is a critical month for college basketball.
Over three, four-day periods this month, the first of which begins later today, coaches will pound the pavement across the country to evaluate prospects. New names emerge. Old names can move up the priority list or fall off entirely.
And when it ends, coaches hope to have a clearer idea of which players will fit best with their program.
For Indiana, which is coming off 56 wins in two seasons, two top four picks in the 2013 NBA Draft and its first outright Big Ten title in 20 years, the understanding amongst the coaching staff for what it seeks is well established.
"What we're searching for, what we're looking for, even in this recruiting period, we have a great understanding of what we're looking for," assistant coach and recruiting coordinator Kenny Johnson said Tuesday at Cook Hall. "And if anything, maybe it puts more emphasis on why you really come to school — for your education, for your player development, and the family environment that's not going to sustain for the next four years of your life, but the next forty years."
With a strong culture that's been built over five years, Indiana won't make any sacrifices on the type of player it seeks to recruit. The program has signed three five-star players over the past three seasons, but just produced a three-star player who graduated in three years and went to Orlando with the No. 2 pick in Victor Oladipo.
The commitment and subsequent signing of Oladipo drew little fanfare at the time, but was one of the most important developments in IU's recruiting under Tom Crean. Not only did Oladipo help establish the aforementioned culture, he also showed that IU can produce pros who don't come in with McDonald's All-American accolades.
"It's not always going to be a "highly credentialed player," that we're always seeking," Johnson said. "We're seeking the best people that fit into what we're trying to get accomplished here."
Indiana already has a strong start to its 2014 class with the commitment of James Blackmon Jr., the No. 25 player in the country according to ESPN.com.
Some of the other 2014 players expected to be tracked heavily this month include Goodluck Okonoboh, LeRon Black, Devin Robinson, Phil Booth and Ahmed Hill. While it's easy to put a team together on paper, finding one that will actually mesh well and play together in a system is what yields results. Identifying prospects who can play multiple position and fill respective roles plays a big part in making that happen.
"We never have to go into it saying `we really need a point guard' or `we really need a 2-guard' or `we really need a small forward' because we recruit versatile players," Johnson said. "If you view what we have lost in the last two years, that can give you an idea of what we might be looking to replace.
"But it all starts with who is willing to mesh to fit that character and culture in the program. And then be willing to learn and be competitive because that's what we have had in the past and what we have coming in. That's what we are looking for – people that are willing to learn and can mesh with the group that we already have and are versatile."
Filed to: Kenny Johnson