Five-star center Stephen Zimmerman talks Indiana offer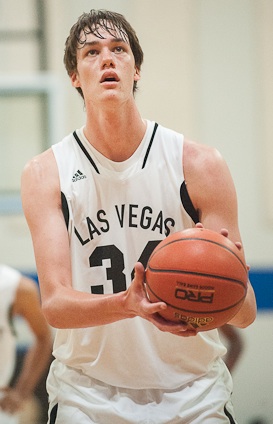 INDIANAPOLIS — Class of 2015 Bishop Gorman (Nev.) center Stephen Zimmerman arrived at the adidas Invitational with strong interest from Indiana. He'll leave the state with a scholarship offer.
On Saturday afternoon, Zimmerman tweeted that he'd been offered a scholarship by the Hoosiers and talked about the latest development in his recruitment following Dream Vision's 73-64 loss to the Eric Gordon All-Stars.
"I'm real honored," Zimmerman, who has offers from more than 20 schools, said. "It's an amazing school, especially for people at my position. I was really excited."
The message from the Indiana staff, according to the 6-11 lefty, has been fairly straight forward.
"They think I can help them win a championship and that I'll be a great fit there," he said. "They're a really good team, they work with big men really well. They get big men to perform the best that they can and they have an amazing coaching staff."
A consensus top 10 prospect in his class, Zimmerman is a highly skilled big man that can step out and knock down shots or play on the block.
"He can put the ball on the floor and get to the rim. He's just scratching the surface of what he's going to be athletically," his AAU coach, Clayton Williams, said. "He's a special kid. If he keeps maturing, it's going to be hard to figure him out because he can literally play three positions."
While he didn't play particularly well in his final game in Indianapolis as he scored just four points, the five-star center admitted on Thursday that attacking more consistently is a point of emphasis for improvement moving forward.
"Being (more) aggressive, that's probably my main thing," Zimmerman said. "That's been a big downfall in my game lately, so I need to be more aggressive."
Naturally, Zimmerman's ability to run the floor will be compared to Cody Zeller, who recently went No. 4 overall in last month's NBA Draft. The development of both Zeller and Victor Oladipo, who was the No. 2 pick, has been a hot topic among recruits in recent weeks and the Las Vegas native is no exception.
"They compared me to Cody Zeller. They basically said they can help me perform the best that I can and get to the next level," he said. "That's a big factor because my ultimate goal is to be in the NBA."
Despite the heavy interest in his recruitment, Zimmerman isn't saying much about which schools he likes the most at this point. He said his family is helping to manage much of the process and added that he doesn't have any visits planned this summer.
"Once the school season starts, I'll be more into it," Zimmerman said. "Right now, I'm just trying to get better and have fun."
Filed to: Stephen Zimmerman