2016 guard Eron Gordon gaining interest from around the country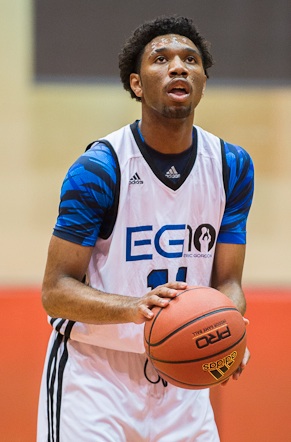 INDIANAPOLIS — Eron Gordon became something of a recognized name in the state of Indiana some time ago when he burst on the scene as one of the nation's top eighth graders. He is, of course, the younger brother of former Indiana standout and current New Orleans Pelican guard Eric Gordon, and Eron has been on the radar of in-state schools for a couple of years now.
But as Gordon continues to develop, he's garnered interest from far outside Indiana. The Class of 2016 guard is still probably at least two years away from a decision, and he figures to stockpile schools in a hurry if the interest continues to come the way it has recently.
Gordon already owns offers from Indiana and Purdue, but he said he's heard from UCLA, Baylor, Ohio State and Gonzaga in the last two months.
"By the time I'm a junior or senior, I'm gonna start narrow it down, but for right now, I'm just going out there worried about playing and getting better," Gordon said at this week's adidas Invitational at North Central High School.
Indiana has recruited Gordon the longest, and for good reason. The school has a history with the Gordon family, and that could be a positive factor for the Hoosiers when it comes time for the youngest of the three Gordon brothers to make his college decision. Evan Gordon will use his final year of college eligibility at Indiana this coming season.
"That's gonna make a difference," Eron Gordon said. "It's not really gonna push me onto Indiana, but what it's gonna do is it's gonna give me a greater look inside Indiana. I feel like I'll be a little bit more behind the scenes. I can talk to my brother [Evan] whenever about what's going on."
Gordon was a standout in his freshman season at North Central, but he was a bit of a volume shooter at times and didn't always make a high percentage of his shots (just 34.6 percent on 3-pointers). He's worked hard since the end of the high school season to refine his shot form and try to grow more consistent, and he's make strides in doing so.
"That's been my biggest focus," Gordon said. "My jump shot has come a long way, but it's still not where I need to get it. But I feel like the release is looking a lot better from what it did last year. That's a big difference. I know not all the time it's hitting, but I'm pretty sure eventually, once I change it and it looks just right, then I can start perfecting it."
When he's playing for the Eric Gordon All Stars, like he is this weekend in Indianapolis, Gordon is even more aggressive. He's constantly roaming the court searching for the ball, and once he gets it, his eyes immediately turn to the rim. Chances are, he's going to pull up or or attack the basket looking to score.
It's the same aggressive nature his two older brothers used to display. While he doesn't yet have the perimeter jump shot Eric always had, Eron is quickly developing as an all-around scorer.
"That's what I'm sorta used to," Gordon said of attacking offensively. "I'm trying to get better at vision up the floor because I feel like I need to learn how to look without scoring, keep my eyes up the floor."
Filed to: Eron Gordon