Indiana offers four-star class of 2014 guard Robert Johnson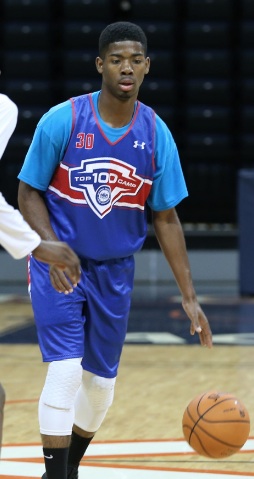 One of the fastest rising backcourt players in the country is a new recruiting target for Indiana.
Robert Johnson, a 6-foot-3, class of 2014 guard from Richmond (Va.), was scouted heavily by the Hoosier staff at the Nike Peach Jam and received a scholarship offer over the weekend.
The four-star guard averaged 20.2 points and shot 46.2 percent on 3-pointers at the Peach Jam for Boo Williams and talked to Inside the Hall on Sunday about his interest in Indiana.
"When I got the call from coach (Tom) Crean, I was pretty excited," Johnson said. "Indiana is one of the most prestigious programs in the nation. When he offered me, I was real humbled and honored and him wanting me to be a part of that I think is really big. It's a sign that I'm heading in the right direction and need to continue to work hard."
Up to this point, Johnson said five schools — Florida State, Villanova, Wake Forest, Virginia and Alabama — have recruited him most consistently, but he's hearing from several new suitors after his strong play at the Peach Jam.
"Besides Indiana, I've heard from North Carolina, Syracuse, Memphis, Cincinnati and UCLA," he said.
Boo Williams, the uncle of current IU freshman Troy Williams and Johnson's AAU coach, told Inside the Hall on Sunday that Johnson can play both guard spots and has really elevated his level of play in recent months.
That ability to play multiple positions is something that has come up in Indiana's conversations with Johnson.
"They like my versatility that I have in being able to play on the ball or off the ball," he said. "Defensively, I can check one's or two's. He (Crean) said I had a pretty good IQ and in their system, that helps because most of the guards are going to set up plays, come off a lot of ball screens and their guards are interchangeable in that way."
Indiana's recent success with getting players to the next level is also something that has piqued the interest of the versatile guard.
"That's one of the things that coach Crean pointed out to me is the player development," Johnson said. "Of course he said you've got to be pretty talented to come in there and play because he doesn't recruit guys to just come in and sit. He recruits you to come in and play. He likes to develop players to have future pro careers, so that's definitely appealing."
The next step in the process for Johnson will be pairing down his list, which could continue to grow as he's evaluated by more schools this month, and formulate a plan to move forward in the process. Indiana is one school Johnson said he'll definitely visit.
Johnson also has a pretty good idea of what he'll be looking for in his future home.
"Just somewhere that, number one, I can come in and compete for playing time as a freshman," he said. "Somewhere I have a good relationship with the coaches and where I feel comfortable going to school with them. And somewhere that fits my style of play and I can see myself being really useful in the system they run."
(Photo credit: Under Armour/Kelly Kline)
Filed to: Robert Johnson