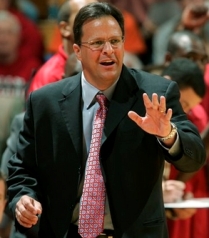 Notes written shortly after Michael Santa's much anticipated IU debut …

"I'll never accept it and I never have, but this was bound to happen at some point with this team. We've asked a lot of them. A majority of theses guys would be redshirting on most any Division I program. I shouldn't say most, but the high quality level to get that year to get their bodies right, to get stronger and all those kinds of things, to learn the college game. We are asking a lot of guys that have never done this before and it showed up tonight in a big way. There is nothing to hang our hat on tonight. It is just part of it." – Tom Crean after Indiana's 75-53 home loss on Wednesday to Northwestern.
No matter how much we'd all like to sugar coat it and talk about the hard work this version of the Indiana Hoosiers is putting in, the reality is that this team never really had a shot to compete at a high level. Crean and the coaching staff have coached them to competitiveness in spurts, but the talent and experience just isn't there. Crean has done a superb job keeping the attitude and the spirit of his team positive, but there's only so much you can say when the losses keep piling up. Take this season for what it is: an anomaly in the history of the Indiana basketball and no indication of the direction the program is heading.
– Ryan did an excellent job of summing up the extra phone call the Indianapolis Star reported early Wednesday morning. Under normal circumstances, this would have flown so far under the radar you wouldn't have even known about it. But the circumstances following Kelvin Sampson's major violations aren't normal. You can believe Crean when he says it was an honest mistake, but it was the last thing Indiana needs right now.