Get in your picks before 6:45 ET this evening.
(Editor's Note: Video from Crean's press conference discussing Michigan State is available after the jump.)
It's not often that a coach is asked about recruiting the day prior to a game against a top 15 team, but that was the case earlier today when Tom Crean met with the media at Assembly Hall.
Terry Hutchens, the IU beat writer for the Indianapolis Star, asked the following question:
"In these next two classes, there's lots of guards that have been committed, is there a need to really target some big men?"
And here, for those of you longing for a big man, was Crean's answer:
"I think we are. Again, going back to trying to do this program, we had to get a team on the court. We had to fill scholarships. We didn't apply for a year off. We didn't apply for a sabbatical. So we had to get a team to be on the court which we had to use scholarships to do."

"We get the class, we answer a lot of needs, we try to cover every position, knowing that we need to get size in that last class. This class, with the couple that we had, we knew we needed to improve the wing position."
It appears Indiana fans will have to wait until at least the 2011-2012 season to watch the first five-star recruit of the Tom Crean era play in Bloomington.
Josh Selby, the 2010 combo guard from Baltimore who is rated the No. 10 player in the country by Scout.com, is no longer listing the Hoosiers as a possible destination.
Evan Daniels, a national recruiting analyst for Scout.com, broke the news earlier this afternoon:
"Right now we're really considering all of the schools on a equal playing field," Maeshon Witherspoon, Selby's mother, told Daniels. "It's the two that we visited and the other two that we plan to visit. I don't think that it's in our schedule to get back to Indiana again. I don't think we are going to visit Syracuse."

With Indiana and Syracuse not getting visits, Selby's list is down to four – Arizona, Kansas, Connecticut and Kentucky.
Indiana was long believed to be a long shot to land Selby, having jumped into the race shortly after Kyrie Irving eliminated the Hoosiers from his list.
Indiana has two signees for its 2010 class — Sagemont (FL) wing Will Sheehey and DeMatha (MD) wing Victor Oladipo — and has, on paper, one scholarship remaining for next season.
Speaking on this morning's Big Ten Coaches teleconference, Indiana coach Tom Crean said it's unlikely that sophomore guard Matt Roth, recovering from a broken fifth metatarsal in his right foot, will return this season:
"Matt Roth, I would doubt very much that we're going to be able to use him this season in the sense of him being able to recover right now. It's been a slow process. It was a process that was moving in a good direction, but at the same time, it's maybe kind of run its course so I'm not sure we're going to be able to use him."

"I think it's pretty probable it's going to happen right now (a medical redshirt), because that was the plan all along if he couldn't play. I would say that it's right there. I don't think at this point it looks like he's going to be cleared to play, so we're just going to leave it where it is. I'm just going based on what I know."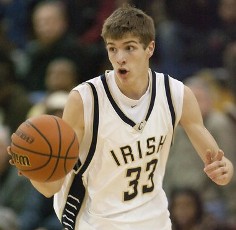 Throughout the season, Inside the Hall will keep you posted on how 2010 signees Victor Oladipo and Will Sheehey and 2011 commitments Austin Etherington and Matt Carlino, as well as other notable prospects being recruited by Indiana, are performing at their respective schools.
You can send us stats or results for this report at tips@insidethehall.com. Here's our latest update:
+ Victor Oladipo – DeMatha (MD): No scores reported on the Washingon Post's Web Site this week; games likely cancelled due to weather in Washington D.C. area.
+ Will Sheehey – Sagemont (FL): Finished with nine points, six rebounds, three assists, two steals and a turnover in 51-40 win over Coral Springs Christian on February 13 to win district. Eight points and seven rebounds in 67-32 win over Parkway on February 12.
+ Austin Etherington – Hamilton Heights (IN): Did not play this week. Up next: Northwestern at home on February 16.
+ Matt Carlino – Bloomington South (IN): Missed the second half of South's 62-51 win at Warren Central after suffering a mild knee injury. Carlino finished with six points, three rebounds and four assists as Bloomington South moved to 17-0.
+ Collin Hartman – Cathedral (IN), 2013 (pictured): Jumper at the buzzer to lift Cathedral over Roncalli, 45-43, on February 11. Finished with a game-high 18 points. 18 points in 72-40 rout of Heritage Christian on February 13.
For no reason in particular, there is an old Lincoln quote rolling around in my head today (Abraham, not continental). It comes from a message to Congress that was a precursor to the Emancipation Proclamation, when Lincoln penned the words "the dogmas of the quiet past are inadequate to the stormy present."
Now, I'm still not entirely sure what that means, but it's been rolling around in my head for the last few hours, so I just thought I'd get it out there.
Like most (if not all) of you, I watched at least some portion of the sound beating IU took at Wisconsin on Saturday. I was unable to watch from stem to stern, but I got the gist — not enough offense, not enough defense, not enough points, not enough hustle, not enough of anything for anyone to really find positives in anything but the final buzzer and those brief moments when it slipped from your mind that there was a game yesterday at all.
Now, it's been suggested, in this space and in others, that I, specifically, am too easy on Tom Crean, too forgiving of the Hoosiers' plethora of shortcomings as this season slowly turns the way of last.
But the truth is, folks, I understand. I really do. I understand how hard it is to watch this team play, and struggle as it does. There's a standard Indiana fans expect, and it's not being met.
And I know that for many of you, that standard isn't measured solely with banners or wins-per-season averages, but simply with hard work, teamwork and commitment. The majority of you have (at least, I think you have) bought into what Tom Crean is selling — the rebuilding, baby steps approach that celebrates every move forward this team makes, and forgives most of its regressions.
But water will always boil when succumbing to intense heat, and so fans will become displeased when they see performances like the last three IU has managed. I've seen part or all of Northwestern, Ohio State and Wisconsin, and this time, I'll agree with you, Hoosier Nation, your complaints are valid.