Derek Elston signs professional contract to play in Malta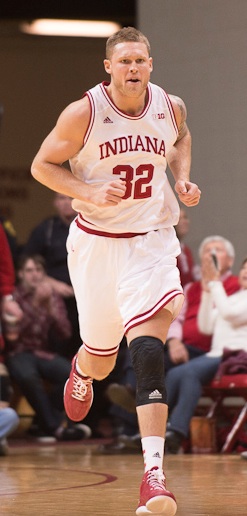 Former Indiana forward Derek Elston became the fourth player from last season's Big Ten championship team to sign a professional contract earlier this week when the Tipton native inked a deal to play in Malta.
Here's an official release from IU on the signing, including comments from Tom Crean and Elston:
BLOOMINGTON, Ind. – Derek Elston, who will earn his Master's Degree in Sport Administration from Indiana University this summer, has signed a professional contract with Floriana Francesco Fenech Greens in the Maltese Powerade League in Malta, an island located south of Italy in the Mediterranean Sea.

"We are excited that Derek has this opportunity," Indiana head coach Tom Crean said. "He has continued to work hard since the season ended and he has developed a great spirit about himself after facing many physical challenges throughout his career. More than anything, however, Derek will leave IU this summer with two degrees in hand and for that, we are extremely proud."

The Maltese Powerade League begins in October and runs into May. Last year, Floriana won the regular season title and defeated Athleta in a decisive fifth game of the playoff finals to claim their first-ever league championship in the 35 years the team has existed.

"The first thing that went through my mind was relief in being able to keep playing basketball and to live a dream of playing basketball professionally," Elston said. "I couldn't stop smiling after I signed that contract. They have really been telling me that they wanted me on their team. I was waiting on a couple other options to see if they would work out. But when they didn't, they were quick to let me know that they were behind me 100 percent and told me that they wanted me. So I said yes and they sent me a contract and we got it done."
Elston played in 115 games during his four-year career at Indiana, averaging 4.3 points and 2.9 rebounds. He also shot 48.0 percent from the field in his career and 37.5 percent from the 3-point line, including 55.2 percent from long range his junior season. He also helped guide the Hoosiers to back-to-back appearances in the Sweet 16 of the NCAA Tournament and the 2013 Big Ten regular season championship.

"That has been the whole process these last four years, to prepare me to get to the next level. Coaches with professional teams wanted to see how I had played the last four years. I wasn't able to send them much from my senior year but what they saw from my first three years got the attention of a lot of coaches. This team was looking for a guy about my height and can get out there and shoot the ball and run the court. Once this team came along and said I was the kind of player they were looking for, it put a huge smile on my face."

As the only American player on the team in Malta, he will head over well in advance of the start of practice in mid-September to get settled in before the season begins.

He joins Victor Oladipo (Orlando Magic), Cody Zeller (Charlotte Bobcats) and Jordan Hulls (Energa Czarni Slupsk – Poland) as members of the 2012-13 team that have signed professional basketball contracts this offseason. Christian Watford has played in the NBA Summer League with the Indiana Pacers and Dallas Mavericks as well this summer.
Filed to: Derek Elston