2014 guard Phil Booth breaks down five finalists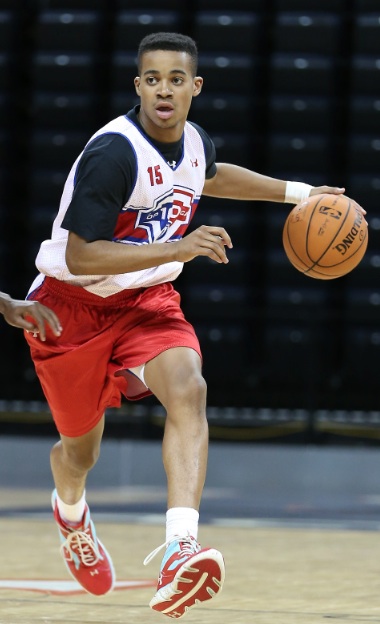 WASHINGTON – Phil Booth of Mount St. Joseph (Md.) has trimmed his list of schools down to a top five.
While at the Nike Global Challenge, Booth said he is working with a list that includes Villanova, Georgetown, Indiana, Virginia, and Temple. The No. 81 prospect in the class of 2014 according to ESPN.com seems firm with his list of five.
"Probably going to be set with that," Booth told Inside the Hall. "I'm probably not going to open it up any more."
The 6-foot-2 combo guard said he has offers from all five finalists and shared his thoughts on each school:
· Indiana: "They got the great tradition, I like the coaching staff they got and definitely the Big Ten is one of the best conferences there is out there."
· Villanova: "Coach Jay Wright has a good history of good guards, so that's definitely an attraction. I like their style of play. I like the coaching staff they got there."
· Temple: "I like coach [Fran] Dunphy. He's been around since my freshman year, sophomore year. So, I really like them, I like the way they play, their style."
· Georgetown: "Of course tradition, I like coach [John] Thompson [III] and I really like the coaching staff they've got there."
· Virginia: "I like coach [Tony] Bennett. He [has had] good guards, he played in the League and I'm trying to get there. So, I like him a lot too."
Booth said that all five finalists are recruiting him hard and added that he's got a good idea of what he's looking for at this stage in the recruiting process.
"A place that I can succeed on and off the court," he said. " And a great coaching staff that I like and trust [and I can] play along with."
Booth has been on unofficial visits to all of those schools except for Virginia. He also has one future visit scheduled.
"I have an official planned on August 29 to Indiana," Booth said. "They've been talking about it for a while, so I decided I would get down there and see them. It's a great, great campus, so it should be fun. I'm going to go down there and see a football game, see how fun it is."
The first time Booth visited Bloomington was Indiana's game with then-No. 1 Michigan for ESPN College GameDay. The Hoosiers won that game 81-73.
"That was a great game, atmosphere was crazy there," Booth said. "I don't think it gets any better than that."
Booth said he has been in regular contact with Tom Crean and assistant coach and recruiting coordinator Kenny Johnson. He spoke about his relationship with Crean as well as how he might fit into Indiana's style of play.
"It's pretty good," Booth said. "We talk pretty often during the week. I think he's a pretty good coach, he's an up-tempo guy, likes to keep it going. I like their style. The up and down style kind of fits me well."
Alex Schwartz is the president and chief scouting officer of Northstar Basketball.
(Photo credit: Kelly Kline/Under Armour)
Filed to: Phil Booth