IU offers 2017 prospects Paul Scruggs and Zach Gunn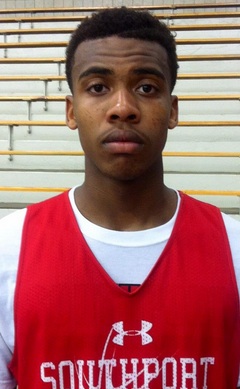 Since taking the Indiana job in April of 2008, Tom Crean has taken a relentless approach in pursuing the top players in the state of Indiana at an early age.
James Blackmon Jr. committed to the program before his freshman season back in September of 2010. Eron Gordon, the younger brother of former Hoosier Eric Gordon and current IU guard Evan Gordon, received an offer before his freshman season.
Indiana's aggressive approach has continued into the class of 2017 as the Hoosiers offered scholarships to Paul Scruggs (pictured) and Zach Gunn, a pair of AAU teammates for the Indy Hoosiers, on Monday.
Scruggs, a 6-foot-3 guard, will play next season at Southport for Kyle Simpson and Gunn, a 6-foot-6 forward, will enroll at Hamilton Southeastern to play for Brian Satterfield.
Both players took an unofficial visit to Indiana in June and the staff has tracked both players since last year.
"We kind of saw it and thought that something like this would happen early because of their size and their ability," Mike Peterson, the coach for the Indy Hoosiers, told Inside the Hall on Tuesday. "You can sometimes look at a kid and see that they're special and project them out to be pretty good. It wasn't all that shocking to me."
Peterson described Scruggs as "the ultimate slasher" who has continued to improve his perimeter shot and Gunn as "probably the best shooter in the country" who can also defend the post and drive the ball.
Indiana is the first school to offer both players, but the duo has also received interest from Xavier, Purdue, Notre Dame, Michigan State, Ohio State and Memphis.
"As far as offering, the No. 1 horse in the race is Tom Crean, it's coach (Tim) Buckley," Peterson said. "They've been there, they were the first to come (watch them). They stay in contact the most.
"As an AAU coach, I've have to do my due diligence and allow the kids to see other campuses and talk to other people and make sure that crimson and white is what they want."
Filed to: Paul Scruggs, Zach Gunn