IU among schools in heavy pursuit of Robert Johnson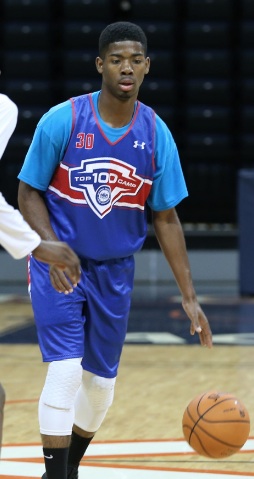 WASHINGTON – Robert Johnson of Benedictine (Va.) is a player who has seen his stock rise significantly over the past month. The class of 2014 combo guard has started to reel in high-major offers and he includes Indiana among that group.
At the Nike Global Challenge, Johnson said he has offers from Marquette, Villanova, Indiana, Florida State, Miami, Wake Forest, and Alabama, among others. North Carolina and Syracuse have also expressed interest, but have not offered.
The 6-foot-3, 185-pound guard, who plays for Boo Williams, talked about what he is looking for as he surveys his options.
"Just somewhere I would fit style of play-wise and go in and have an opportunity to play," he said.
Location will not be a factor for Johnson, but the style of play will be near the top of his priority list.
"Where they let their guards play," Johnson said, "ball screens, high-tempo offense, things like that."
There are five schools that Johnson feels are coming at him the hardest right now are Alabama, Villanova, Florida State, Indiana, and Miami.
Johnson has been on unofficial visits to Virginia, Wake Forest and Villanova, but does not have any other trips set up right now. Earlier this month, Johnson said he would "definitely" visit Indiana.
A four-star prospect according to ESPN.com, Johnson has no timetable for his choice. The increased exposure as a result of his play in July has been nice, but also tiring at times.
"It's been fun. At the same time, I'm starting to kind of get exhausted a little bit," Johnson said. "So, I'm just [going to] try to cut down my list and then make a decision as soon as I know what school is good for me."
Johnson said he is not sure of how many schools he will trim his list down to or of any schools that are sure to make the cut. He's planning to cut his list of schools after July.
Indiana offered Johnson after the Peach Jam where he averaged 20.2 points and shot 46.2 percent on 3-pointers. Johnson had three double figure scoring games at the Nike Global Challenge.
"I just recently talked to them," Johnson said, "but basically that's another good option to have. They're at the top of the college game right now. Coach Crean has coached a lot of good players, been successful the past couple years."
Over the past few years, Indiana has done a good job of getting players from the DMV (Washington, D.C., Maryland and Virginia) area. Johnson said that will "not really" play a part in how he feels about Indiana.
As for his thoughts on the style of play in Bloomington, Johnson said, "Basically they use a lot of ball screens, so I think that's something that would be good."
When talking about how he plays on the court, Johnson describes himself as versatile and believes he'll be able to help at both guard spots at the next level.
"Basically I could play either guard position," Johnson said, "score from either guard position and defend either of the guard positions."
Alex Schwartz is the president and chief scouting officer of Northstar Basketball.
(Photo credit: Under Armour/Kelly Kline)
Filed to: Robert Johnson