2014 point guard Ja'Quan Newton draws IU interest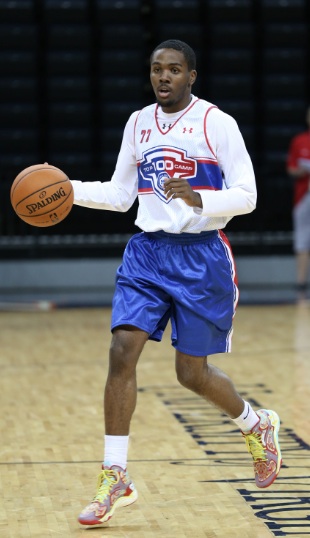 WASHINGTON — Although Indiana has not offered him a scholarship, Ja'Quan Newton of Neumann-Goretti (Pa.) is a player the Hoosiers are beginning to show some interest in.
A 6-foot-2 point guard in the class of 2014, Newton said at last weekend's Nike Global Challenge that Indiana has been in touch with his high school coach, Carl Arrigale, and his Team Final AAU coach, Rob Brown.
"They just gave my head coach a call saying they like me and they want me to talk to the head coach and that they really like me a lot," Newton told Inside the Hall. "They didn't offer yet, but I think they'll offer soon."
Newton said that he has not yet spoken with a coach from the Hoosier staff, but that is more a matter of circumstance than lack of effort on IU's end.
"[An Indiana coach called], but when he called me I wasn't able to pick up the phone because I was getting my hair cut actually," he said.
Newton said that IU is indeed a school that he "would be interested" in because of the style of play, the fact that it is a winning program and Tom Crean.
"He's a great coach," Newton said. "I don't know him personally, but as from [what I can tell] on TV and all that, he's a great coach."
As for his recruitment as a whole, Newton listed offers from Miami, Villanova, Temple, Cincinnati, SMU, Minnesota, USC, and Syracuse. In addition to IU, Newton said UCLA is another school expressing interest that has yet to offer.
He noted that Villanova, Miami, USC, Minnesota and Cincinnati are recruiting him the hardest at this point. He's visited Villanova and Temple, two local schools, unofficially thus far and will begin taking more visits after trimming his list of schools to five. That will come after July.
Indiana jumping into the race late doesn't necessarily mean that Newton won't the Hoosiers for a visit.
"They just have to be in contact with me, that's all," Newton said. "If they show me that they're really interested and recruiting me hard, then they'll be in my five."
The No. 67 ranked player in his class by ESPN has not decided how many visits he'll take, but plans to make a decision before the start of his high school season this fall.
Newton said he does not have any favorites at this point, but did share what it is that he is looking for in his future college.
"Just [a team that will] get up and down and run a lot of pick and roll offense," he said.
Alex Schwartz is the president and chief scouting officer of Northstar Basketball.
(Photo credit: Kelly Kline/Under Armour)
Filed to: Ja'Quan Newton