Ferrell, Sheehey prepare to lead Indiana together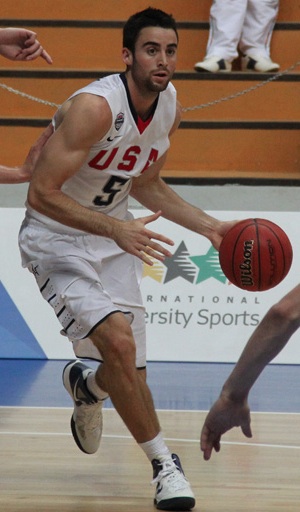 When basketball season rolls around, the Indiana program will no longer be run by guys like Jordan Hulls, Victor Oladipo and Cody Zeller. Those former Hoosier standouts will be replaced by senior Will Sheehey and sophomore Yogi Ferrell, two guys that will likely carry the leadership torch into next season.
Sheehey and Ferrell haven't always had the greatest relationship. Sheehey thought Ferrell arrived on campus last summer a little bit "too Hollywood" and tried to put him in his place early in the season.
The duo learned to work together as the year progressed, and they just got back from the World University Games in Russia, where they were teammates and roommates.
The Hoosiers have a lot to replace from last year's Sweet Sixteen team, and much of their success this season will likely depend on how well Sheehey and Ferrell can lead the team together.
"Well, we still don't like each other," Sheehey said Tuesday with a smile on his face. "So that's about it."
After a pause, Sheehey continued.
"Obviously Yogi and I were excited to make the team. We both wanted to and he was playing absolutely fantastic in Colorado so I knew he was a lock. It was more me that was on the fence. It was a great experience for both of us."
Sheehey returns as the only senior on the roster to play his entire career at Indiana. He's been through both the good times and the bad, the winning and the losing.
Ferrell hasn't ever seen the other side. Indiana is 29-7 with a Sweet Sixteen appearance and a Big Ten championship since Ferrell arrived on campus.
Ferrell was a highly ranked recruit. Sheehey wasn't. Ferrell started from day one. Sheehey has always played off the bench. Ferrell is an Indiana native. Sheehey is from Florida.
The differences are evident. But the similarities are more important. Both players have been through it before, and both are hungry to take the program a step further.
"I definitely do feel a lot more confident coming back because I know what to expect this year," Ferrell said. "Just with everything in practices and games, I kind of know what to expect so I know what tendencies everyone is going to have and I'm definitely going to continue to work on my game to try to push my game forward to make myself even more confident."
As we wrote about earlier this month, the absence of Ferrell and Sheehey during the World University Games actually benefitted some of the team's younger players. Jeremy Hollowell, Austin Etherington and Hanner Mosquera-Perea, among others, gained some leadership qualities with Ferrell and Sheehey away from the program.
Sheehey said he's been impressed by the development of both the returning players and the six incoming freshmen.
"The guys who have been here throughout the summer who have become leaders on our team, there's no question that I'm going to let them continue doing that because it's best for a team to have a group of leaders instead of just one or two," Sheehey said. "Really, it was exciting to come back and see guys do the things that I would want them to do. And also the freshmen, the strides that they've made just through six weeks has been absolutely incredible."
QUOTES TO NOTE
·  "Believe it or not, I didn't look at myself in the mirror. But when I did look down during the game, it meant a lot."
— Will Sheehey on what it meant to look at himself in a Team USA jersey
·  "You know I had to. And I told him about this coming year, we're going to do the same."
— Yogi Ferrell on whether he gave Purdue's A.J. Hammons a hard time about last season's losses during training camp in Colorado
(Photo credit: USA Basketball)
Filed to: Will Sheehey, Yogi Ferrell