Offseason update: Could not having Ferrell and Sheehey actually be a good thing?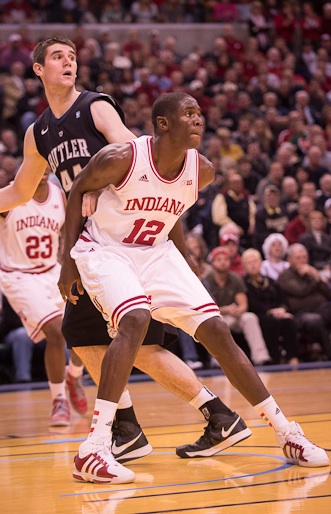 Considering how much experience Indiana lost at the end of last season, it would seem losing veteran leaders like Will Sheehey and Yogi Ferrell to the World University Games would temporarily halt the Hoosiers' offseason back in Bloomington.
After all, without Sheehey and Ferrell, there are few players that have been around for more than a year. Sheehey and Ferrell are expected to lead the team next season, and they aren't around to instill their will on the incoming freshmen.
But perhaps their absence can actually be viewed as a good thing. With Sheehey and Ferrell gone, other guys have been forced to step up.
"You don't have Will and Yogi out there as much right now so it's allowed some younger players to be vocal, to go ahead and know that's the expectation," associate head coach Steve McClain told the media on Tuesday. "It's also allowed Jeremy [Hollowell], Hanner [Mosquera-Perea], who would probably take a little backseat to Will and to Yogi right now, to step up and be that returning veteran even though they're only sophomores.
"It's been a good mix to have those guys be away for a little bit."
Earlier this summer, Tom Crean talked at length about how guys like Hollowell and Mosquera-Perea had to develop 'desires to compete' during the offseason. With many of last season's leaders now either graduated, in the NBA or out of the country, Hollowell and Mosquera-Perea have had more of an opportunity to spread their wings and experiment a bit.
Specifically, associate head coach Tim Buckley said Mosquera-Perea has really had a strong offseason, for a couple of key reasons.
"I think anyone's better doing something once they've already been through it," Buckley said Tuesday. "How would you feel if you were Hanner and you had to walk in there every day and had to go against Cody Zeller? Would that really boost your confidence on a daily basis? Probably not. But he kept fighting and he kept working and he kept getting through it. And now what you see is a guy that's much more confident because he's been through that."
If the Hoosiers are to remain a top 10 or 15 team next season, guys like Mosquera-Perea will have to dramatically increase their production from a year ago. He's certainly got the talent to do so, but he looked uncomfortable on the court for much of his freshman year.
Here's Buckley on some other guys that will have to produce immediately — Indiana's six incoming freshman. He provided good analysis on each:
NOAH VONLEH
"Physically, he's college ready. He's very strong, very powerful. He's very polished around the basket and explosive. He's going to continue to develop his perimeter game. His attitude is as good as anyone's attitude as I've ever seen, especially for someone as highly credentialed as him."
STANFORD ROBINSON
"Stan Robinson fits the motor part. Sometimes he'll go too fast, but it's a lot easier to try to slow guys down than it is to hurry them up. His skill level is going to continue to get better. He's pretty left-hand dominated right now. I think he's going to be a very good shooter once the repetition of shooting exceeds the pressure of the game and the pressure of the practices. He'll be a quality defender once he learns the schemes and the things we're trying to do."
TROY WILLIAMS
"He's a phenomenal athlete, but as good a passer as he probably is an athlete. Once he gets to a point where the defense doesn't know whether to close out on him hard or back off of him, that's when he's really gonna have the defense at his mercy."
DEVIN DAVIS
"Devin Davis is a better basketball player than probably most people think. He's kind of a hybrid, a mismatch type guy. He's more athletic than he looks. He'll just go up and dunk it and kind of surprise you with that at times, but he's also pretty good at putting it on the floor. Does a good job of reading the defense for a freshman. Like he knows how you're playing him."
COLLIN HARTMAN
"Collin Hartman is a knockdown shooter, but he's going to continue to expand his game some."
LUKE FISCHER
"He's gotten bigger and stronger already. I think he's already put on seven or eight pounds since he's been here. He's a winner. I think he's gonna stretch and grow. He's probably more likely than any of the big guys we've had recently to step out and shoot."
Filed to: Hanner Mosquera-Perea, Noah Vonleh, Will Sheehey, Yogi Ferrell