Crean says Mosquera-Perea, Hollowell must develop 'desires to compete'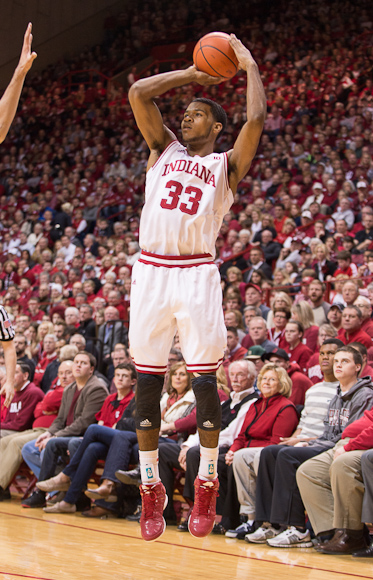 Last summer, Indiana's recruiting class, called "The Movement" by some, was getting ready to take on the Indiana campus. That class was expected to add to an already strong roster and give the Hoosiers incredible depth.
But there wasn't much talk of "The Movement" after the summer was over, and it wasn't just because Will Sheehey and other veteran guys told the freshmen not to call themselves that anymore.
It was because the class, and the depth it was supposed to provide, never fully materialized during the course of the season. Yogi Ferrell was solid and Indiana's starter at point guard from day one, but Tom Crean didn't get the kind of production or development from the other three players that he expected.
Peter Jurkin wasn't a highly-ranked recruit and wasn't expected to provide much. But he was injured for most of last season and continues to be less than 100 percent.
"Peter, it's slow, but he is shooting more," Crean said at Tuesday night's Tailgate Tour event in Indianapolis. "The rehab is the most important thing for him. We're going down that line where we've got great support for him medically, and we need to keep him on a pace where he doesn't get frustrated because he's really trying."
For the 2012 class' other two members — Hanner Mosquera-Perea and Jeremy Hollowell — last season's struggles were more surprising. Crean talked about both guys as being potential starters for the team in the preseason, but neither guy played more than 9.7 minutes per game.
Both Mosquera-Perea and Hollowell will have to play a bigger role this season if the Hoosiers are to maintain their level of play from the last two years. For them, though, its less about their abilities and more about their competitive fire, Crean said.
"Both of them have pretty good bodies, both of them have good length and good athleticism," Crean said. "Now it's time to really take that demeanor and show their competitiveness on the defensive side, show their competitiveness in things like conditioning. There's a reason why guys like Cody [Zeller], Yogi and Noah [Vonleh] make McDonald's All Americans. Those guys have some uncommon desires to compete. Certainly, Victor has that. Will Sheehey, Jordan Hulls.
"It becomes a situation, are you really going to try to dive in and win everything that you do? That's what Jeremy and Hanner have to develop because I think the skills will come. Hanner is so much ahead of where he was a year ago. Jeremy loves the gym. But now it comes down to, I want to hear about what those guys are winning. What sprints are they winning? What competitions are they winning? What shooting drills are they winning? Because that's what we need. We've won 56 games the last two years because we've had a highly competitive team that put winning first. We've lost so much of that. That stuff's wide open."
Vonleh already wearing out Cook Hall
Most of Indiana's incoming freshmen will report to campus in the coming weeks, but one has already been in Bloomington for well over a week. Noah Vonleh, the highest-ranked member of the six-man group, started summer classes on Monday and has been working out in Cook Hall both individually and with the other players around.
Ferrell, Vonleh, Hollowell and Mosquera-Perea are the four players currently working out on campus for the Hoosiers. Sheehey is on a vacation with his father in Ireland.
It's still early, but Crean has been impressed by what he's seen from Vonleh.
"What we're gonna do with him is the same thing we did with Cody, have him go out and guard perimeter guys as much as he guards inside guys, even more so," Crean said. "That helps him get that athleticism on the perimeter that he's gonna need defensively."
Evan Gordon, who transferred to Indiana from Arizona State last month, will begin working out with the other four guys today as he prepares for his final year of eligibility.
Ever since Gordon announced he would attend Indiana, Crean has watched a good amount of film of his new player.
"It remains to be seen, but I think it's going to be very positive," Crean said of Gordon's addition. "He is very, very comfortable in a lot of different situations. He's comfortable being a focal point of the offense, he's comfortable being part of the offense, he's a very underrated defender I think from what I've seen on tape."
Etherington ahead of schedule in recovery?
Junior Austin Etherington has not yet been fully cleared from his fractured patella he suffered on Dec. 8, but he is getting closer to being back in practice.
Crean said Tuesday night that Etherington has been shooting and working out, but he can't participate in any basketball activities, including 2-on-2 or any fullcourt drills.
"He's way ahead of where Maurice Creek was at the same time in the process," Crean said.
Beyond being ahead of schedule in his recovery, there's another positive for Etherington — he's been hitting the weight room.
"He ended up testing out as the strongest guy on the team at the end of the spring, even more so than Victor, Cody and Christian [Watford]."
Etherington's recovery is a big thing for the Hoosiers because he figures to play a role as a shooter off the bench this coming season.
Filed to: Austin Etherington, Hanner Mosquera-Perea, Jeremy Hollowell, Noah Vonleh