Continued improvement of Ferrell, Sheehey is key for IU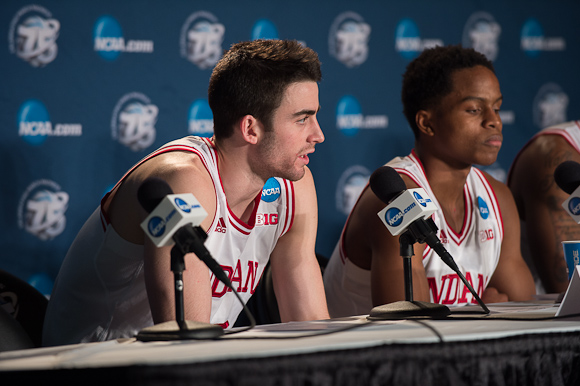 If Indiana is to contend for another Big Ten championship in 2014, the Hoosiers will rely heavily on seven newcomers to do so.
But as important as guys like Noah Vonleh, Troy Williams and Evan Gordon, among others, will be next season, the offseason progress of Will Sheehey and Yogi Ferrell might loom larger.
That's why it was important that Ferrell and Sheehey maximized the time they spent with USA Basketball over the last month in Colorado Springs, Colorado and Kazan, Russia preparing for and participating in the 2013 World University Games.
The natural reaction to Ferrell and Sheehey, the only two returning players to have logged significant minutes in the program, leaving for a month during a pivotal offseason time was to wonder how it might affect their teammates who remained in Bloomington.
The early returns suggest that Ferrell and Sheehey both return from the experience as better players, which should ultimately trickle down to improving the program overall.
"He (coach Crean) told me to go over and enjoy the experience and learn how they play, internationally, and bring back what I can to the program here," Ferrell said Tuesday. "And to try to help some of the young guys out and the other guys that weren't over there by sharing my knowledge about what we need to do to be successful this year."
What Indiana is going to need to do to be successful is replace four 1,000 point career scorers, two of whom were NBA lottery picks, and two other players who decided to transfer.
How quickly and effectively Ferrell and Sheehey can step into more prominent roles with their production and leadership will be the foundation of that process.
"I think just mentally I've become a better player over the summer. I've learned a lot this summer, not only in the Colorado experience and the Russia experience, but also here, being the oldest guy and learning the nuances," Sheehey said. "My freshman and sophomore year I was just so scared of the older guys that I just wanted to play hard and show them that I could do that. But now that I'm older, I can kind of sit down and analyze the game."
Ferrell, who is just one year removed from being the new guy on the block, is now the second most tenured player in the program from a minutes perspective.
As a freshman, Ferrell was able to integrate himself into an already established lineup and act mainly as a facilitator for a lineup that had as much offensive firepower as any in the country. With much of that production gone, he realizes that he may have to take on more of a scoring role and is preparing accordingly.
"That's pretty much what I've been working on this offseason is my jump shot," Ferrell, who shot just 30.3 percent on 3-pointers as a freshman. "That's one of the things I know I need to do better."
Sheehey, the Big Ten's sixth man of the year last season, will also see a shift in his role. He'll likely slide into a regular spot in the starting lineup for the first time in his career and will also be the only player in the program who was around for IU's last losing season in 2010-2011.
That's important because it gives him a unique perspective to share with his teammates on just how much work goes into building a winning team at the Big Ten level.
From the time Sheehey left for Russia to his recent return to Bloomington, he said the progress of the freshman is encouraging, which should bode well for next season.
"You can tell by their work ethic that they are starting to change," Sheehey said. "Every guy coming out of high school doesn't really know exactly what it's like. To see them embrace the work that needs to be put in and for them to see results is really good."
Filed to: Will Sheehey, Yogi Ferrell