Indiana offers 2014 Phoenix big man Michael Humphrey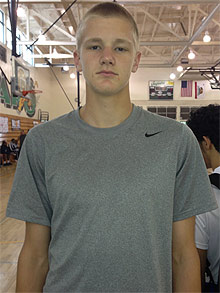 Indiana coach Tom Crean watched class of 2014 Phoenix Sunnyslope (Az.) big man Michael Humphrey for the first time last weekend at the Reebok Breakout Challenge in Philadelphia.
He must have liked what he saw.
Less than a week later, Indiana offered the 6-foot-10 Humphrey a scholarship. Associate head coach Tim Buckley is in Dallas this weekend to watch Humphrey and his Arizona Magic AAU team, and he was the one to make the offer via text message.
"We've been talking about how the games have gone and how I played, what I did wrong, what I need to improve on," Humphrey told Inside the Hall on Saturday. "During the (text) conversation, he was like, 'By the way, we're gonna offer you a scholarship.'"
Even though Crean was the first one on the Indiana staff to see Humphrey play live, Buckley has been recruiting him from the beginning. He began sending him handwritten letters some time ago, which helped the Hoosiers get involved in his recruitment.
"It's definitely gotten a lot stronger," Humphrey said of his relationship with Buckley. "We started off just kind of talking here and there, and things have definitely picked up. He seems really nice and really easy to talk to. I really like the relationship we have."
Humphrey also has offers from Arizona, UCLA, USC, Texas, Vanderbilt and Virginia, among others. We did an extensive story on Humphrey just two days ago, in which we discussed the reason why he has flown under the radar until this point.
Humphrey wasn't ready to say where Indiana ranks among his suitors.
"It's a school I'm very interested in," he said. "I really haven't even started to narrow my list down. It's obviously a great school that I have a lot of interest in."
A source close to Humphrey told Inside the Hall that Indiana will "definitely" get one of Humphrey's official visits this fall.
Filed to: Michael Humphrey