Plenty of mutual interest between Michael Humphrey and Indiana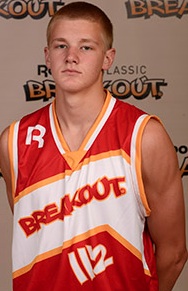 Michael Humphrey has flown under the radar for some time now because of a thumb injury he suffered last year. It set the class of 2014 recruit back a bit and kept some of the major college programs from being able to watch him.
Humphrey isn't under the radar anymore.
The 6-foot-10 big man from Phoenix, Ariz. impressed at last weekend's Reebok Breakout Classic in Philadelphia and has picked up new interest from several schools.
"I've really been talking to some of the bigger schools for awhile but they haven't really had a chance to see me play just because in the spring I had an injury," Humphrey told Inside the Hall on Wednesday. "Reebok was really the first chance they had a chance to see me and after that, it has really picked up."
Indiana coach Tom Crean was in Philadelphia to see Humphrey for the first time, and all indications are that he left impressed. The Hoosiers have not yet offered Humphrey a scholarship, but they plan to send a member of their coaching staff to see him play at a Dallas AAU event this weekend and an offer could be coming soon.
"There's a lot of interest from both sides," Humphrey said.
Indiana actually showed interest in Humphrey months ago. Associate head coach Tim Buckley regularly sent him handwritten letters, but the Hoosiers'  pursuit of Humphrey has increased significantly since Crean watched him last weekend.
"I thought I played pretty well at the Reebok camp and then I started talking a little bit to coach Crean so it's been a great experience," Humphrey said. "I've had really great conversations with him just telling me that I definitely need to keep improving but they really like the way I play."
Humphrey, also a high school quarterback, has grown about three inches in the last year, and his AAU coaches said he isn't finished growing yet.
"He's gonna be close to 7-feet, if not more than 7-feet," Arizona Magic coach Gino Crump told Inside the Hall. "He's still got a baby face. Go look at videos of him, he still looks like a baby. Those growth plates are open."
Crump said Humphrey has fully recovered from his injury and is playing better than ever. According to Crump, Humphrey is a big man who can step out and hit perimeter jump shots and also put the ball on the floor and get to the rim.
Humphrey is still fairly thin at 205 pounds, but he said he's working hard to put on weight and get stronger this summer.
"His jump shot has gotten better, without a doubt," Crump said. "He could always shoot, but his shot has gotten better. He hit three or four 3s in the second game of Reebok, which I think got everybody's attention. He runs the floor well, he blocks shots, he's got great footwork, great hands. He does everything well. His basketball IQ is off the charts.
"The only thing I wanna see Michael do is put on some more weight. He's not small, just to be dominant at the college level, he's gotta put on more weight."
Crump said the additional three inches hasn't changed Humphrey's game much because he always played big. What the growth spurt really did was make it even more imperative that Humphrey get in the weight room and get bigger.
"The biggest thing for me is just gaining weight and continuing to get stronger," Humphrey said.
Humphrey already has offers from Arizona, UCLA, USC, Texas, Vanderbilt and Virginia, among others. But Humphrey's interest in Indiana seems to be a level above his other suitors at this point in the process.
"I had followed them, especially this past year when they had that really strong team," Humphrey said. "I still don't know a ton about them. Obviously they're in a great conference and they have an amazing basketball team, but I'm definitely very interested in Indiana."
Humphrey said he plans to take some unofficial and official visits following the July evaluation period, likely in August and September. Indiana figures to get one of those visits.
"I definitely think Indiana would be a school I have to consider strong and I would definitely want to go and see it," Humphrey said.
Humphrey said it's still too early in the process to project whether he will make an early decision in the fall or wait until the spring, but his AAU coaches are pretty certain it will be early.
"I think it'll be early. He's got a 4.5 GPA, he's got no reason to wait," Crump said. "I don't know who he'd be waiting on. There aren't many schools that could come in now that he'd even be interested in."
Filed to: Michael Humphrey