The Inside the Hall Mailbag: July 25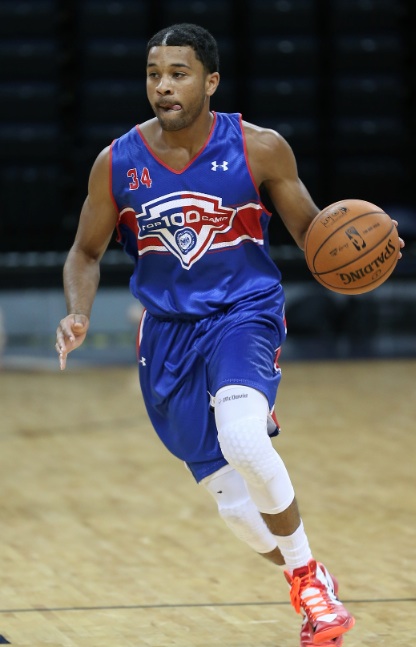 The Inside the Hall Mailbag is a collection of questions tweeted to us via Twitter (@insidethehall) and sent to us via our Facebook page. Submit your questions and we'll answer as many as we can.
Kelin Mark writes: Is James Blackmon working his way to a McDonald's All American?
There's no doubt that Blackmon Jr. had a fantastic summer. He was one of the top scorers in the Nike Elite Youth Basketball League, made the All-Star team at the National Basketball Players Association Top 100 Camp and averaged 20 points per game at the Nike Global Challenge.
He was probably already on the radar for many of the 37 members of the selection committee for the McDonald's All-American Game coming into the summer, but his play this summer will only help further the case for his selection. Based on the commentary I've read on him this summer from a couple of people who are on the committee, which is made up of analysts, scouts, reporters and coaches, he's clearly in the mix to make the team. — Alex Bozich
Toni Wilson Williams writes: All of last yrs group are now playing pro ball…where did Christian (Watford) sign??
Watford played for the Indiana Pacers and the Dallas Mavericks in the NBA Summer League, but as of right now, hasn't signed with a NBA team for next season. It's possible he could get invited to a NBA training camp as an undrafted free agent, sign with a D-League team or go overseas. — Alex Bozich
John Cole writes: I was wondering where Derek Elston ended up.
Elston is finishing his Masters right now in Bloomington and will then head to Malta, where he'll play for the Floriana Basketball Club. Malta is located in southern Europe in the Mediterranean Sea. He's expected to report overseas sometime in September. — Alex Bozich
@jjclick17 writes: What's level of interest in (Trevon) Bluiett? Seems like when a '14 target commits elsewhere, IU looks at someone new. Are they waiting for him to trim his list before investing more into his recruitment?
Without going into too many specifics on Bluiett, I think it would be hard for any program to go all-in after a player who is publicly saying he's considering over 20 schools the summer before his senior season. That's not a knock on Bluiett's handling of the process as he's certainly entitled to go about it however he and his family choose to do so, but in recruiting, coaches are going to spend the most time on the kids they feel they have the best shot to sign. Bluiett was offered a scholarship as a freshman, he's visited Indiana many times and has been recruited heavily. If Indiana was his top option, it would be known by now. — Alex Bozich
IU-DL writes: Maybe there's nothing more to it than timing, but what do you make of our long recruiting dry run? We were the among the hottest programs in the country at one point, with our 2012 class followed up with the Vonleh/Williams duo last fall. We missed on a few guys that surprised me. Pinson mostly, to be specific. Vic and Oladipo go 2/4 in the draft, and I thought we would see a real uptick. Somehow, between UK, UNC, UL and Duke, we seem to be just another school in the mix. Goodluck is another example that I felt was in our sights, but now Pitino and Coach K are in, which will make a student reconsider everything. Why aren't we getting the commitments we should be getting with the momentum CTC, Vic, Cody, Tradition, etc. bring IU?
I believe IU is in great shape for the 2014 recruiting class and beyond. Not many programs have a top 25 player committed at this point (that number is seven right now, if you use the ESPN rankings) and that's what IU has in Blackmon Jr. Furthermore, the program is in the mix with several top players in the class that have all been well documented in stories here over the last couple of months.
Anytime you recruit the best players in the country, there is going to be competition from other top programs. That's the position Indiana is in right now. Last year at this time, Indiana had four commitments, but neither Noah Vonleh or Troy Williams had visited or committed. Both players ended up signing with the Hoosiers. Once official visits begin happening in the fall and the signing period draws closer, you'll start to see more action in terms of decisions and commitments. — Alex Bozich
@ufolover173 writes: when will (Dante) Exum have to decide on NBA v NCAA?
He doesn't have to decide until next spring if he wants to take that long to make his decision. Exum could take a look at entering the 2014 NBA Draft, where many have already projected him as a top 10 pick and he'd have until the early entry deadline to declare. That deadline is typically in late April. Assuming he doesn't play professionally in Australia and retains his eligibility with the NCAA, he could still sign with a college program next spring if he doesn't enter the draft. — Alex Bozich
@JMDilling writes: How's (Jeremy) Hollowell doing this summer?
The media had a chance to talk to Hollowell a couple of weeks ago and he detailed his offseason improvement: "I think one-on-one scoring, my shooting and my ball handling have come on a lot," he said. "I've been in the gym quite a bit this summer, definitely more than last year, so I know what to expect. Last season was a blur, it went by pretty fast, so just day in and day out, I've been working hard just trying to improve every aspect of my game."
Earlier in the summer, Tom Crean said Hollowell, along with Hanner Mosquera-Perea, was a player who had to develop a "desire to compete." Specifically, Crean had a list of different things he would be looking for from both players.
"It becomes a situation, are you really going to try to dive in and win everything that you do? That's what Jeremy and Hanner have to develop because I think the skills will come. Hanner is so much ahead of where he was a year ago. Jeremy loves the gym. But now it comes down to, I want to hear about what those guys are winning. What sprints are they winning? What competitions are they winning? What shooting drills are they winning? Because that's what we need. We've won 56 games the last two years because we've had a highly competitive team that put winning first. We've lost so much of that. That stuff's wide open."
The latest update we received from the assistant coaches a couple of weeks ago suggested the Hollowell had the chance to step into more of a leadership role with Yogi Ferrell and Will Sheehey out of town for close to a month with USA Basketball. With a year under his belt and a bigger role likely for his sophomore year, Hollowell is a guy that should be more vocal and also a candidate to break out in Bloomington. — Alex Bozich
Filed to: Inside the Hall Mailbag, James Blackmon Jr., Jeremy Hollowell, Twitter Mailbag