James Blackmon Jr. dominant at Nike Global Challenge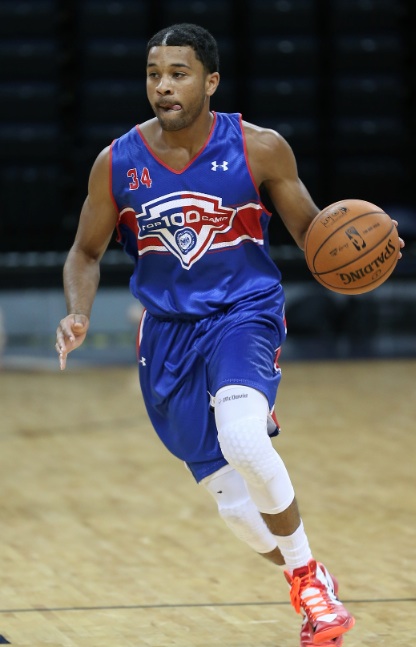 WASHINGTON – James Blackmon Jr. of Marion (Ind.) was one of about 15 committed players at this year's Nike Global Challenge. A 6-foot-3 shooting guard, Blackmon has been committed to Indiana since September of 2010.
As the first Hoosier pledge in his class, Blackmon has talked to several IU targets about joining him in Bloomington.
"Yeah, I get into a lot of peoples' ears," Blackmon said. "Like at last camp I was at I talked to LeRon Black, he likes IU. I talked to Goodluck [Okonoboh], just guys who are interested and I just tell them it's a great program."
Blackmon, who is rated No. 25 in the ESPNU Top 100, went on to share what sense he has gotten from the two big men about what they are thinking.
"I think that LeRon, he really likes it and he also told me that he would love to play with me, a scorer," he said. "And Goodluck just, we played together on the same team at the camp. He was like, 'Dang, I want to play with a scorer like that.'"
Blackmon, who was on Team USA Midwest at the Nike Global Challenge, wasn't doing much recruiting in the nation's capital.
He was, however, a big reason for his team's third place finish in the event. Despite being hampered by a sore left ankle, he averaged 20.0 points on 67.3 percent shooting from the field to go along with 4.5 rebounds and 1.8 assists per game.
"It's just all fun for me, just a real big opportunity for all of us really," Blackmon said. "So, we all just wanted to go together and show what we can do and that's what I think we did."
IU assistant coach Kenny Johnson and Tom Crean were both at the Global Challenge to watch Blackmon and other recruits and the future Hoosier guard said he doesn't feel any extra pressure to perform in front of his future coaches.
"No, I really don't feel any pressure. It actually takes a lot of pressure off me to be honest," he said. "They just want to see how I've developed and every game they watch me they say I get better and better."
Blackmon's decision to commit before ever playing a high school game has allowed him to focus on improvement and preparing for college rather than the recruiting process, which is often times hectic.
"It took a lot of pressure off me just to be committed and not worrying about that process that everyone has to go through," Blackmon said. "I feel like this is the best choice for me and I really don't have to worry about anything, just going out there and getting better."
Known as one of the nation's best shooters, Blackmon was nearly automatic at the Global Challenge. He had three games of 20 or more points and shot 56.3 percent from behind the 3-point arc.
Antwan Harris, the coach of Team USA Midwest, agreed that shooting is Blackmon's forte on the court and spoke a bit more about his game.
"He needs to work on his lateral movement. He's a little flaky with the basketball every now and then," Harris said. "Yeah, he was hurt, I'll give him that. Little flaky with the rock a little bit, he got nipped a couple times, but he can flat out shoot the basketball."
Up next for Blackmon is getting acclimated to his new high school and getting his ankle, which he injured earlier this month at the LeBron James Skills Academy, back to 100 percent.
"Just [have to] keep getting stronger and more explosive," he said, "but I just got to get healthy when I go back home because I'm not playing in any tournaments, just [trying to] get my ankle right and I should be straight."
Alex Schwartz is the president and chief scouting officer of Northstar Basketball.
(Photo credit: Kelly Kline/Under Armour)
Filed to: James Blackmon Jr.