Ahmed Hill says relationship with Indiana remains strong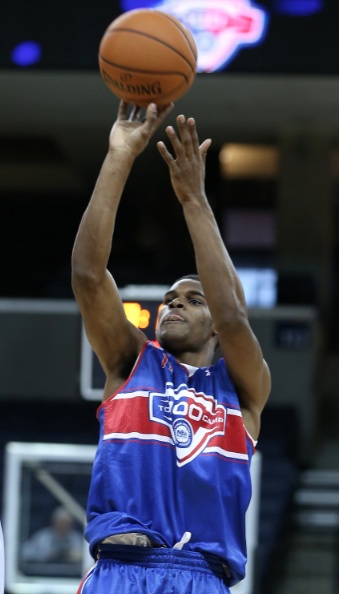 WASHINGTON — When listing the college coaches he has the best relationship with, the very first that comes to mind for Ahmed Hill is Tom Crean.
Hill, a class of 2014 prospect from Aquinas (Ga.), spoke with Inside the Hall while at the Nike Global Challenge and named a half dozen coaches has the strongest bonds with. Joining Crean were five other head coaches: Marquette's Buzz Williams, Florida's Billy Donovan, Florida State's Leonard Hamilton, Georgia's Mark Fox, and Georgia Tech's Brian Gregory.
When it comes to who is coming at him the hardest, Indiana was also the first school that Hill mentioned.
"Probably Indiana, Marquette, Florida, Florida State, Georgia, and Georgia Tech, and Tennessee, and Texas," he said.
The 6-foot-5 shooting guard, ranked the No. 33 prospect nationally by ESPN.com, said that regular communication is a primary reason that Indiana is included in his top group of schools.
"Because me and coach [Tom] Crean talk pretty much every day," Hill said. "When he sees me play bad he always shoots me a text, or when he sees me play good he'll always shoot me a text. It doesn't matter, he always texts me and talks to me every day."
Those conversations don't always center around basketball, according to the Georgia native, who averaged close to 30 points and 10 rebounds per game as a junior at Aquinas.
"We've got a great relationship," Hill said. "We just talk pretty much about life, pretty much [about] coming to Indiana and how it would be."
Hill has yet to take a visit to Bloomington, but says that Crean has kept him well informed on what it would be like to play for the Hoosiers.
"He just says how the atmosphere is," Hill began, "how I would fit into his style of play perfectly, how I would help the team out and be a big-time player for them. They got a great campus I heard. I'm going to go check it out. It would be great to get up there and check it out."
Hill has taken several unofficial visits so far, but all of them have been to schools in the southeast. Hill has visited Alabama, Florida, Georgia, Georgia Tech, North Carolina State, and Clemson. The rising senior said that all of those trips were unofficial.
Hill said he holds offers from Indiana, Marquette, Georgia, Georgia Tech, Florida, Florida State, Kansas, Texas, North Carolina State, and Tennessee, amongst others. Two schools Hill said are recruiting him that have yet to extend a scholarship offer are North Carolina and Louisville.
The next step in the process for the four-star guard will be setting up official visits, which could begin to happen as early as next month. Hill hasn't decided which schools he'll visit yet, but plans to take all five officials and then make a decision with his family before the early signing period begins in November.
While he's struggled thus far at the Global Challenge with just two points in three games in limited minutes, Hill is hoping he can finish the event out strong as the USA South team plays in the championship game later today. He also shared his goal for his final season of high school basketball this winter.
"To win a championship at my high school," he said.
Alex Schwartz is the president and chief scouting officer of Northstar Basketball.
Filed to: Ahmed Hill