6-Banner Sunday: Media day recap, tip times announced and TV schedule nearly finalized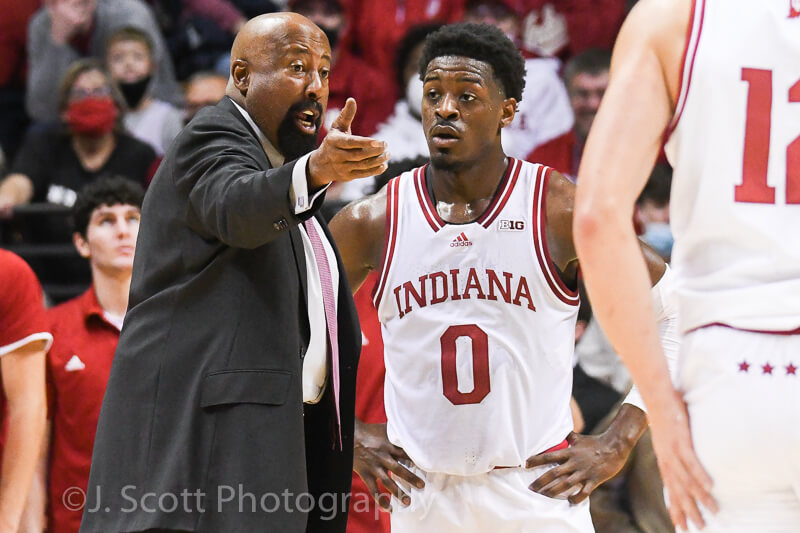 6-Banner Sunday is Inside the Hall's weekly newsletter in partnership with The Assembly Call. More than 9,000 Indiana fans receive the newsletter each week. In addition to appearing each week on the site, you can also opt to receive 6-Banner Sunday by email. A form to subscribe via email is available at the bottom of this week's 6-Banner Sunday.
Welcome to another edition of 6-Banner Sunday, a joint production between The Assembly Call and Inside the Hall where we highlight the five most essential IU basketball stories of the past week, plus take a look at how the other IU sports programs are doing.
As the season approaches, the most IU basketball news yet of the offseason occurred this week. No event hits this point home more than Indiana hosting a media day previewing the season for men's and women's hoops. Another indication that tipoff for 2022-2023 is right around the corner is a finalized schedule release that now includes game times and TV assignments. The final signal that the Hoosiers will be taking the court within the next few weeks is Inside the Hall doing a series that looks at the top 25 players in the Big Ten.
Once fans can see the team play, a major change is coming to Assembly Hall with the announcement of alcohol being available for the first time ever. Looking to the past, a former beloved player from a decade ago will get another shot in the NBA after injuries have somewhat derailed his career. We will as usual conclude with a look at how other IU sports are doing.
In brief news, Hoosier Hysteria will have a special guest, a couple of future highly-touted recruits are visiting campus this weekend, and Assembly Call had their normal Thursday show.
• IU holds annual media day
• TV designations and tip times released
• Inside the Hall top 25 Big Ten player series
• Beer sales coming to Assembly Hall
• Cody Zeller signs with the Utah Jazz
• Hoosier Roundup
Banner #1 – IU holds annual media day
IU hosted a media day for both men's and women's basketball. Both IU men's coach Mike Woodson and IU women's coach Teri Moren were made available to the press and discussed a variety of topics as did their players shortly after.
For the first time, both teams are ranked well inside the top 25 and expected to make a push for the Big Ten title as well as a deep run in the NCAA tournament.
Woodson's team is not shying away from these expectations. Meanwhile, Moren's squad, despite losing three top contributors, should have more depth after bringing in elite transfers and freshmen as well as returning two of their star players.
After the main event, Inside the Hall caught up with both Miller Kopp and Logan Duncomb for an interview.
Banner #2 – TV designations and tip times released
While IU's full 2022-2023 schedule has been known for a couple of weeks, the times and television broadcast info were not. That changed on Thursday afternoon when the Big Ten made this information public. On Friday, Kansas followed suit and announced the tip time for their game with the Hoosiers.
The game against North Carolina on Nov. 30 is now the only one without a known tip time or TV info. However, as part of the Big Ten-ACC Challenge, it will air on an ESPN network and will likely be a late tip as the marquee showdown of the event.
Also, with the finalization of the schedule, Indiana Athletics released their mini-series ticket package for the games when students are on holiday break. It includes the games near Thanksgiving against Little Rock and Jackson State as well as winter break contests against Elon and Kennesaw State. The only Big Ten team to be featured in the bundle is Northwestern at the very end of the holiday break.
Outside of these five opportunities, it is unlikely any other tickets will be released to the public through IU with the remaining games sold out already via season tickets. Fans can turn to Vivid Seats for the remaining home dates.
Banner #3 – Inside the Hall top 25 Big Ten player series
In anticipation of the season being right around the corner, Inside the Hall partnered with UM Hoops to do a series looking at the top 25 players in the conference. 25-21 can be viewed here, 20-16 here, 15-11 here, 6-10 here, and 5-1 here.
Three Hoosiers made the list with Race Thompson at 21, Xavier Johnson at 9, and Trayce Jackson-Davis at 2. Michigan's Hunter Dickinson barely beat out Jackson-Davis for the top spot overall.
Banner #4 – Beer sales coming to Assembly Hall
For years IU had no alcohol sales at any athletic contests. Then within the last few years, it has been made available at Memorial Stadium for football, Bart Kaufman Field for baseball, Andy Mohr Field for softball, and Armstrong Stadium for men's and women's soccer.
Now Indiana has taken the final step and for the first time will make beer available during all games at Assembly Hall beginning with Hoosier Hysteria. Those buying it must show an ID proving they are 21 years of age and will be limited to two drinks per transaction. Also, alcohol will not be served to anyone who appears to be intoxicated and sales will end with 10 minutes left in the contest.
Banner #5 – Cody Zeller signs with the Utah Jazz
After being one of IU's greatest players of the 21st century and leading them to their first outright Big Ten title in 20 years, Cody Zeller has had an up-and-down NBA career that has been marred by injuries. Assembly Call had an exclusive interview with him a couple of years ago when he was part of the Charlotte Hornets discussing how his time in professional basketball was going.
After eight seasons with the Hornets where he struggled to stay healthy but was a productive player when on the court, he spent last year with the Portland Trail Blazers where he appeared in just 27 out of 82 games. Now he will get another chance to try to showcase his talents with the rebuilding Utah Jazz if he can play his way onto the roster.
Former Hoosier Juwan Morgan has also played in Salt Lake City within the last few years before moving on to other teams.
Banner #6 – Hoosier Roundup
• Women's basketball released its TV schedule for the upcoming season
• Football lost to Cincinnati. Also, kicker Charles Campbell was honored nationally and by the conference, after his game-winning kick against Western Kentucky, and the time and tv assignment for next week's game with Nebraska was made public.
• Men's Soccer had a rough week losing to a strong Ohio State team and tying a struggling Michigan State team to put their Big Ten title hopes behind the proverbial eight-ball.
• Women's Soccer managed another 0-0 tie with a strong Penn State squad before conceding their first goals of the season in a 3-0 loss to Minnesota. Also, goalie Jamie Gerstenberg was recognized by the Big Ten.
• Field Hockey split contests with Longwood and Louisville.
• Volleyball lost their Big Ten opener to Penn State.
• Women's golf competed in their first tournament of the fall season.
• Men's golf also took part in a tournament this week.
• Men's tennis competed in a fall exhibition event.
Water polo added an assistant coach.
• Swimming and Diving announced their schedule for the upcoming season.
• Wrestling also revealed its schedule for the coming winter.
• Softball announced an upcoming alumni event.
Thanks for your continued support for The Assembly Call and Inside the Hall. We'll be back next weekend with a new roundup.
Now go enjoy yourself a 6-banner Sunday.
Aaron (Ari) Shifron
Assembly Call Contributor
Filed to: