Big Ten's top 25 players for 2022-23 season: 5-1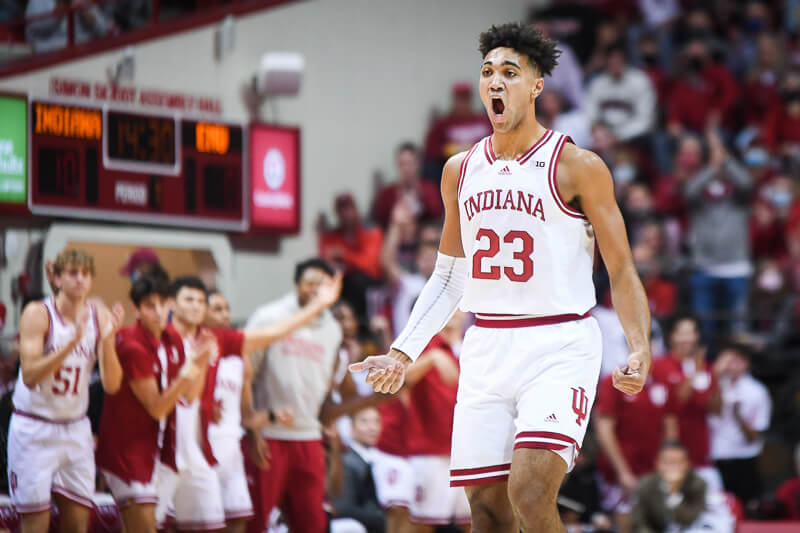 With the official start of practice less than a week away, UM Hoops and Inside the Hall have once again partnered to bring you our annual preseason breakdown of the top 25 players in the Big Ten.
The series is broken into five parts and our fifth and final installment of players 5-1 for the 2022-23 season is available below:
Previously: 25-21, 20-16, 15-11, 10-6
5. Clifford Omoruyi, Rutgers (6-foot-11, center, junior)
Omoruyi might not be as prolific of an offensive weapon as the other two bigs in the top five, but he's arguably the best two-way big in the conference. He protects the rim, dominates the glass and finishes what seems like every catch around the rim with an emphatic dunk. He converted 93 dunks last season, second-most in the country behind Duke's Mark Williams, per Bart Torvik.
Omoruyi averaged 11.9 points and 7.8 rebounds last season and shot an impressive 63.5 percent inside the arc while finishing 4th in the league in block rate.
What's perhaps most terrifying for the rest of the Big Ten is that Omoruyi is still on the upward trajectory of his growth as a player. He made significant leaps in his sophomore year and is poised to build on that success and expand his offensive repertoire as a junior as the focal point for Steve Pikiell.
4. Kris Murray, Iowa (6-foot-8, forward, junior)
With his twin brother off to the NBA as a lottery pick, Murray is back in Iowa City as the top breakout candidate in the Big Ten. Despite being listed on many draft big boards last spring, Murray didn't even test the waters in favor of returning to school. He enters the season as arguably the best NBA draft prospect in the conference.
After barely seeing the floor as a freshman, Murray took a major step forward last season for Fran McCaffery. He averaged 9.7 points and 4.3 rebounds in just 17.9 minutes per game. While more of a perimeter-oriented player than his brother, Murray shot an efficient 58.2 percent on 2s last season in conference play on the 16th-highest usage rate in the conference. Murray also shot an impressive 38.7 percent on 3s last season on 111 attempts.
Defensively, he was 7th in the Big Ten in block percentage, 11th in steal percentage and was among the top 25 defensive rebounders in the conference.
With per 40-minute averages of 21.7 points and 9.5 rebounds a season ago, it's not hard to see a clear path to first team All-Big Ten honors for Murray by season's end.
3. Zach Edey, Purdue (7-foot-4, center, junior)
Edey averaged 30.3 points and 16.2 rebounds per 40 minutes as a sophomore. Of course, he only played 19 minutes per game as he split minutes at the five with Trevion Williams.
Now a junior and the primary big man on the roster, this Purdue team is Edey's team. The question becomes how many minutes he can play for Matt Painter. Edey only played 25 minutes or more three times last season but if he can top that total regularly this season he should be among the most productive big men in the country.
There's a conversation to be had about how many minutes Edey can play due to his massive size and lack of mobility defending ball screens.
Someone like former Purdue big man Isaac Haas topped out at 23.4 minutes in the same system but the per-minute statistical dominance when Edey is on the court is impossible to overlook in the preseason.
2. Trayce Jackson-Davis, Indiana (6-foot-9, forward, senior)
In a surprise development to many, Jackson-Davis opted to return to Bloomington for a fourth season after leading the Hoosiers back to the NCAA tournament last March.
Jackson-Davis put together his best season as a Hoosier last winter as his efficiency numbers improved. His 2-point field goal percentage improved by 7.6 percent and he led the Hoosiers in both scoring (18.3 ppg) and rebounding (8.1 RPG).
As Mike Woodson allowed Jackson-Davis more freedom defensively, he flourished as a shot blocker. He finished third in the league in block percentage and his per-game average improved from 1.4 to 2.3 per game.
His late-season dominance propelled Indiana back to the postseason for the first time in almost six years. Over a four-game stretch against Michigan, Illinois and Iowa in the Big Ten tournament, Jackson-Davis averaged 25.3 points and 8.6 rebounds on 66.6 percent shooting from the field.
The next step for Jackson-Davis is adding a mid-range or perimeter shot to his offensive arsenal. Woodson made it clear at Indiana's media day that Jackson-Davis will have the freedom to expand his game. Doing so would improve his NBA stock while also giving defenses one more thing to worry about when game planning to stop him.
1. Hunter Dickinson, Michigan (7-foot-1, center, junior)
After Dickinson returned from COVID-19 in early January, he averaged 20.3 points, 8.5 rebounds and 2.5 assists in 33.3 minutes per game and helped turn Michigan's season around. He shot 59.1 percent inside the arc and 34.0 percent from 3-point range and racked up eight KenPom MVP honors in 20 games.
Some of Dickinson's dominance was lost in the fact that Michigan started the season slowly and failed to live up to lofty preseason expectations, but few players were as productive on a regular basis as Dickinson was over the last three months of the season.
In Big Ten games, Dickinson finished 2nd in scoring and 5th in rebounding and every player above him on both lists has moved on this offseason.
His defensive limitations have been well documented, but his ability to dominate offensively should allow Michigan to contend in the Big Ten despite a supporting cast that is almost entirely brand new this season.
Filed to: 2022-23 season preview, Trayce Jackson-Davis