Big Ten's top 25 players for 2022-23 season: 15-11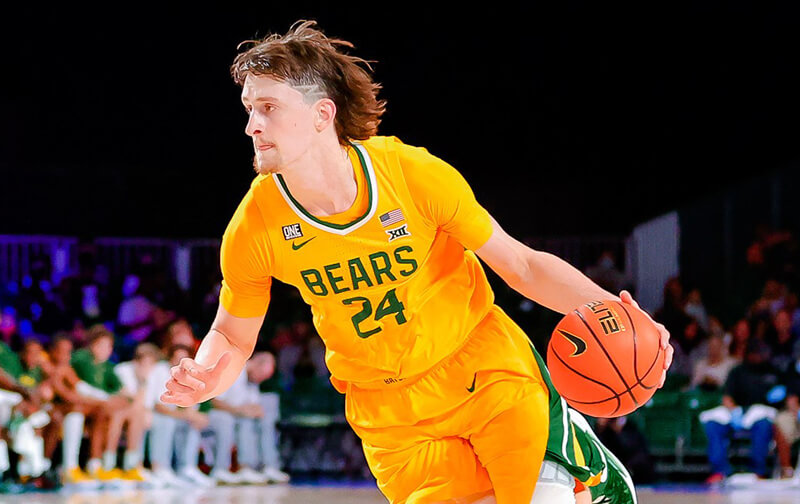 With the official start of practice less than a week away, UM Hoops and Inside the Hall have once again partnered to bring you our annual preseason breakdown of the top 25 players in the Big Ten.
The series is broken into five parts and our third installment of players 15-11 for the 2022-23 season is available below:
15. A.J. Hoggard, Michigan State (6-foot-4, guard, junior)
Hoggard led the country in assist rate and used a team-high 25.7 percent of Michigan State's possessions last season, but only played 20.2 minutes per game. He was masterful in many of Michigan State's biggest wins (at Wisconsin, Michigan and Indiana stand out) but battled illness down the stretch and never managed to permanently lock down the starting point guard spot.
At 6-foot-4, 210-pounds, Hoggard has the size and passing ability to lead Michigan State's offense. He can defend and he's effective pushing the ball in Tom Izzo's vaunted transition attack. He's also the best player on the MSU roster at making something happen when the offense breaks down thanks to his ability to put his head down and bully his way to the rim.
The two things holding him back are turnovers and shooting. Hoggard turned it over on 22.4 percent of his offensive possessions last year and Michigan State finished last in the conference in turnover rate. He also shot just 21.9 percent from 3-point range on only 32 attempts and 63 percent at the charity stripe.
There's an opportunity for Hoggard to step into an even more prominent role this season, likely playing alongside Tyson Walker. If he can improve in those two areas, there's an opportunity for a big step forward.
14. Chucky Hepburn, Wisconsin (6-foot-2, guard, sophomore)
Wisconsin was Johnny Davis' team last season, but Hepburn ran the show. Hepburn started every game as a freshman and played 77.5 percent of available minutes for Greg Gard.
The list of lead guards who played that many minutes as a freshman, especially for a team that was at the top of the conference, isn't long. Most of the players on it either played for Northwestern (Bryant McIntosh, Michael Thompson, Dave Sobolewski) or became fixtures in the league (Trey Burke, Tony Carr, Talor Battle, Melo Trimble, Eric Gordon, D'Angelo Russell).
Hepburn's low usage and mediocre shooting inside the arc (42.4 percent) are a reminder of how much room he has to grow, but given the stability of Wisconsin's program it would be a surprise if he doesn't build on his freshman year success.
Hepburn will have to increase his offensive workload from last year's 15.4 percent usage, but his experience makes him one of the safer bets at point guard in the league this season.
13. Dawson Garcia, Minnesota (6-foot-11, forward, sophomore)
This is largely an upside bet on Garcia, who is now at his third school in three seasons. A member of the 2020 recruiting class, Garcia was the No. 35 prospect nationally coming out of Prior Lake High School.
Over two seasons at Marquette and North Carolina, Garcia averaged 11.5 points and 6.2 rebounds while shooting 45.7 percent from the field. He left North Carolina's team last season to return home to Minnesota due to family medical issues. A few months later, he announced a transfer to Minnesota to play for Ben Johnson.
The lefty forward is unique because of his ability to step out to the perimeter. He's a career 36.2 percent 3-point shooter. Garcia should slide right into the starting lineup alongside Jamison Battle in Minneapolis. Talent has never been a question with Garcia and this might be the season where his potential is fully realized.
12. Zed Key, Ohio State (6-foot-8, forward, junior)
The Big Ten has been defined by its elite post-up scorers over the last few seasons and Key was often the forgotten man. He was overshadowed by his NBA-bound teammates EJ Liddell and Malaki Branham last season, but his low-post ability will be a necessity for Chris Holtmann's team this season.
Key played 44.6 percent of minutes as a sophomore, up from 28.9 percent as a freshman. He averaged 7.8 points and 5.6 rebounds per game and his late-season ankle injury was a big part of why Ohio State's season fizzled down the stretch. With Liddell and Kyle Young's departures, he should see another significant boost in playing time and usage.
Key finished 7th in the Big Ten in points scored per game out of post-ups, and three players who finished ahead of him – Kofi Cockburn, Trevion Williams and EJ Liddell – are moving on this season.
He'll need to improve his conditioning, stay out of foul trouble and stay healthy, but if he does he should be among the league's best interior scorers this season.
11. Matthew Mayer, Illinois (6-foot-9, forward, fifth year)
A member of Baylor's 2020-21 national championship team, Mayer is using his additional season of eligibility due to the COVID-19 pandemic in Champaign.
After coming off the bench as a junior in Waco, Mayer slid into the starting lineup last season for Scott Drew and averaged 9.8 points, five rebounds, 1.2 steals and an assist in 22.8 minutes per game. He started 33 games for the Bears and was the team's third-leading scorer. Those numbers were solid, but a little underwhelming for a player who was named to the Wooden Award watch list in the preseason.
At Illinois, he'll likely step into a larger role with more scoring opportunities. Brad Underwood called Mayer an "elite shot maker" in an interview with Blue Ribbon Yearbook. Mayer can play multiple positions, can score at the rim, from the midrange and from the perimeter.
Alongside Coleman Hawkins, Mayer will give Underwood two frontcourt players that can step away from the basket, which will be a totally different look from the post-heavy offense of the past three seasons with Kofi Cockburn in the paint.
(Photo credit: Baylor Athletics)
Filed to: 2022-23 season preview