Big Ten's top 25 players for 2022-23 season: 25-21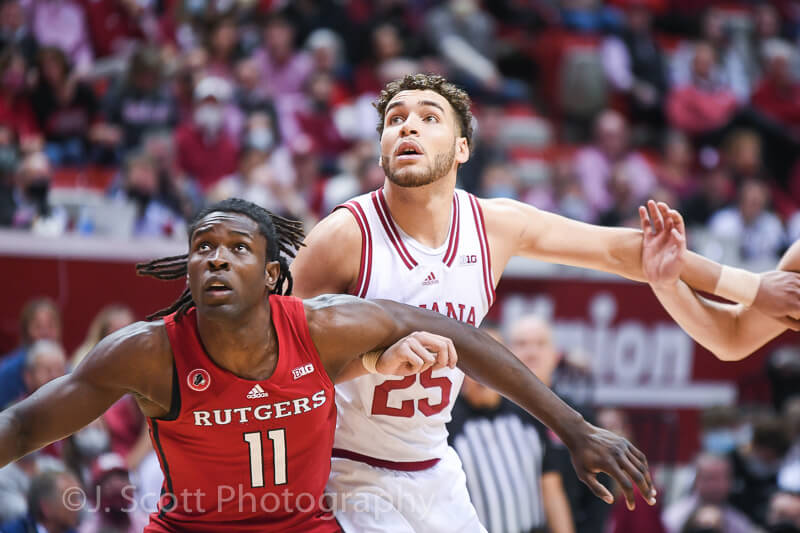 With the official start of practice less than a week away, UMHoops and Inside the Hall have once again partnered to bring you our annual preseason breakdown of the top 25 players in the Big Ten.
The series is broken into five parts and our first installment of players 25-21 for the 2022-23 season is available below:
Also considered: Tyson Walker (Michigan State), Jett Howard (Michigan), Jalen Hood-Schifino (Indiana), Skyy Clark (Illinois), Jahmir Young (Maryland), Mason Gillis (Purdue)
25. Justice Sueing, Ohio State (6-foot-6, forward, redshirt senior)
Justice Sueing checked in at No. 17 on last year's list but his season was cut short after just two games due to an abdominal injury. He didn't participate in Ohio State's overseas trip this summer, but is reportedly fully healthy heading into the season.
When healthy, he's a 6-foot-7 wing who can score inside and out and get to the free-throw line consistently. Sueing shot 54 percent on 2s and 36 percent on 3s while averaging 11 points and five rebounds per game in his last healthy season.
This is an Ohio State roster that desperately needs a go-to perimeter scorer, and Sueing has the ability to be that guy for Chris Holtmann if he's back to the form he showed earlier in his career.
24. Jalen Pickett, Penn State (6-foot-4, guard, senior+)
Jalen Pickett played a Big Ten-leading 93 percent of available minutes for Penn State in Micah Shrewsberry's first season in charge. While the Nittany Lions' glacial pace helped him stay on the floor, Pickett had to do almost all of the heavy lifting for a PSU offense that lacked supporting firepower.
Pickett finished 4th in the Big Ten – and 1st among returning players – in points per game created out of ball screen situations, per Synergy Sports. He also finished 4th in the conference in points per game scored from jumpers off the dribble, a reminder of the difficulty of shots he was forced to attempt on a nightly basis. A useful reference point to put his 48.2 percent effective field goal percentage into context.
Pickett's workload and individual production wasn't enough to get the Nittany Lions over the hump as they finished 14-17 with the second-worst offense in the Big Ten, but if Shrewsberry's squad is able to take a step forward in 2022-23 it will almost certainly be due to Pickett's playmaking at the point guard position.
23. Tony Perkins, Iowa (6-foot-4, guard, junior)
Iowa was a different team last season after inserting Perkins in the starting lineup prior to the Minnesota game on February 6. The Hawkeyes went 12-3 with the Indianapolis native as a starter. The athletic guard scored in double figures in five of Iowa's final nine games, including three games of 16 or more points.
As a starter, Perkins averaged 8.4 points, 3.2 rebounds, 2.4 assists and just one turnover in only 20.8 minutes per game. He shot 50 percent on 2s and 40.9 percent on 3s over the season's final 15 games.
Perkins, a co-winner of Iowa's most improved player award last season, should be the team's primary offensive option in the backcourt as a junior. Defensively, he ranked fifth in the Big Ten last season in steal percentage. With the graduation of Jordan Bohannon, look for Perkins to take a major step forward this winter.
22. Jaelin Llewelyn, Michigan (6-foot-2, guard, graduate student)
For the third consecutive season, Michigan will call on a graduate transfer from a lower league to step in and handle point guard duties. The Wolverine offense will still be built around All-American big man Hunter Dickinson, but someone has to get him the ball.
That will be Princeton graduate transfer Jaelin Llewellyn, like Mike Smith and DeVante' Jones before him, who will be orchestrating Juwan Howard's elaborate ball screen offense to unlock the passing angles to find Dickinson in the paint.
Llewellyn led Michigan in scoring during its overseas trip and averaged five assists to 1.5 turnovers per game. On paper, he splits the difference between Michigan's previous graduate transfer point guards. He's bigger and more athletic than Smith and a better shooter than Jones.
The big question is how his point guard skills adapt to Michigan's system. The former top-100 recruit is coming from the Princeton offense where the primary playmaker was a big man and he could focus more on scoring. Michigan needs him to provide a scoring punch, but also unlock the defense to create opportunities for others.
21. Race Thompson, Indiana (6-foot-8, forward, redshirt senior)
There's nothing flashy about Thompson's game, but there's no disputing his production in Indiana's frontcourt. Thompson was third on the Hoosiers in scoring last season at 11.1 points per game. He ranked eighth in the Big Ten in 2-point field goal percentage and was 17th in the conference in offensive rating.
Thompson also ranked in the top ten in the Big Ten in defensive rebounding percentage and was 20th in block percentage. The Hoosiers had the league's best defense last season and Thompson's work alongside Trayce Jackson-Davis was a major reason why.
Offensively, his bread and butter is finishing around the rim, but Mike Woodson allowed him the freedom to step out to the perimeter. That part of Thompson's game is still unproven as he made just 27.3 percent of his 3s on 55 attempts last season. If Thompson can bring that percentage into the low to mid 30s, it'll be a major boost to an Indiana offense that is still seeking consistent perimeter shooting options.
Filed to: 2022-23 season preview, Race Thompson