Big Ten's top 25 players for 2022-23 season: 20-16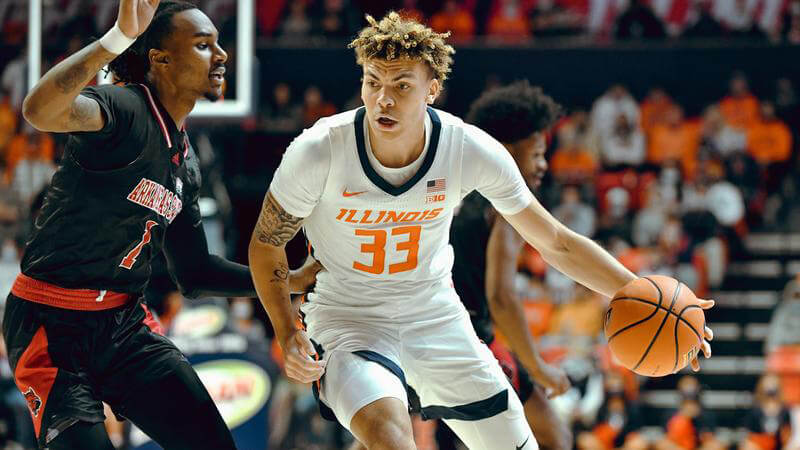 With the official start of practice less than a week away, UM Hoops and Inside the Hall have once again partnered to bring you our annual preseason breakdown of the top 25 players in the Big Ten.
The series is broken into five parts and our second installment of players 20-16 for the 2022-23 season is available below:
Previously: 25-21
20. Patrick McCaffery, Iowa (6-foot-9, forward, redshirt junior)
A 6-foot-9 wing capable of playing either forward spot, McCaffery was a prominent and reliable piece for the Hawkeyes last winter. He started all 32 games for his father, Iowa coach Fran McCaffery, and was third on the team in scoring at 10.5 points per game.
McCaffery scored in double figures 21 times and led the Hawkeyes in scoring in their NCAA tournament loss to Richmond with 18 points. He had the lowest turnover percentage, 5.5 percent, of any Big Ten regular last season.
This season, McCaffery will remain in the Iowa starting lineup as a frontcourt running mate for Kris Murray, who will take over for his brother Keegan, a lottery pick in last June's NBA draft. The duo's offensive versatility will once again make Iowa's frontcourt one of the most dangerous in the league.
19. Coleman Hawkins, Illinois (6-foot-10, forward, junior)
If you study Hawkins long enough, you can project just about any outcome in 2022-23. The 6-foot-10, 215-pound junior has had some brilliant highlights during his two years at Illinois. At his best, he has the motor and measurables that NBA teams dream of. He can play power forward or center, handle the ball on the perimeter, finish at the rim, distribute to his teammates and disrupt the game with his length on defense.
At his worst, he's turnover prone and inconsistent. His production was eye-opening in three early games without Kofi Cockburn last season, but he turned it over 28 times in his first ten starts of the year before moving to a role off the bench.
His production waned during league play only for him to return to the starting lineup down the stretch and into the postseason. Hawkins will play a new role without Cockburn in the mix, and the Illinois offense will take on a new look. If things go right, Hawkins has the tools to play his way into the NBA Draft, but he'll have to improve his consistency and decision-making in high-leverage spots.
18. Boo Buie, Northwestern (6-foot-2, guard, senior)
Northwestern continues to underwhelm season after season under Chris Collins, but Buie remains the bright spot as the point guard in Evanston. He took a major leap forward last season as a junior as his efficiency shot up thanks to a lower turnover rate and much better shooting from inside the 3-point line.
Buie made 45.2 percent of his 2s last season compared to just 37.9 percent as a sophomore. His turnover rate fell from 17.6 percent in his second season to 13.7 last season as a junior. He also ranked in the top ten in the Big Ten in assist rate and in the top 20 in free throw percentage.
Making his first appearance on the preseason top 25 list, Buie returns for his fourth season after averaging 14.1 points, 4.3 assists and 2.5 rebounds per game last season. He was the first Northwestern player to average more than 14 points and four assists per game since Bryant McIntosh, who led Northwestern to its only NCAA tournament appearance back in 2017. While expectations in Evanston are modest at best, Buie has the talent to find himself in the conversation as the league's best point guard by season's end.
17. Donta Scott, Maryland (6-foot-8, forward, senior)
After breaking out as a sophomore, Scott was a disappointment last season after landing at No. 11 on last season's preseason top 25 Big Ten players list. The Terps, who parted ways with Mark Turgeon last December, were a mess all season and Scott played a good portion of last season under interim coach Danny Manning.
As a sophomore, Scott established himself as one of the league's toughest matchups because of his ability to score at the rim against smaller opponents while also being able to step out to the perimeter. But his 3-point shot fell flat last season as he connected at just a 29.1 percent clip from distance after making 44 percent in his second season. Despite the major dips in efficiency, Scott still managed to average 12.6 points and 6.2 rebounds in 33.4 minutes per game.
With a new coach in Kevin Willard and renewed optimism around the Maryland program, Scott will have every opportunity to be the go-to-guy in College Park this winter. Willard told the Blue Ribbon Yearbook that Scott is going to need to be "more of a scorer" this season and added that Scott will be expected to play 34 minutes a game.
16. Malik Hall, Michigan State (6-foot-8, forward, senior)
Hall improved his offensive efficiency across the board as a junior. He used more possessions (20.6 percent up from 15.8 percent as a sophomore), shot better inside the arc (55.1 percent up from 52.9 percent) and made more threes (42.6 percent up from 36.4 percent).
The only thing he didn't do was break through from rotation piece to a 30-minute per game featured player. Hall generally played somewhere between 15 and 25 minutes per night and saw more than 30 minutes once – a November win over Loyola when he scored 24 points on perfect shooting.
Michigan State was 17-6 when Hall played 22 minutes or more compared to 6-7 when he failed to top that mark. The best news for Hall's upcoming senior season is that the Spartans are short on bodies and he'll almost have to see 30-plus minutes on any given night between the three and four positions in Tom Izzo's offense after the departures of Gabe Brown and Max Christie.
Hall's versatility, defense and efficiency provide a high floor but Michigan State will be hoping he can reach his ceiling as a senior playing a larger role.
(Photo credit: Illinois Athletics)
Filed to: 2022-23 season preview