Big Ten's top 25 players for 2022-23 season: 10-6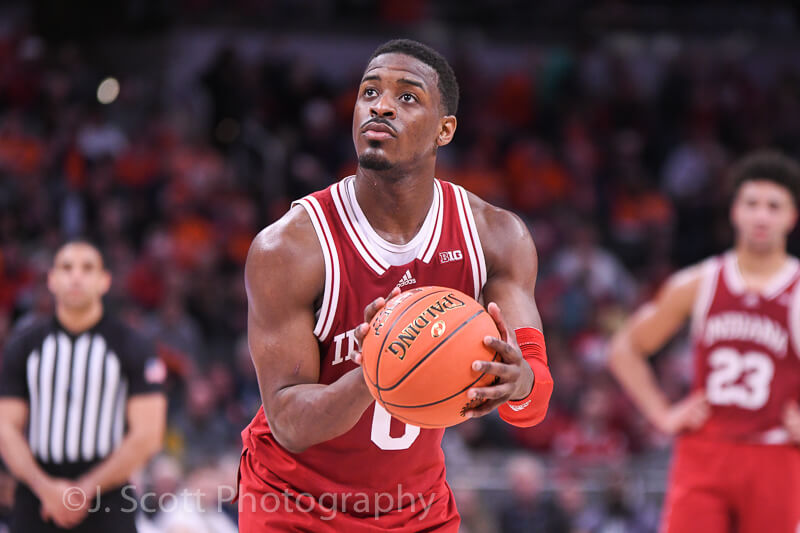 With the official start of practice less than a week away, UM Hoops and Inside the Hall have once again partnered to bring you our annual preseason breakdown of the top 25 players in the Big Ten.
The series is broken into five parts and our fourth installment of players 10-6 for the 2022-23 season is available below:
Previously: 25-21, 20-16, 15-11
10. Tyler Wahl, Wisconsin (6-foot-9, forward, senior)
Wahl was a breakout player in the league last season. In his second year as a starter, he improved his per-game averages to 11.4 points and 5.9 rebounds, up from 5.2 points and 4.3 rebounds as a sophomore.
He's one of the ultimate glue guys in the league and he impacts the game with his offense, defense and versatility. At 6-foot-9, he can score in different ways and guard multiple positions on the court. He shot 57 percent inside the arc last season but made just 6-of-37 3-pointers.
He was Wisconsin's No. 2 offensive option last season, behind Big Ten player of the year Johnny Davis, and the Badgers will need him to step into a bigger offensive role as a senior. To make that leap, he's going to need to expand his range and start to spread the floor which is a scary proposition for a player who is 22-of-101 from 3-point range for his career.
Even if he doesn't emerge as a prolific shooter, he's the sort of dependable piece that has served as the bedrock for the Wisconsin program over recent years.
9. Xavier Johnson, Indiana (6-foot-3, guard, senior)
Talent has never been a question with Johnson, but consistency has. Mike Woodson handed the keys to the IU offense to Johnson last winter to mixed results.
There were times, such as Indiana's second-half collapse at Wisconsin in early December, where Johnson was downright frustrating for fans to watch. But Johnson hit his stride late in the season as Indiana broke its NCAA tournament drought that had nearly reached six years. Over the final 17 games of the season, Johnson averaged 14.2 points, 5.9 assists and shot 41.1 percent from distance.
Johnson had the sixth-highest usage rate in the Big Ten and the fourth-best assist rate. He also ranked 12th in steal percentage and seventh in free throw rate. He made 36.1 percent of his 3s in league play and 38.3 percent for the season, a career-best.
He'll be expected to be a better leader for Indiana on and off the court this winter. If the Hoosiers are to meet some of their ambitious preseason expectations, Johnson will need to be a steadying presence at the point guard more often than he was a season ago.
8. Caleb McConnell, Rutgers (6-foot-7, guard, fifth year)
Another fifth-year player to make this year's list, McConnell is a role player offensively who makes his impact felt on the defensive end of the floor.
The 6-foot-7 guard was named the Big Ten defensive player of the year last season and became the first Scarlet Knight to win a conference defensive player of the year award since the 2009-10 season.
McConnell has great instincts defensively and his length allows him to smother smaller guards. He led the Big Ten in steals (70) and steal percentage (4.4). At one point, McConnell had a five-game stretch with 21 steals. The opponents for Rutgers over that timeframe? Michigan State, Ohio State, Wisconsin, Illinois and Purdue. The Scarlet Knights went 4-1.
Given the departures of Geo Baker and Ron Harper Jr., Steve Pikiell is going to have to continue to win with defense in Piscataway. McConnell will again have the toughest perimeter defensive assignments in the Big Ten and will be on all of the watch lists for national defensive player of the year.
7. Jamison Battle, Minnesota (6-foot-7, forward, junior)
There might not be a better tough-shot maker in the league than Jamison Battle. The George Washington transfer averaged 17.5 points and 6.3 rebounds per game in his first year in the conference and scored 20 or more points in seven league games, including a 39-point explosion at Maryland.
Only eight players in the conference attempted at least four jumpers off the dribble per game last season and only two of those eight players made more than 40 percent of their attempts: Battle and his graduated teammate Payton Willis.
Batte had a 52.8 effective field goal percentage on off-the-dribble jumpers, per Synergy Sports, good for 13th nationally among players with at least 125 attempts.
Battle has already proven that he can put up points and make difficult shots, but for him to make the leap into All-Big Ten contention then he needs that production to translate to wins for the Golden Gophers.
6. Terrence Shannon Jr., Illinois (6-foot-6, guard, senior)
The Fighting Illini got a major boost last spring when Shannon Jr., a Chicago native, announced he was transferring to his home state.
The 6-foot-6, 215-pound guard played the last three seasons at Texas Tech where he averaged 11 points and 3.6 rebounds over 83 games. Last season, Shannon Jr. averaged 10.4 points, 2.6 rebounds and two assists and helped lead the Red Raiders to a Sweet 16 appearance.
With Alfonso Plummer, Andre Curbelo and Trent Frazier all gone from the Illini backcourt, there will be plenty of opportunity for Shannon Jr. to be the program's go-to-guy offensively. The presence of Shannon Jr., who will be in his fourth season of college basketball, will be crucial in an Illinois backcourt rotation that is expected to feature three freshmen in Skyy Clark, Jayden Epps and Sencire Harris.
Shannon Jr. has elite athleticism, is a great finisher going downhill and is an improved 3-point shooter. He connected on 38.4 percent of his shots from distance last season, a career-best. Shannon Jr. is also a capable playmaker as he ranked 16th in the Big 12 last season in assist rate.
Filed to: 2022-23 season preview, Xavier Johnson